Is Your Office Pantry Program Giving ROI?

When you look at the top workplaces across the globe, a few things are clear. Obviously, they all have unique ideas or products they bring to market. However, a good idea isn't enough these days. In this economy, every company looks at its bottom line to maximize its resources while bolstering revenue growth.
How do the top workplaces accomplish this? It's simple, they have an engaged workforce that operates at peak efficiency.
If your workforce is efficient but not engaged, you're bleeding profits because your employees leave, and you're constantly spending to acquire and train talent.
If your workforce is engaged but inefficient, you're bleeding profits because their time is your money.
You need both!
Office food service programs can directly impact employee engagement and productivity, but pulling that off at a large scale can lead to inefficiencies at all levels. The more locations you have, the more products, equipment, space, reports, and communication there are. If you work with separate vendors at each location or try to do it all yourself, this can easily snowball into a program that wastes money and resources while tanking your office experience.
Crafty empowers 300+ offices across the globe to execute a premium office food and beverage experience while extending your team's bandwidth. Having a trusted partner, centralized communication, and program visibility gives you the tools you need on the path to more time, revenue, and profits.
These days something is giving when it's putting off a particular vibe or energy. Let's just say an office snack program is giving Return on Investment (ROI), so let's see why! 🤑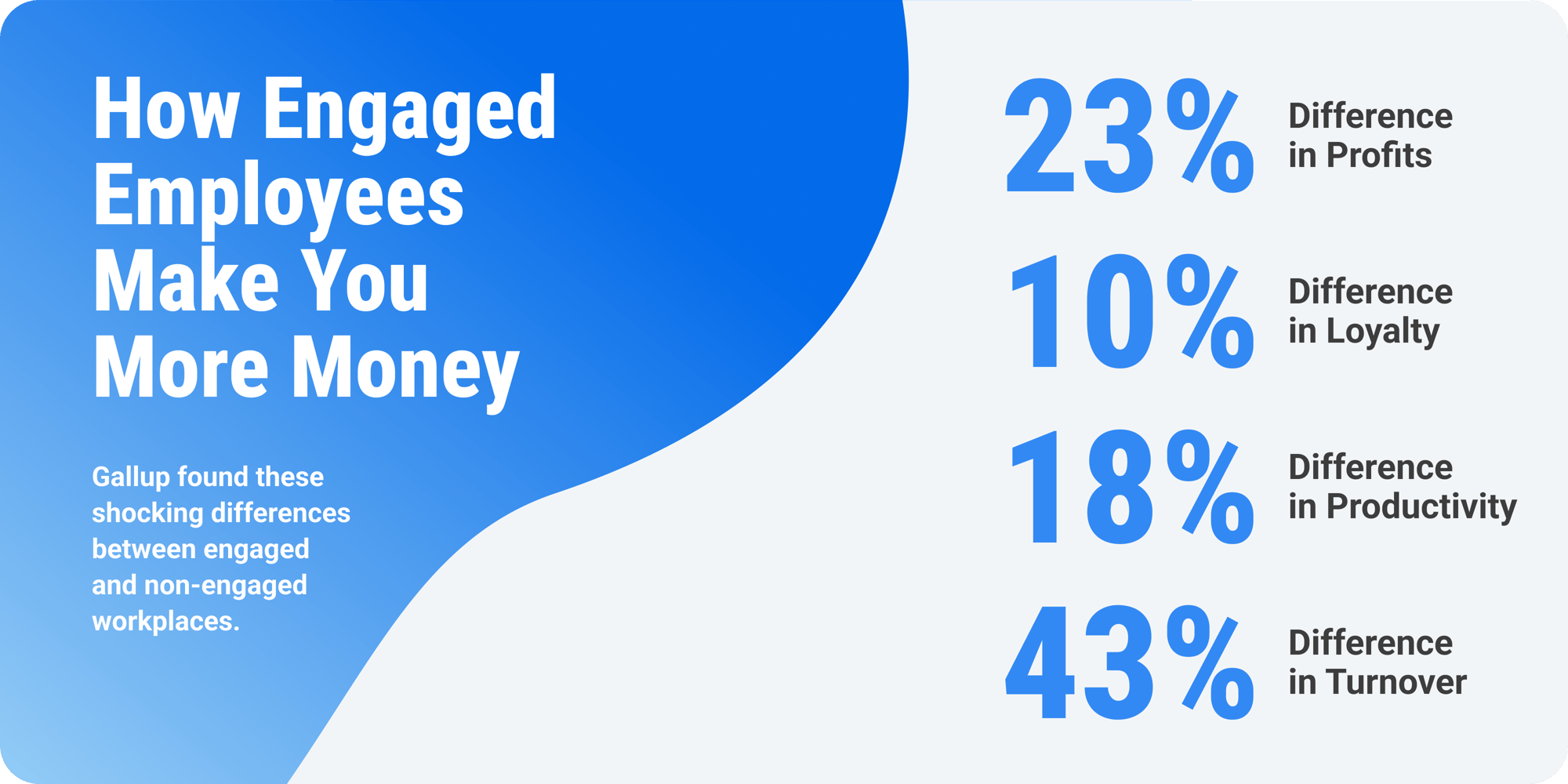 How Your Office Kitchen & Pantry Can Make You More Money
It doesn't take a rocket scientist to figure out that employee engagement affects all your business outcomes. According to a recent Gallup comparison between engaged vs. non-engaged companies, they found these shocking differences:
18% difference in turnover for high-turnover organizations
43% difference in turnover for low-turnover organizations
10% difference in customer loyalty/engagement
18% difference in productivity
23% difference in profitability
Many factors go into building an engaged workforce, but spaces centered around food, coffee, and drinks are at the top of the list regarding physical benefits. Gen Z, Millennials, and Gen X can't agree on a lot, but they all agree that a coffee shop experience in the office is a priority for the ideal hybrid work environment. They can enjoy the comforts of home on some days, while on other days they can take advantage of amenity-rich spaces like in-office cafés to collaborate and connect with co-workers.
High-performing workplaces have their employees in the office 72% of the time for maximum productivity, and the way to drive them into the office is to provide them with the physical environment they need to thrive mentally. Forty-two percent of employees said they would be more willing to come to the office if there is an ideal work mix.
When you put it all together, it's clear that a more productive, more connected workforce helps your company reach greater heights. Your in-office experience directly impacts your employees and your bottom line. By not investing in an office food and beverage program, you could be turning down 23% more in profits. Are you willing to take that risk?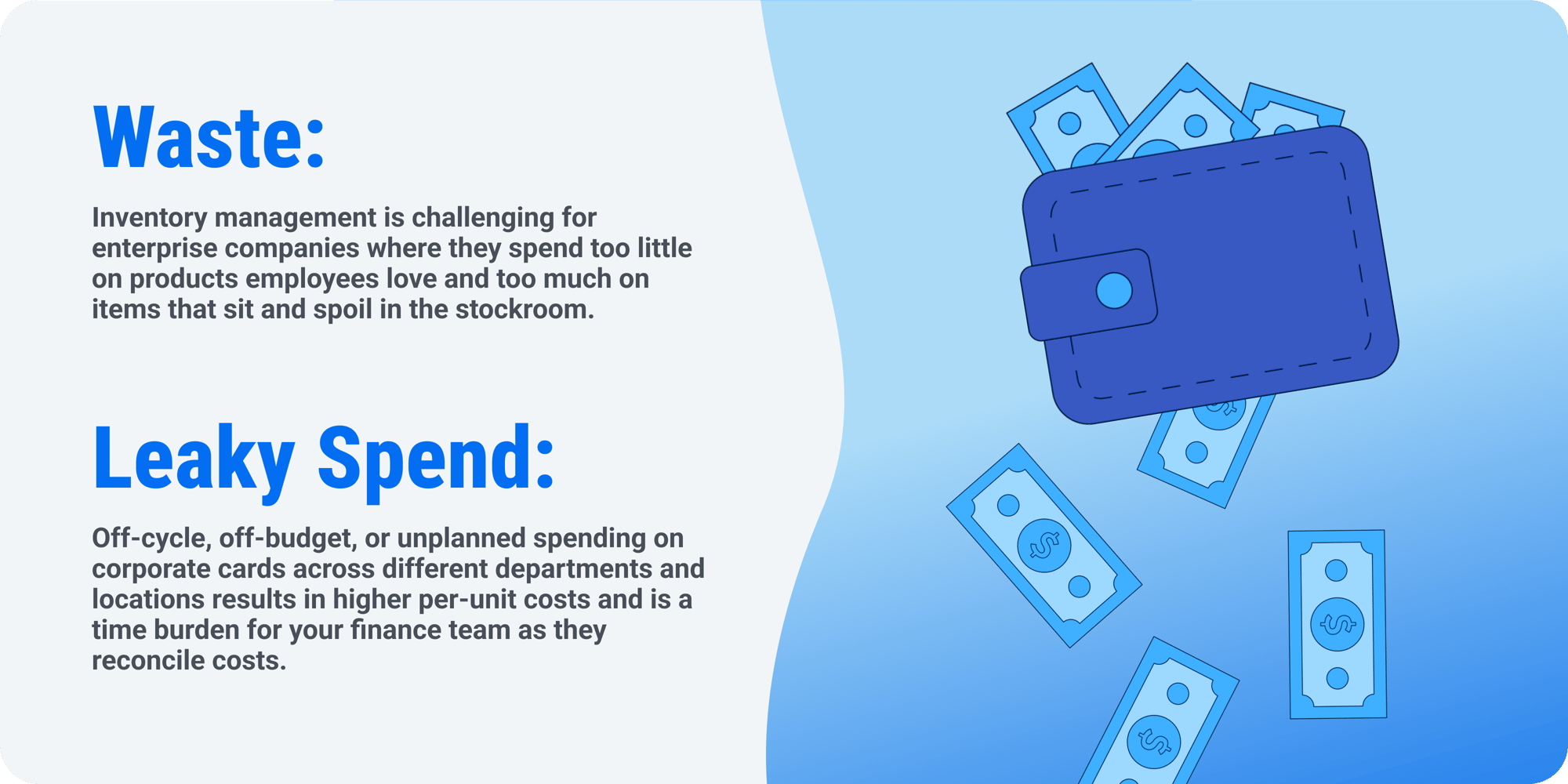 Consolidating Helps You Avoid Leaky Office Pantry Spend
What are companies typically overspending on? It boils it down to waste and leaky spend:
Waste: Inventory management is challenging for enterprise companies where they spend too little on products employees love and too much on items that sit and spoil in the stockroom.
Leaky Spend: Off-cycle, off-budget, or unplanned spending on corporate cards across different departments and locations results in higher per-unit costs and is a time burden for your finance team as they reconcile costs.
To avoid all this, you want to consolidate and invest in technology that gives you visibility. Leaky spend is how much extra you spent on products and how much those overages impact your team's productivity. For example, if your workplace team orders in bulk online from Instacart or Amazon, you have an inefficiency domino effect across your entire operation.
Everything is ordered, delivered, restocked, and organized separately, and overall, it takes longer for your workplace teams to accomplish. Every order is a separate invoice or receipt on the finance end, meaning your finance team's reconciliation also takes longer. Then, your leadership team spends more time sifting through scattered information when everything is said and done.
Crafty clients save upwards of four hours weekly on administrative tasks. They can streamline their office pantry service across all locations and monitor it in one central dashboard. It may not look like a lot, but when you look at it annually, it comes to 208 hours saved yearly per office kitchen. If you multiply that by the average hourly rate of a workplace manager, that comes out to $6,319/year in time savings per kitchen.
Ready for the kicker? Multiply that by each office along with any product waste. The math is mathing, and not in a good way. 🥴
Extend Your Bandwidth Delegating The Heavy Lifting
Workplace teams across the top workplaces have a lot on their plate. This transition between remote, hybrid, and in-office work hasn't been easy for everyone, and it's on the workplace team to build an office experience that makes employees want to be there.
Kin + Carta, a global digital transformation consultancy, trusted Crafty to take on the heavy lifting in the office kitchen and pantry so they could continue to grow to new heights. "We continue with Crafty because of their ability to extend our bandwidth," says Miranda Myers, Employee Experience Manager and EVP Americas Lead at Kin + Carta. "Our office experience teams do more than sit at reception, answer phones, and make coffee. They're a huge part of our employee culture and ensure clients, visitors, and staff have everything they need in the office–we see Crafty as an extra set of hands on our team."
How much time exactly are we saving? Clients like Kin + Carta save upwards of 11 hours/week per office kitchen when they delegate operational tasks to the experts at Crafty. Again, this only includes operational tasks like coffee brewing, orders, inventory management, delivery, restocking, and equipment upkeep. This doesn't include any communication or administrative tasks from above.
Do you want your office experience teams spending 27% of their workday in the stockroom, or do you want them leading the charge to make your office worth commuting for?
Centralized Reporting Helps You Budget For The Future
When you have zero visibility into how your program is doing, how can you possibly plan for the future? Central reporting and tracking is essential for better ROI across your company. This insight into service standards, operation status, consumption reporting, and budgeting tracking allows leadership to make data-driven decisions that make employees happier and move the company forward.
The Crafty dashboard has a wealth of information that allows companies to understand where they are and project spending patterns for the future:
Product Consumption: You'll have regular visibility into every location's inventory and consumption patterns so you know what you have, what you need, and when you need it. Between the dashboard and the expert Crafty team, we can help you predict consumption spikes along with finding opportunities for you to save.
Budget Tracking: Crafty's advanced budgeting tools allow you to set your budget as a whole and across each location. As Crafty steps in to manage your food service program, you can see how you are tracking toward your budget daily and adjust accordingly. You can look to that historical data to improve your budget efficiency as you plan for the future.

Operation Status:

Ensure your food service program is consistent across the board without ever having to step foot in each location. Crafty provides operational visibility into each office so you can see the tasks scheduled and completed at each office, and we even include a picture. This way, you can see the impact of these efforts as you plan for growth.
__
When scattered, your office food service program can financially burden your company. Not only are you not leveraging your buying power, but you're also not leveraging your workplace team's full potential on your office experience.
Centralizing with a reliable partner like Crafty makes your office kitchen and pantry program an asset. Your workplace teams have more bandwidth to focus on engaging your employees, resulting in more productivity, higher retention, and more profits.
Office food service isn't just a perk, it's an investment in your company's growth.

Ready to craft a better workplace?
Crafty streamlines your office food and beverage operations while helping you make data-driven decisions and elevate your culture.