How Kin + Carta Keeps Their Employee Experience Fresh with Crafty
Kin + Carta tapped Crafty to introduce a high-quality food and beverage program to complement its award-winning employee experience strategy.
Testimonial provided by Miranda Myers, Employee Experience Manager, and EVP Americas Lead.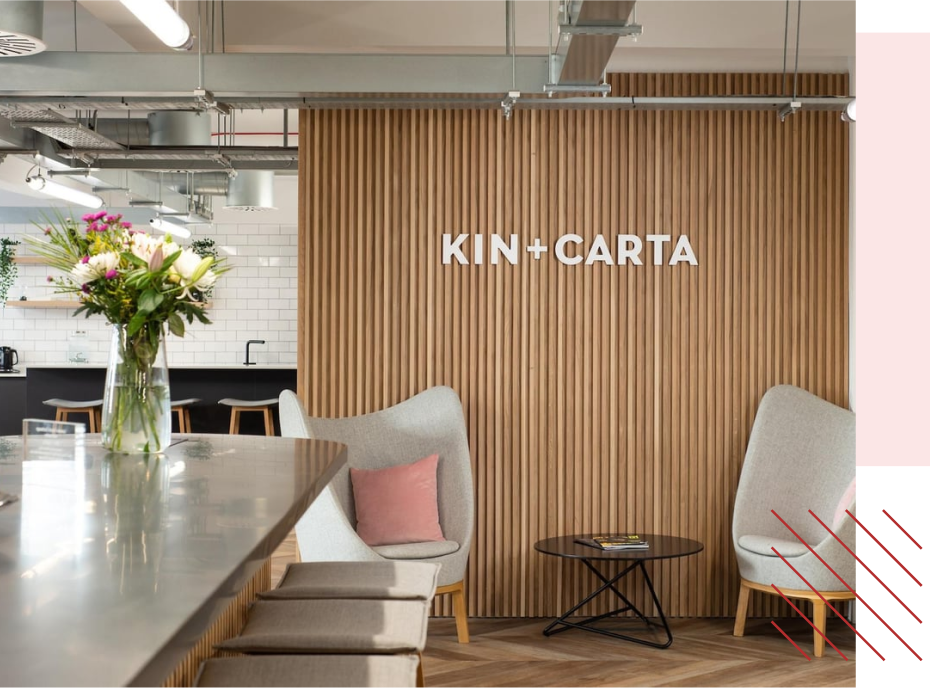 Kin + Carta has established itself as a necessary stop for companies interested in alleviating tech anxiety. The global digital transformation consultancy builds digital solutions for the world's biggest brands that connect people, data, and technology.
Behind the scenes, Kin + Carta is doing even more impressive work, focusing on redefining what the employee experience looks like in the modern world. Forming from legacy companies into one brand in 2020, at the height of global uncertainty and a dramatic shift in work culture, the company has spent the last few years unifying its global talent network with a common thread, otherwise known as its employee value proposition: connecting curious minds. At its Chicago headquarters, those connections are made stronger with Crafty.
LOCATION
Chicago, IL
INDUSTRY
Global Digital Transformation Consultancy
PROGRAMS

Kitchen & Pantry
How Kin + Carta Decided on its Employee Value Proposition
"Our employee value proposition is global," says Miranda Myers, Employee Experience Manager and EVP Americas Lead. "When we say we want to 'connect curious minds,' we're talking about providing our employees with opportunities to learn; tools to embrace new challenges; a global connective of leaders and experts who can share their knowledge; meaningful coaching opportunities and; consistent feedback to help advance careers."
They're getting it right. Kin + Carta landed a Top Workplaces Culture Excellence Award in 2022; has been named a finalist in the Excellence in Employee Experience category of 2023 Gartner Marketing and Communications Awards, and; is a five-time winner of Training Magazine's Training APEX Award, which recognizes organizations with the most successful employee L&D programs in the world. They also boast a 100%+ % retention rate and became the first publicly-traded business on the London Stock Exchange to achieve B Corp certification. That means the company meets the highest verified social and environmental performance standards, public transparency, and accountability.
Laying the foundation for a vibrant employee experience program wasn't easy. Kin + Carta has offices in the U.S., Argentina, Colombia, the U.K., Greece, and South Eastern Europe and over 2,000 team members, each with unique needs. Instead of taking a one-size fits all approach, they decided to celebrate the complexity of their community with reward programs, bonuses, awards, and public recognition, as well as training and development opportunities that let employees take on new challenges. Most importantly, they invested heavily in on-site experiences, including happy hours, cultural celebrations, affinity group meetups, and more.
"Before the pandemic, our culture thrived and lived in our offices," adds Myers. "We have this amazing space, and everyone got together and collaborated five days a week. Even natural interactions like bumping into each other in the hallways led to connections that changed the company."
When the COVID-19 pandemic sent Kin + Carta's workforce home, Myers says it felt like "someone pulled the plug" on employee experience. Now that their global offices have reopened and the company has shifted to the hybrid work model they call #WorKinHybrid, they want to remind their team that coming into the office can be fun and fulfilling. Spoiler alert: complimentary food and bev help a lot.
How Kin + Carta Met Crafty
Crafty and Kin + Carta go way back. In 2016, Solstice–one of nine companies that merged to become Kin + Carta–hired Crafty to bring its happy hours and events to life with beer, wine, and spirits. Crafty was the new kid on the block, generating buzz with its high-quality products and services. Today, Crafty has matured into a centralized platform that allows workplaces to manage food and beverage, with more than 260 clients worldwide. Not bad for the new kid.
Crafty supported Kin + Carta through building moves and headcount increases and even weighed in on design when they built an office the size of a Chicago city block. So when Kin + Carta wanted to reopen its offices in the Windy City post-pandemic, they knew they could rely on Crafty to create delicious f&b experiences that would get employees excited about being back at their desks.
"Crafty has completely changed the office's vibe," says Myers. "If you're taking an hour-long train in and can't even get a cup of coffee or a bite to eat, your experience will be tainted fast. Now that people are comfortable, they're getting work done faster. They can get projects done in one day that used to take three, four, five weeks over Zoom."
Kin + Carta is enrolling in Crafty's Delivery+, a tier of service that sees them receive fresh and packaged goods directly from Crafty's warehouse each week with the assistance of a skilled and friendly delivery team. On-site, Crafty supplies the company with top-of-the-line machinery that turns snack breaks into vibrant experiences. Among them is a Duke Niro coffee machine, which serves bean-to-cup espresso drinks, allows for bean variety, and even has milk frothing options. It's given the local coffee shop some competition. Carbonated water lovers are smiling because of the presence of the LaCroix and Bubly, which instantly upgrade water breaks with flavor enhancements like lime, coconut, and the much-loved pamplemousse.
"In the last couple of months, we've started providing new types of snacks and beverages and including our employees in those decisions," continues Myers. "We love asking them what they want to see and what excites them. Even the smallest thing, like adding Coke products, made people freak out. Tiny decisions like that can have a big impact, especially for people who may have started fully remote and it's their first time in the office."

"Crafty has completely changed the office's vibe."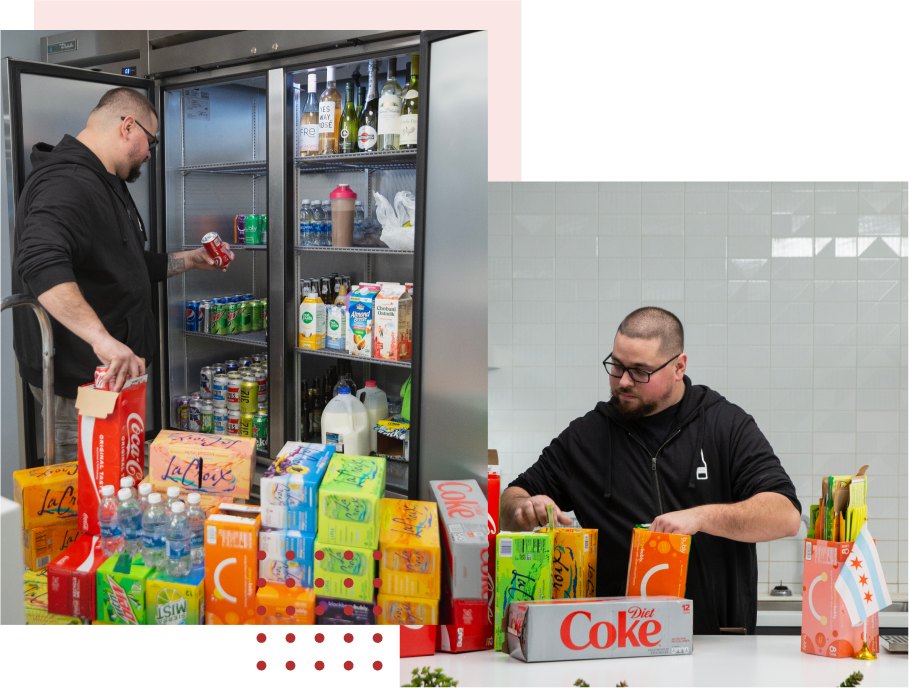 How the Dashboard Helps Them Get From To-Do to Done
Miranda's team is small but mighty, and at times, they've felt like they needed a dozen more hands to get their to-do's done. For them, Crafty's dashboard functions as a super assistant. It does the work of an office manager quickly and efficiently.
"We continue with Crafty because of their ability to extend our bandwidth," says Myers. "Our office experience teams do more than sit at reception, answer phones, and make coffee. They're a huge part of our employee culture and ensure clients, visitors, and staff have everything they need in the office–we see Crafty as an extra set of hands on our team."
The Crafty dashboard has been especially helpful in tracking consumption and managing budgets. The Kin + Carta team enjoys seeing what products are a hit with employees, what needs to be restocked, and getting an in-depth look at where their money is being spent. Thanks to Crafty's easy-to-read charts, what took months to calculate now takes seconds.
"The dashboard is a godsend," cheers Myers. "Having one place where we can go back and see when things were delivered is great. It allows us to trace and understand what's trending, what we can pull back on, and if we need to make product changes."
Crafty's technology isn't just helping the office team report back to finance with clear reporting, the dashboard is also helping the employee experience team become more confident in their decision-making and saving them time each day. With that extra time, they can explore new tactics for improving the office experience and focus on the strategic thinking that has made them a competitive employer.
"Crafty's dashboard gives our office manager autonomy over inventory and invoicing, and she uses the data and reporting to recommend new ideas," adds Myers. "It helps her think more creatively and feel comfortable pitching something new because the data supports her recommendations. I like to use it when I'm reviewing our office budget. The ability to go into a system and understand where payments are coming from and what we're spending at a glance is a game changer. It's a powerful tool for anyone starting their career or interested in improving office management."
–
Crafty and Kin + Carta are proud of their relationship over the years and can see how food on the site has impacted the employee population. The dashboard empowers the office experience team to collaborate much faster and increases their autonomy. And let's be honest—this means more opportunities to indulge in delicious treats and a guarantee that employees will smile at least once daily. We'll call that a win.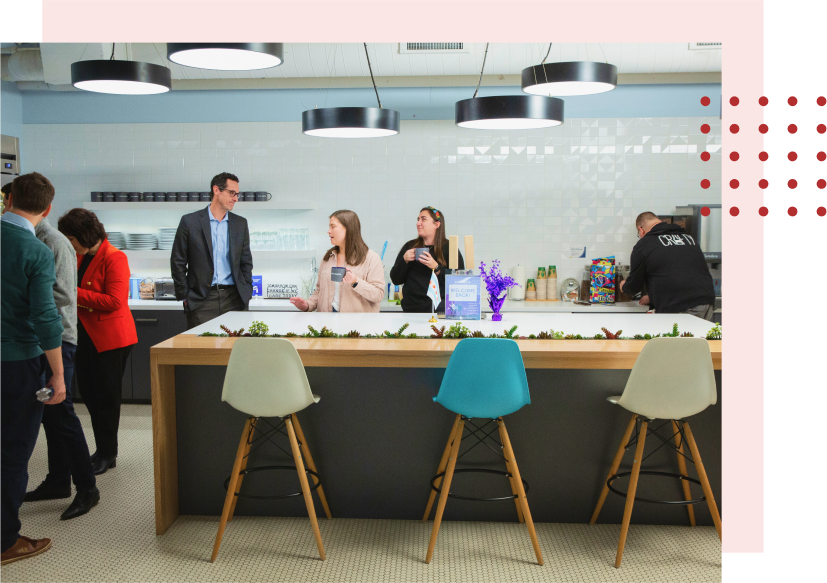 "Having a consistent vendor that grows with you and provides flexible options for every stage of your business is rare," ends Myers. "When we partner with someone, we're always looking for a little bit of ourselves…the same work ethic and values in our partners. With Crafty, we quickly saw a lot of similarities in how our business works and the impact we want to have on work culture at large."

No matter your office location or size, Crafty can help you build a food & beverage program that your company will love. If you're interested in learning how we can bring your vision to life, share your contact information and we'll be in touch.
Read more Crafty client spotlights

Yelp replaced their old vendor with Crafty in order to improve product selection, inventory management, and overall service level.