ActiveCampaign brought on Crafty to work with their architects and general contractors to design, build, and run an elevated food & beverage program in their new HQ.
Testimonial provided by Amanda Gruber, Operations Manager at ActiveCampaign.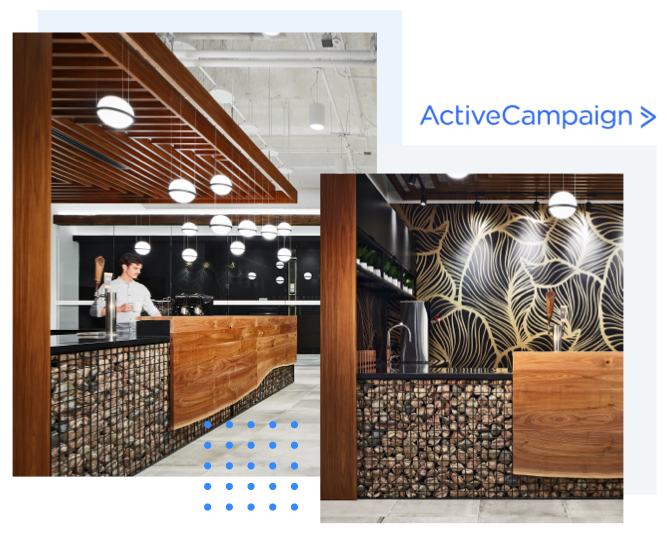 How did you get introduced to Crafty?
We were in hyper growth mode, and I was still handling everything myself, from purchasing to stocking shelves.
We were moving from 25,000 sq. ft. to 55,000 sq. ft., and I found myself working 11-hour days. I really needed to bring someone in to take over this responsibility for me.
We originally went with a different vendor, and then later discovered Crafty when our current vendor wasn't able to fulfill all of the services we needed.
LOCATION
Chicago, IL
INDUSTRY
Technology
PROGRAMS
Kitchen
Cafe
Why did you end up choosing Crafty?
Fit, product mix, and cost - those were the business aspects we started with, but Crafty offered more than that.
We are a tech company, and we are always looking to attract and retain talent. One of our core values is to grow with gratitude, so as we did better, we wanted to show appreciation for our team with an elevated food and beverage program.
We wanted to bring on an innovative, forward-thinking company that was both socially aware and also subject matter experts in their industry.
Crafty not only came in with a competitive quote, but also showed us that we shared company values through their team.
We knew they took diversity and inclusion seriously, and there was so much positivity in all of our interactions that it felt like a perfect fit.
How has Crafty helped ActiveCampaign craft its employee F&B experience?
ActiveCampaign had a huge coffee culture from the very beginning.
We wanted to make a really nice cafe for our employees, but we had no clue how to design a cafe.
Crafty brought their expertise and went well beyond just helping us choose the right coffee machine. They curated and crafted a fully equipped Cafe, partnering with our contractors on the specifics of our floor plan, equipment selections, and installation requirements.
Having Crafty as a subject matter expert during our buildout was invaluable. They were able to get in front of some pretty unique situations, even with established construction partners, who may not be as versed in kitchen and cafe buildouts.
Their experience of designing other cafes helped us create a space that our employees loved.
When we finally opened the cafe and our employees started sharing photos of our new space on social media, the cafe took front and center.

"Crafty partnered with our contractors on the specifics of our floor plan."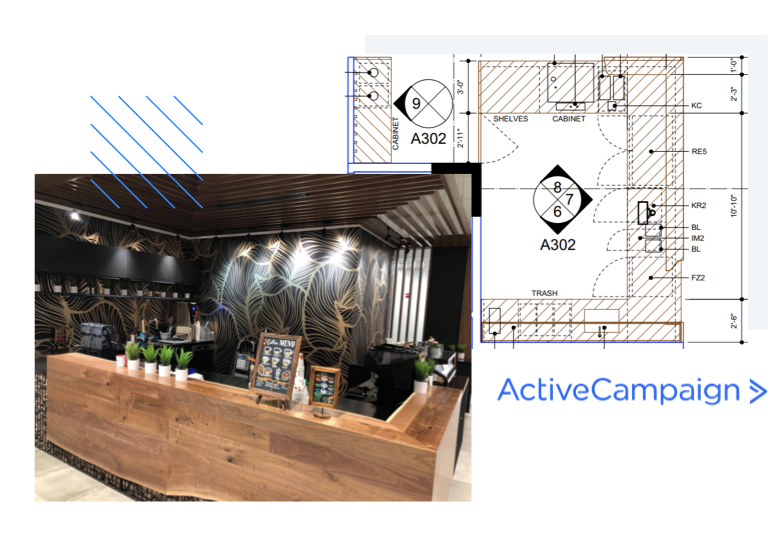 What about the operational aspects of Crafty?
The passion that the Crafty team comes into our space with is very surprising. I've seen their team get emotional about wanting to leave the space better than when they arrived. When you get good customer service, you really need to celebrate it.
In addition to the people, Crafty's technology is leaps and bounds ahead of other vendors. The reports and monthly summaries are endlessly useful, and it gives me peace of mind to know that there is photo evidence documenting task completion.
Working with a tech company, as a tech company, this is where Crafty delivers when other food and beverage partners can't. From responsiveness to innovation, Crafty is performing in ways that the other vendors are not.
Our goal is delivering customization to our employees at scale, and Crafty has been able to help us deliver on that goal.

No matter your office location or size, Crafty can help you build a food & beverage program that your company will love. If you're interested in learning how we can bring your vision to life, share your contact information and we'll be in touch.
Read more Crafty client spotlights

NextRoll brought on Crafty to provide their remote employees with Crafty Credit, a remote work perk that gives their distributed teams some of the delicious benefits that come with the in-office experience, even while working from home.