Ferrara worked with Crafty to build a world-class food and beverage program and construct their new headquarters.
Testimonial provided by Amanda Loudermilk, Workplace Manager.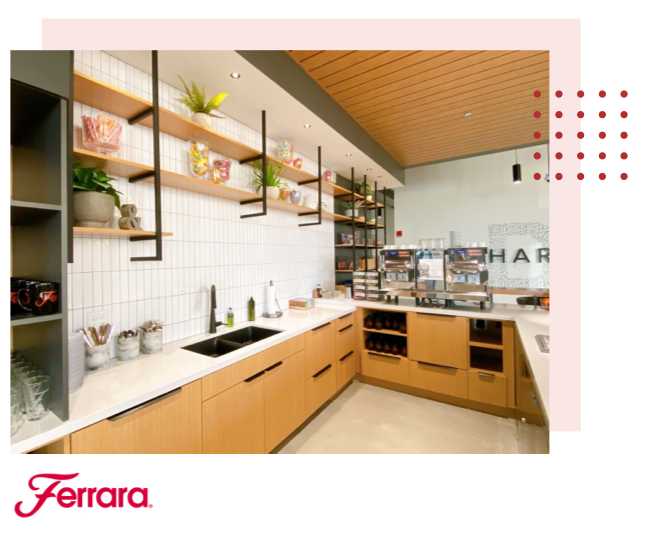 Ferrara needs very little introduction. From SweeTarts to Nerds, the Chicago-based candy manufacturer has been adding sweetness to consumers' lives for over 100 years. While their business may be steeped in history, the company maintains a forward-thinking reputation that extends into how they think about their office spaces.
The company's ability to honor the old while celebrating the new was evident when they relocated their Windy City headquarters from the nearby suburb of Oakbrook Terrace to downtown's historic Old Post Office. Once the largest post office in the world, the building had become a sign of a bygone era. It reopened in 2020 as a "hub of commerce and socializing, designed with hipsters in mind," according to the Chicago Sun-Times, after undergoing an almost billion-dollar facelift. Ferrara was the first tenant.
LOCATION
Chicago, IL
INDUSTRY
CPG
PROGRAMS
Catering
Kitchen
The company leased 118,000 square feet in the building and relocated 400 headquarters employees with plans to add hundreds more. To make the employee experience really come alive, Ferrara brought Crafty in to build out its state-of-the-art kitchen, create a world-class food and beverage program and make mealtime more exciting with catering.
How Crafty Landed on Their Radar
As a candy company, Ferrara knows a thing or two about creating enjoyable eating experiences. Before moving to its new headquarters, the company worked with other local providers to furnish snacks and lunch for their employees. But they quickly became tired of providing oversight and correcting mounting issues. They were also disappointed to learn that some of their partners could not satisfy the diverse dietary needs of their staff.

At Ferrara, catering (no pun intended) to employees' needs is baked into their values. "We believe that to be successful, companies have to invest in the success of their employees. Our aspirations are only possible when backed by a passionate and dedicated team. We remain committed to investing in our people to make it happen," reads their company website.

The investment includes creating spaces for their employees to rest and refuel so they can perform their best. And while candy is always on the menu, they seek to help their employees balance their diets by offering various on-site snacking options.


"We had been through a couple of lunch providers, and we were exhausted with the process," says Amanda Loudermilk, Workplace Manager. "We were having allergen issues, variety, and quality issues…Our team is passionate about eating healthy, and Crafty partnered with us to drill down into what would be great quality options that fit our budget. We were looking for a headache-free lunch when we found Crafty."
Crafty has successfully helped offices in Chicagoland and beyond evolve their food and beverage programs since 2015. The company's reputation is bolstered by several things, including
The ability to provide a diverse variety of fresh, frozen, and packaged snacks
The ability to assist with build-outs and design
Tech-enabled service that simplifies administrative tasks
Superior financial tools, including budgeting, reporting, and consolidation
A concierge program that staffs knowledgeable food professionals at client sites
The ability to provide seamless experiences across global offices
So, for Ferarra, Crafty wasn't just a good recommendation. It was a clear choice.
How Crafty Brought the Kitchen & Pantry Program to Life
More than a food provider, Ferrara wanted a true partner that could provide them with the guidance they needed to build out ultramodern kitchen and pantry spaces. More importantly, they wanted to "create spaces people want to work in." Since their space is enormous, they decided it would be best to have a variety of eating areas scattered throughout–somewhere, coffee and tea were the star attraction, others, snacks were the highlight, and one huge central kitchen that invited employees to experiment and mingle as they prepared their food.

"When the need arose for us to provide an exceptional [f&b] experience at our headquarters, Crafty joined our build team, and the rest is history," continues Loudermilk.

Crafty was there from the planning stages. Leveraging its understanding of equipment placement, and functional spaces, the company helped Ferrara identify the best places to install soda machines, fridges, kegs, and more. Because Crafty understood that workplaces are often subject to change, they planned the spaces to be flexible and adaptable.

"We were in the process of opening and closing several sites and multiple floors. We constantly moved people around and changed delivery addresses," says Loudermilk. "Amidst all of this change, we needed to provide a consistent lunch experience, and Crafty was able to deliver on that."

"Crafty makes us feel like we are the only client."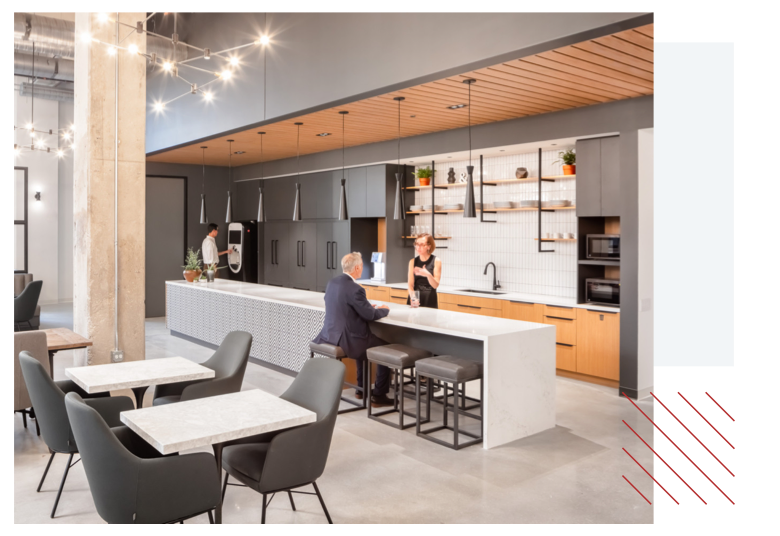 How Crafty Reinvigorated the Employee Experience
As a Concierge client, Ferrara has enjoyed the personalized service they receive from Crafty. Before, during, and after onboarding, Crafty's customer experience team has taken time to thoroughly assess the company's individual needs and satisfy its employee value propositions. Ferrara's commitment to making the lives of in-office employees as comfortable as possible matches Crafty's dedication to providing seamless experiences that get employees excited about coming into the office.

"The crux of our relationship with Crafty is that Crafty makes us feel like we are the only client," adds Loudermilk.

Crafty has also made the process enjoyable. Where some companies take a clinical approach to service, Crafty employees are energetic and engaging individuals who interface with clients through every part of their journey.

Crafty's Concierge F&B team members ensure that pantries stay stocked and experiences flow smoothly. Concierge F&B specialists aren't just passive attendants. They have intricate skill sets, including the ability to service coffee machines and kegs, manage inventory, and create personal relationships with clients that elevate the overall experience. When they aren't attending to their daily tasks, concierges frequently assist in decorating for special occasions and curating snack selections to compliment holidays and celebrations, such as donut walls for National Doughnut Day or snack platters featuring female-owned brands for Women's History Month.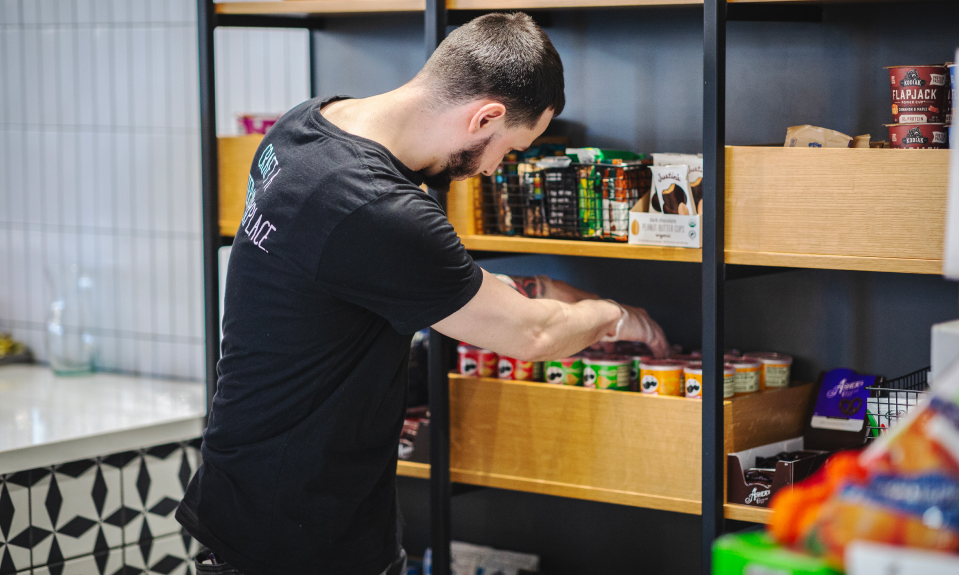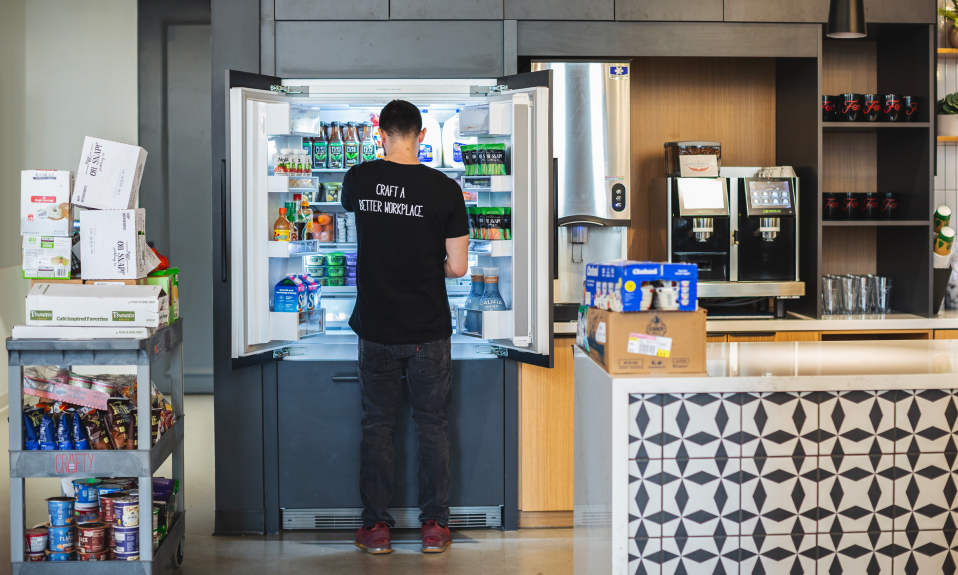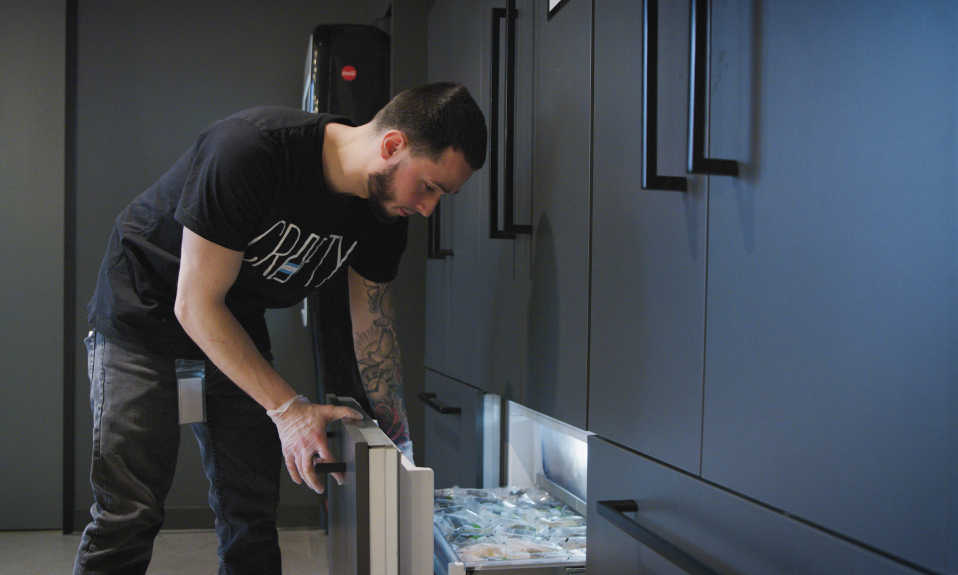 When we said we wanted to put on a show for Day 1, it was incredible what we could accomplish, and it was seamless," says Loudermilk. "And the process was fun!"

The team knew their decision to work with Crafty was right when they saw employees' reactions to the new kitchen and pantry spaces. In addition to genuine happiness, they observed employees from different teams coming together to collaborate away from their desks and new connections happening organically. It also helped that snacks flew off the shelves (and fridges) just as quickly as they entered them.

"After a long implementation process to design this new space, finally seeing the organic connections between two people in our new cafe lifted a massive weight off our shoulders," shares Loudermilk.

Workplace teams know that building the perfect office kitchen setup comes at a price. But the return on creating a space that caters to your team's needs and brings employees back to the office far outweighs the investment.

"One member of our leadership team, who was hands-on in developing our new headquarters and was particularly focused on the main cafe, the coffee machines, and the snack wall, would walk into the cafe and smile, "adds Loudermilk. "For our leadership team, it validated the time, energy, and money we invested in building a community space for our employees."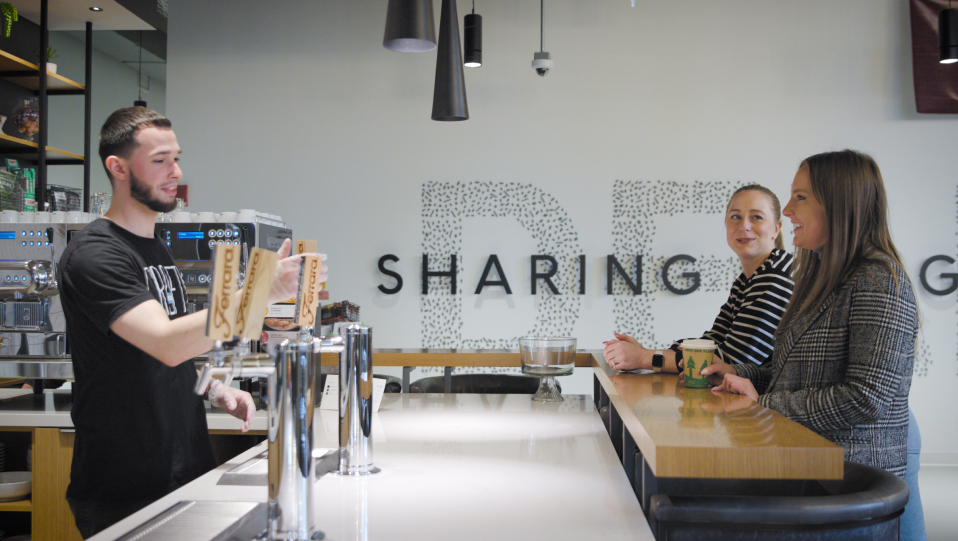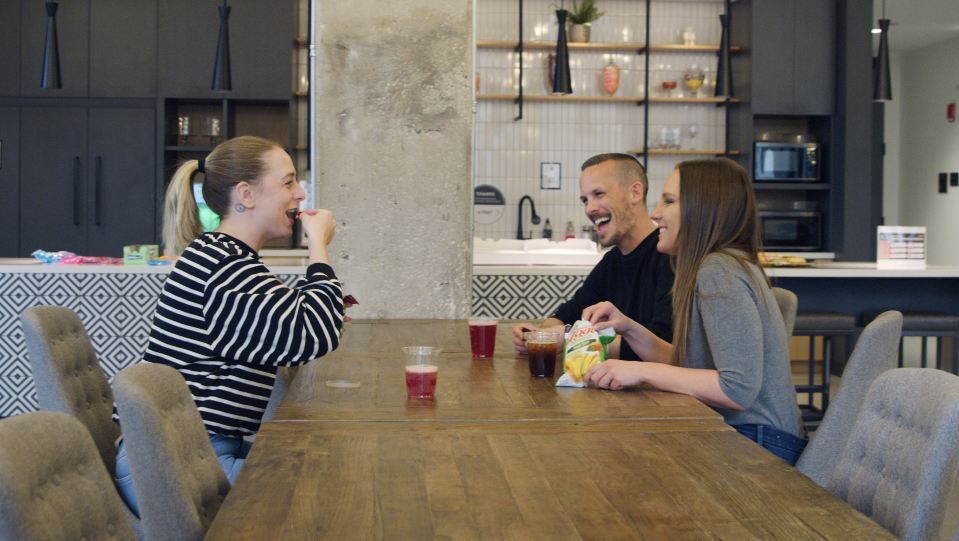 How Crafty Optimized Office Operations

"Crafty is a true partner in solving workplace problems and providing the level of excellence that we want to deliver to our employees," says Loudermilk. "If there's a problem, they'll quickly provide a solution and outline how long it will take."

Crafty's technology has played a key role in helping workplace teams problem-solve. The dashboard keeps information, including inventory levels, product availability, and consumption, at their fingertips to make decision-making easier.

"Crafty's technology and operational processes, such as the QC checks, are great, and we feel very confident in Crafty's ability to continue adapting to our changing needs in the future," shares Loudermilk. "On the catering front, Crafty has simplified ordering and serving food from national and local vendors. Catering tiers include hands-off and fully involved options which take the pressure off of workplace teams struggling to ensure lunch, snacks, and coffee, among other offerings, are [cohesive.]."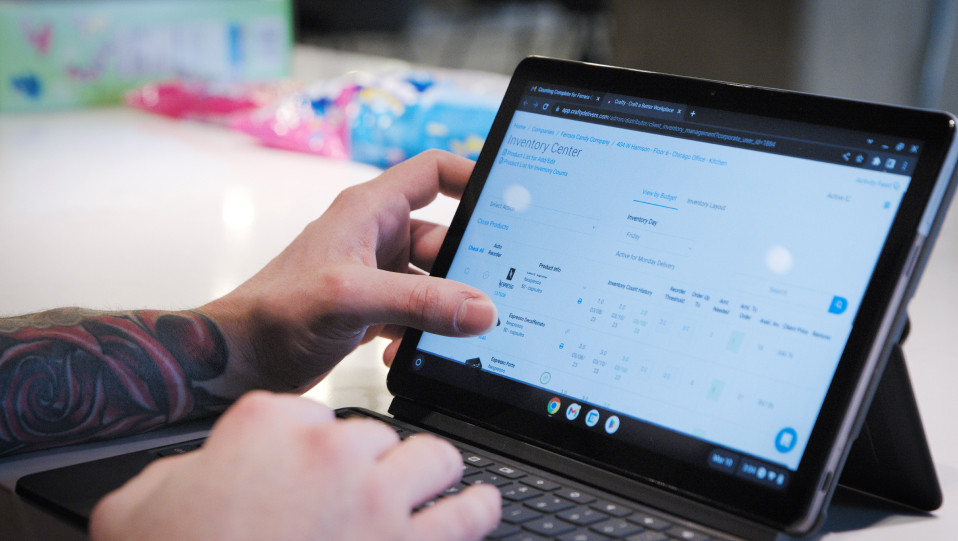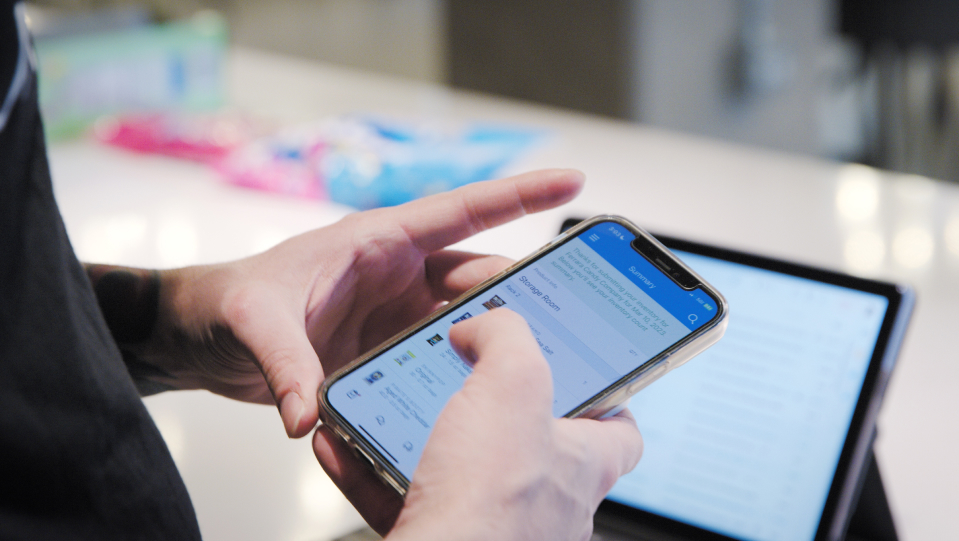 Today, Crafty's presence at Ferrara continues to excite employees and executives alike. The tool empowers the entire workplace team to collaborate much faster, freeing them up to focus on more urgent work. And let's be honest—this really means greater connectivity and increased satisfaction. We hate to be cheeky, but we'll just say Crafty has definitely made life sweeter at Ferrara.

"It's a breath of fresh air not to have to problem solve on the fly when I'm doing eighty-five other things, "says Loudermilk. "With Crafty, we have risk mitigated our lunch program down to an art form. As an Office Manager wearing multiple hats and doing other things, it was freedom."

No matter your office location or size, Crafty can help you build a food & beverage program that your company will love. If you're interested in learning how we can bring your vision to life, share your contact information and we'll be in touch.
Read more Crafty client spotlights

Yelp replaced their old vendor with Crafty in order to improve product selection, inventory management, and overall service level.