Ferrara brought Crafty in to run a seamless catering program and build out a world-class food and beverage program for their new headquarters.
Testimonial provided by Amanda Loudermilk, Workplace Manager.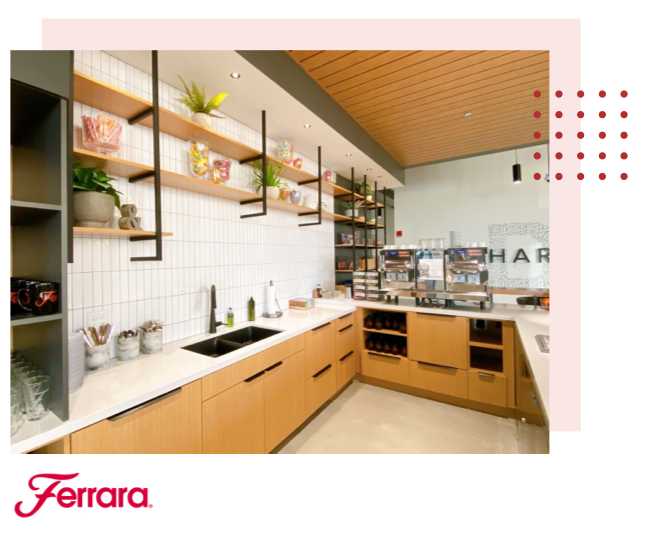 How did you get introduced to Crafty?
We had been through a couple lunch providers, and we were exhausted with the process.
We were having allergen issues, as well as variety and quality issues.
We were looking for a headache free lunch when we found Crafty.
Our team is passionate about eating healthy, and Crafty partnered with us to drill down into what would be really great quality options that fit our budget.
LOCATION
Chicago, IL
INDUSTRY
CPG
PROGRAMS
Catering
Kitchen
Why did you end up choosing Crafty?
We were in the process of opening and closing several sites and multiple floors. We were constantly moving people around and changing delivery addresses.
Amidst all of this change, we needed to provide a consistent lunch experience, and Crafty was able to deliver on that.
There was always an attendant on site, and with Crafty, we no longer had to bear the burden of Friday lunches.
As an Office Manager wearing multiple hats and doing other things, it was freedom.
When the need arose for us to provide an exceptional coffee experience at our headquarters, Crafty joined our build team, and the rest is history.
How has Crafty helped Ferrara craft their employee F&B experience?
The crux of our relationship with Crafty is that Crafty makes us feel like we are the only client.
When we said we wanted to put on a show for Day 1, it was incredible what we were able to accomplish, and it was seamless. And, the process was fun!
After a long implementation process to design this new space, finally seeing the organic connections between two people in our new cafe lifted a massive weight off our shoulders.
One member of our leadership team, who was hands-on in the development of our new headquarters and was particularly focused on the main cafe, the coffee machines, and the snack wall, would just walk into the cafe and smile :)
For our leadership team, it validated the time, energy, and money that we invested in building out a community space for our employees.

"Crafty makes us feel like we are the only client."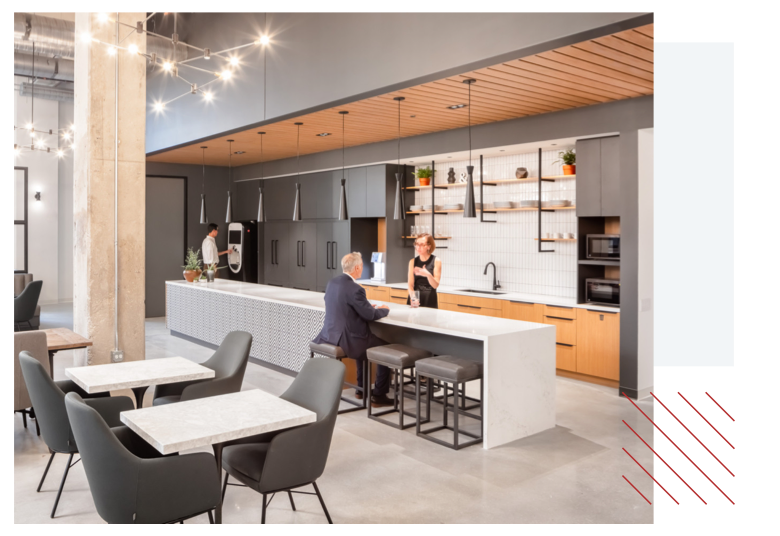 What about the operational aspects of Crafty?
Crafty is a true partner in solving workplace problems and providing the level of excellence that we want to deliver to our employees.
If there's a problem, they'll quickly provide a solution and outline how long it is going to take.
It's a breath of fresh air not to have to problem solve on the fly when I'm doing eighty five other things.
With Crafty, we have risk mitigated our lunch program down to an art form.
It was an evolution of new ideas, and we were always improving on the backend to make the employee experience that much more seamless.
Crafty's technology and operational processes, such as the QC checks, are great, and we feel very confident in Crafty's ability to continue adapting to our changing needs in the future.

No matter your office location or size, Crafty can help you build a food & beverage program that your company will love. If you're interested in learning how we can bring your vision to life, share your contact information and we'll be in touch.
Read more Crafty client spotlights

Yelp replaced their old vendor with Crafty in order to improve product selection, inventory management, and overall service level.