Yelp replaced their old vendor with Crafty in order to improve product selection, inventory management, and overall service level.
Testimonial provided by Brett Fay, Regional Director of Workplace at Yelp.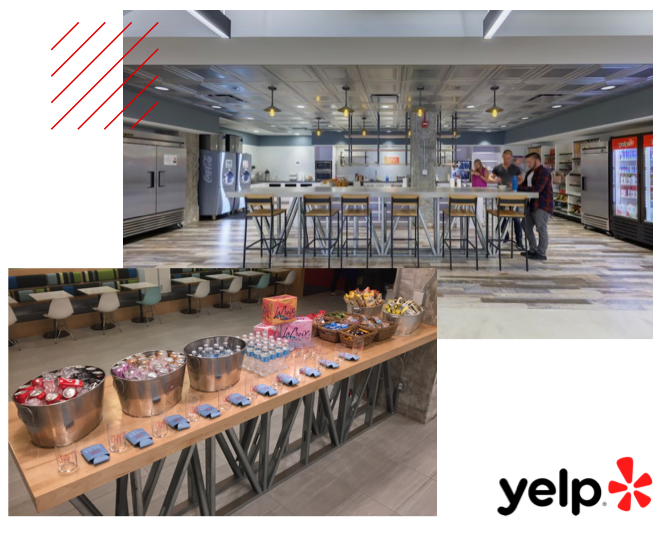 How did you get introduced to Crafty?
When I joined Yelp, we started with 45 people in the office, and we quickly started hiring over 60 people per month for consecutive months.
Our current vendor could not keep up with our growth, they were out of product a lot, and they were not addressing the problems we were having.
When it was time to make a switch, we evaluated a couple providers, one of which was Crafty.
LOCATION
Chicago, IL
INDUSTRY
Technology
PROGRAMS
Kitchen
Cafe
Why did you end up choosing Crafty?
Though Crafty was new in the market at the time, we were already working with Crafty for our kegs, had experienced their service level, and knew that they were going to deliver the highest service level.
The onboarding experience with Crafty was seamless.
We had a 30-day turnaround from signing the contract to launching our program, and Crafty did the entire transition over a single weekend.
There was no interruption to business, despite the scale of the transition - 5 kitchens across 2 floors that serve over 1,000 people per day.

"The onboarding experience with Crafty was seamless."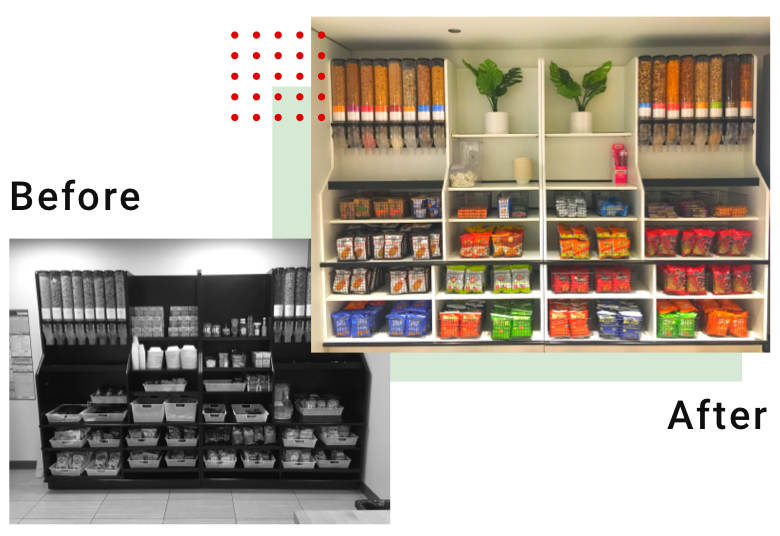 How did Crafty help Yelp craft their employee F&B experience?
When bringing Crafty on, there was an initial splash, and with most new vendors, that's the case.
But with Crafty, things have just continued improving. As we've grown, they've grown, and their service-level continues to improve.
Crafty's white-glove service is second to none, and the comfort level and trust we've developed gives me peace of mind.
Crafty has done a lot for us in terms of sourcing. They've consistently brought in new, innovative products, and they've continued to provide them at a good price.
At one point, Crafty came in over a weekend and did an aesthetic refresh, installed new shelving and plants, and completely transformed the space.
On a daily basis, they consistently maintain that beautiful aesthetic with labels facing forward and everything staying clean.
The vendors we pick are a direct reflection of who we are, and Crafty's values coincides with ours.
What about the operational aspects of Crafty?
When employees from other offices come to visit, they rave about the kitchen's appearance, cleanliness, and our product selection.
As an example, with a lot of other vendors, getting reports can feel like pulling teeth.
With Crafty, I can always get the reports I need. Their reporting is very accurate, their inventory management is very accurate, and the product rotations are timely.
They have continued to grow and evolve their services, and we are in it for the long-term with Crafty.

No matter your office location or size, Crafty can help you build a food & beverage program that your company will love. If you're interested in learning how we can bring your vision to life, share your contact information and we'll be in touch.
Read more Crafty client spotlights

ActiveCampaign brought on Crafty to work with their architects and general contractors to design, build, and operate an elevated food & beverage program within their new HQ.