How to stock an office kitchen with healthy snacks your team will love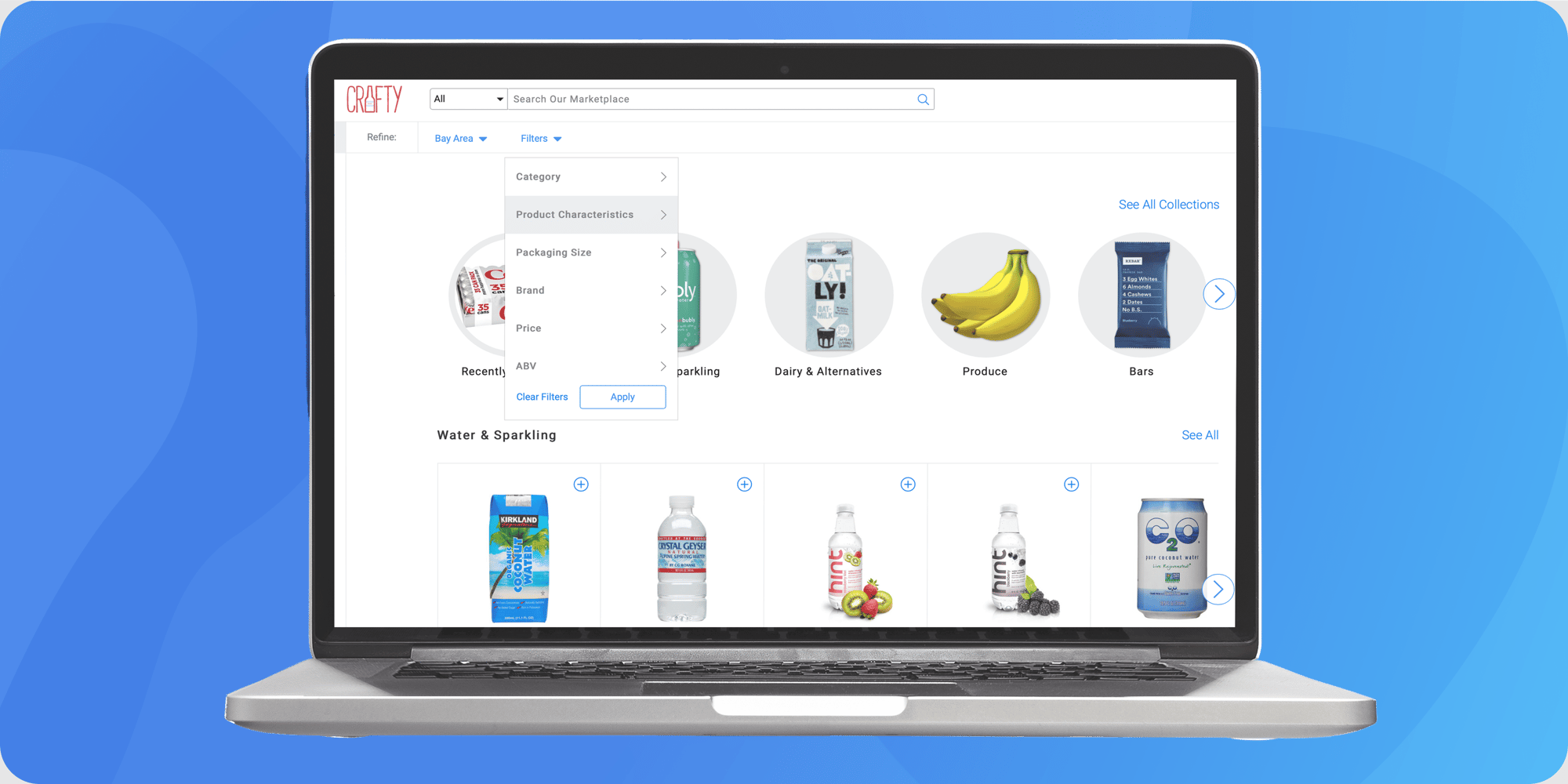 It's no secret that free food is an excellent work perk. A survey by Peapod.com found that office employees who got free snacks or beverages at work were happier.
But if your office kitchen looks as empty as the rest of your office space, your lack of product variety could be the culprit. Master the art of setting up your kitchen and stocking it with a wide variety of snacks and drinks, and you'll be walking into a crowded office kitchen full of happy employees in no time!
Below, we'll show you how to stock an office kitchen, including ideas for what foods to buy to get started.
The importance of product variety
Keep this in mind as you buy
Your competition
Keep in mind you're competing with the comforts of home (where your employees keep all their favorite snacks!) and the novelty of coffee shops (where they get to try something new every now and then). You can bring both comfort and novelty to your office kitchen by introducing a wide variety of products. We'll show you how with our best snacks for the office checklist below!
Dietary restrictions
When choosing the right snacks for the office, keep in mind the increase in dietary restrictions. Roughly one-third of Americans try to avoid gluten, and food allergies are on the rise, with 10 percent of U.S. adults estimated to have a food allergy. The top culprits? Shellfish, milk, and peanuts.
Stock your office kitchen with allergy-friendly snacks and beverages so your food & beverage program can be inclusive of everyone. The right snack provider will have a variety of treats that are mindful of allergies. Crafty even lets you filter by dietary restrictions (nut-free, gluten-free, vegan, etc.)!
Nutritional goals
Nourishing your employees' bodies and brains helps them do better work. A peer-reviewed study of 20,000 U.S. workers published in the Journal of Occupational and Environmental Medicine found that workers who ate healthy the entire day were 25% more likely to have a higher job performance. And those who ate five or more servings of fruits and veggies four plus days in the past week were 20% more likely to have a higher job performance.
Values-aligned food
The overwhelming majority of Americans believe that values are essential when choosing brands. Eighty-two percent of consumers want a brand's values to align with their personal values, and 39% said they'd boycott a brand permanently if there's a moral mismatch. That means that, when stocking your office pantry, considering what the brands stand for might be just as important as what's inside the packaging.
One way that Crafty helps office workers stay true to their values is by making it easy to filter by product characteristics of the kind of brands they'd like to support, such as woman-owned, Black-owned, or B corp. For example, if you select the "social enterprise" filter, you'll find Mavuno Harvest, an organic dried fruit company that's cultivating higher incomes and more job security for small farmers in sub-Saharan Africa. In our brand descriptions, you'll get more information about what each company stands for and what your purchase is contributing to before you place your order.
Sustainability
Speaking of values, consumers worldwide are increasingly mindful of sustainability when choosing what to eat. A 2021 Cargill survey of about 6,000 shoppers in 11 countries found that more than half said they're more likely to buy sustainable food items, an increase of four percentage points over 2019.
Phew! If all of those things to keep in mind as you stock your office kitchen seems overwhelming—don't worry. Below is a long list of drinks and snacks for work that'll please everyone at the office: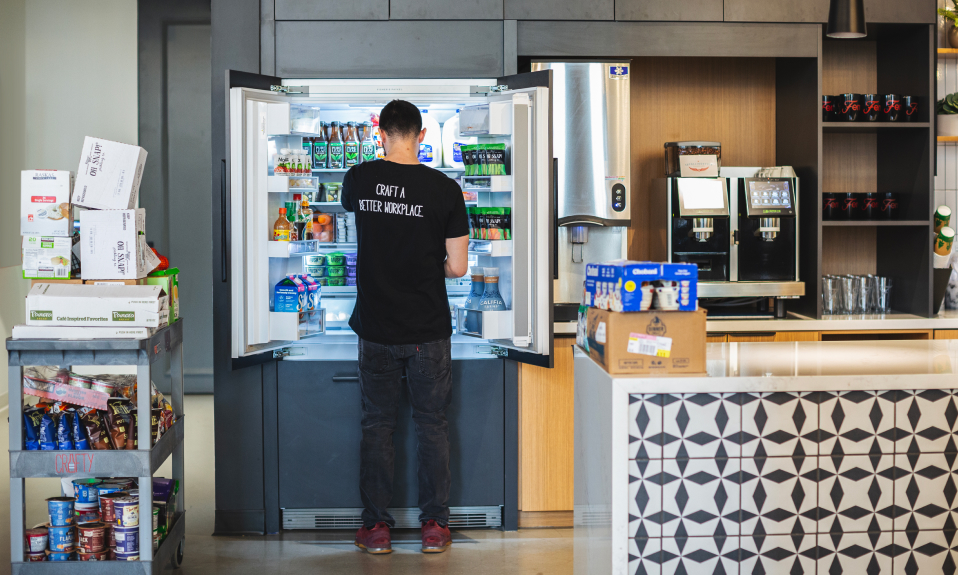 What to buy for your office fridge
Best snacks for work for everyone
Vegan snacks and drinks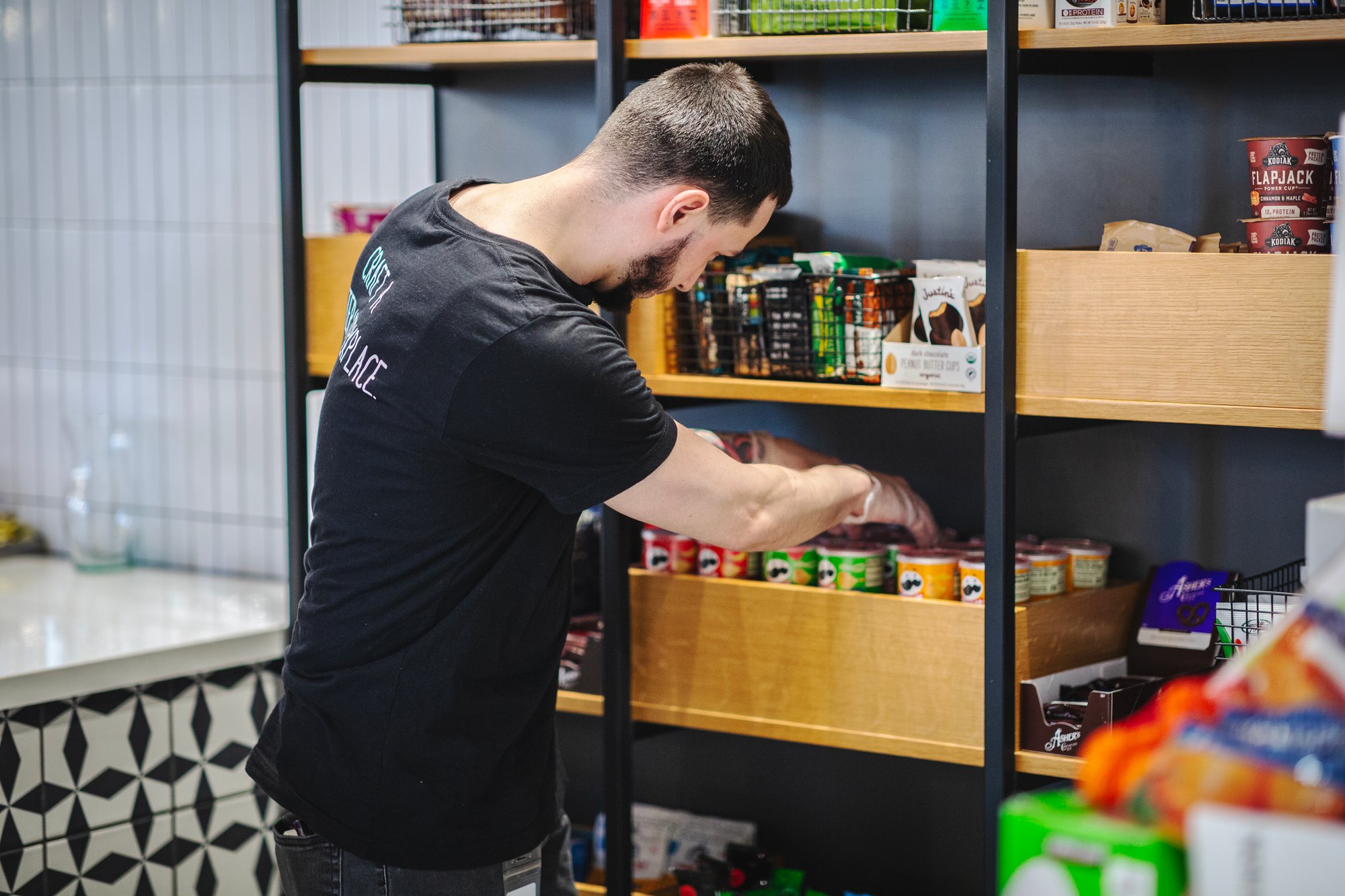 Best snacks for office pantry
Healthy snacks for the office for all
Nut-free snacks
Gluten-free snacks for work
Mozaics Veggie Chips, Salsa


These flavorful chips are popped—not fried—and are embedded with peas and beans. So next time you snack, you can nourish yourself with plant protein and fiber.

Verb Energy Caffeinated Snack Bar, Chocolate Chip Banana Bread


An energy bar that tastes like banana bread and an espresso shot's worth of caffeine? Sign us up! Plus, the caffeine comes from green tea, so it's less likely to give you the jitters. In addition to being gluten-free, it's also dairy-free and vegan.

Partake Foods Crunchy Cookies, Chocolate Chip


For those who like their cookies to come with a crunch, these cookies are sure to please. They're just the right sweetness, packed with lots of chocolate chips, and they're gluten-free too!
Vegan snacks for work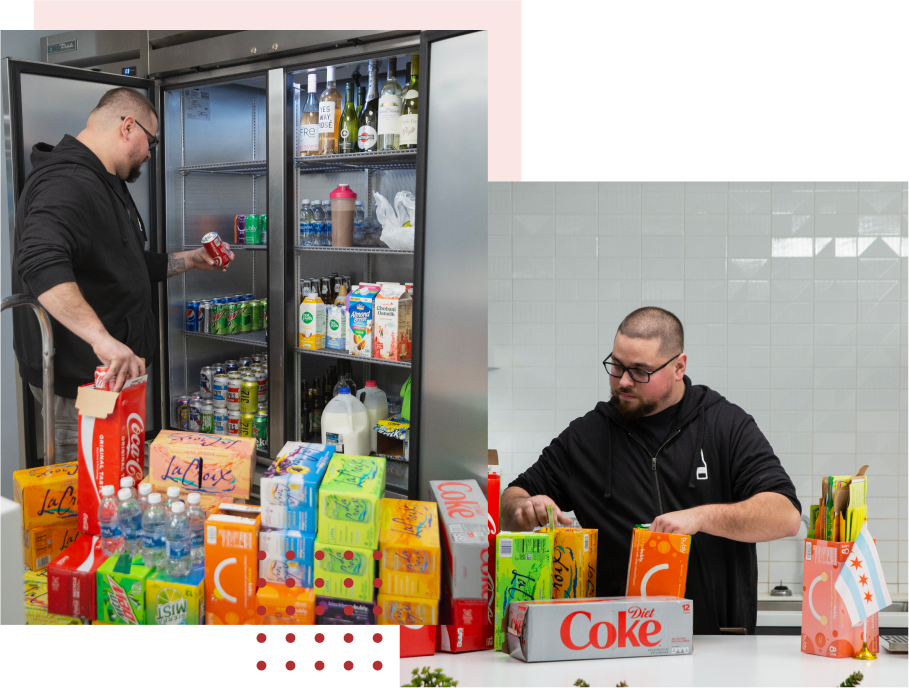 Best office drinks
Caffeinated beverages and energy drinks for work
Caffeine-free drinks for office
How to stock an office kitchen: Other things to consider
Now that you've got an idea of what to stock your office kitchen with (and why product variety matters!), here are two other aspects to consider before you get started:
Sizes. While it might seem like a great idea to buy that family-size tub of hummus, it's not ideal for a communal kitchen. Instead, you'll want to find snack-sized packaging that your employees can quickly grab and go. Plus, it'll be more hygienic than having several people double-dipping!

Inventory management.

It's challenging to track snacks for an entire workplace (any office manager knows that!). The best snack provider will have an app that makes

tracking inventory and restocking

much easier.
ELEVATE • CULTURE
The foods we eat affect our workday more than we realize. We've come up with a helpful list that makes it easier for you to offer a variety of easy, delicious snack options to help your team make the eating decisions that work best for them...