What It Costs To Work From Home in 2023
In recent years, the office experience has undergone a monumental transformation. Fueled by the rapid advancement of technology and catalyzed by the global pandemic, an unprecedented wave of individuals transitioned into fully remote work, reshaping the professional landscape as we know it.
Remote work was a rarity before the pandemic, with only 17% of the US workforce working at home five days a week in 2019. Over the ensuing years, that figure has escalated to 44% in 2023, and many companies are still trying to figure out what the future of the workplace looks like. Should they go completely remote, impose a return to office mandate, or develop a hybrid workplace strategy?
There are vast amounts of research on both sides that weigh the pros and cons of remote work – don't worry, we'll dive deep into that in a bit. However, there are hidden costs employees accrue when they go fully remote. Sure, they may save on commuting, but is that money saved going elsewhere?
We recently broke down the cost of returning to the office in 2023, and now it's time to present the other side of the coin:
Let's uncover what it truly costs to work from home so you can have a complete understanding when designing the future of your workplace. 🕵️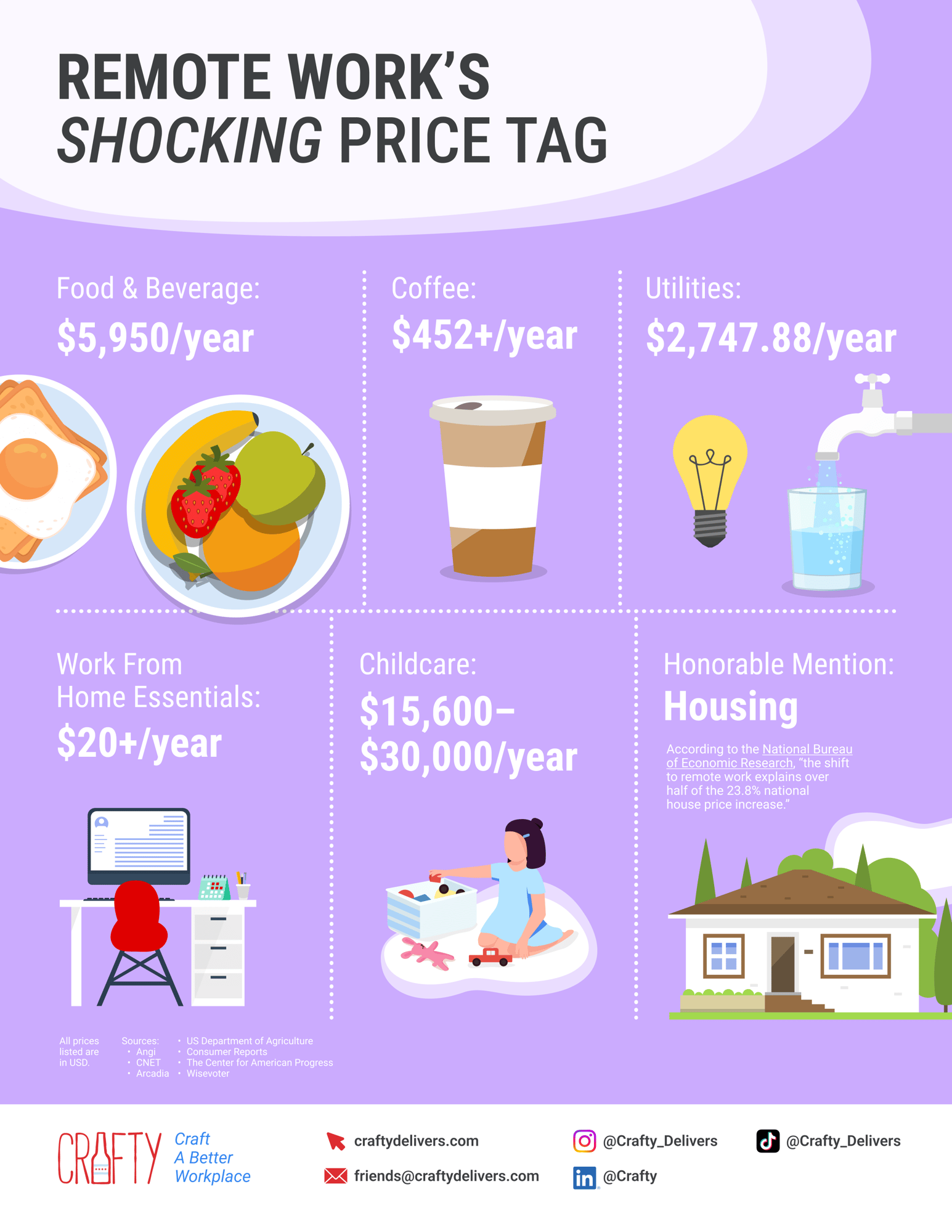 Pros & Cons of Remote Work
Before we jump into the numbers, let's recap the pros and cons of remote work.
Pros of Working At Home:
The impact of remote work on employees is layered, with both positive and challenging consequences. On the one hand, the flexibility to work from home can improve productivity and work-life balance while removing the stress of commuting and other costs associated with going to the office.
22% of employees see an increase in performance when they work at home [Stanford]
57% of employees see a stress reduction when they work remotely [

Zippia

]
75% of employees have a better work-life balance [Business News Daily]
Cons of Working At Home:
On the other hand, this physical separation can lead to feelings of isolation, resulting in less collaboration and engagement in an organization. Remote work blurs the boundaries between work and personal life, contributing to burnout.
40% of remote workers say that they are struggling to unplug [

Zippia

]
70% of remote employees feel left out of the workplace [

Igloo

]
61% of current remote workers want to switch to a hybrid working model [

Pew

]
As you can see, the reviews of remote work are mixed and sometimes even contradictory. Employees may demand flexibility yet are more likely to burnout because they need help to unplug, leading to increased turnover. Companies are stuck between a rock and a hard place.
The key is elevating your office experience to be worth it financially and socially. Your employees must understand what they stand to gain when they go to the office. So, let's break it all down!
Food & Beverage: $5,950/year
Remote work allows employees to save big when commuting, but these gains get repurposed into other areas, specifically food and beverage. According to a recent study, remote workers spend $182 more on groceries than their in-office counterparts.
According to the US Department of Agriculture, food-at-home spending increased from $954.7 billion in 2021 to $1.05 trillion in 2022. US consumers spend 11.3% of their disposable income on food and 5.62% on groceries. Suppose we use that percentage on the average US wage of $52,654/year; that would mean employees are spending around $5,950/year on food:
Food-At-Home: $2,959/year | $246/month
Eating Out: $2,970/year | $248/month
Whether working remotely or in-office, an office food service program helps employees avoid spending their hard-earned money on snacks and beverages. If you add on corporate catering for breakfast and lunch, you'll continue to cut away employees' food costs.
Coffee: $452+/year
If you separate coffee from your overall food and beverage spend, you'll see how even the smallest of rituals can cost remote employees. Whether making your coffee at home or buying from a coffee shop, your coffee isn't free.
According to CNET, your at-home coffee habit can cost you:
Black Coffee: $1.24/day
Coffee + Milk: $1.35/day
When you decide to change scenery and hit the coffee shop, that cost doubles between $2-$3.70+/day. If you were to buy a latte at a coffee shop every day, you end up spending $730-$1,350/year. 🫠
We're not saying to drop your coffee habit – not only is that off-brand, but it's unrealistic. According to a recent Dive Research study, 74% of people drink coffee daily, and employees across the US need their morning coffee to be their most productive selves at work.
Companies can make office coffee stations more than an extra, but a part of their financial benefits package. High-quality office coffee enables employees to save $38/month and spend those earnings on literally anything else.
Utilities: $2,747.88/year
Utilities is the largest area where remote workers see significant cost increases. A recent study found that remote workers spend around $121/month more on utilities overall. It doesn't take a rocket scientist to figure out that you use more of everything when you spend more time at home. 🫣
Some companies provide work-from-home stipends designed to cover phone and internet, but not the areas that see significant cost increases like energy and water. The National Bureau of Economic Research reported a $40-$50/month increase in energy costs among remote employees during the pandemic.
The average remote worker will spend the following when working at home:
Work-From-Home Essentials: $20+/year
The other cost to factor in is home-office essentials ranging from your standard office supplies or furniture to anything else that provides employees with ideal working conditions.
According to Angi, creating a home office can cost anywhere from $20 to over $5,000:
Lighting: $20+
Furniture: $100+
Storage: $150+
Office Supplies: $50+
Innovative companies like Crafty provide some items such as additional monitors, keyboards, laptop stands, and other technology essentials. Plus, Crafty provides employees with $35/month to spend on their employee snack boxes and remote work essentials to bring the office experience to each employee's home.
Childcare: $15,600-$30,000/year
Many think that when you work from home, you can save on childcare expenses, but have those people ever had a toddler? According to Zippia, "22% of all parents with young children say that they cannot work, either in person or remotely, without childcare." Therefore, even though many parents got more schedule flexibility, it didn't necessarily eliminate the need for childcare.
When working parents reflect on their significant financial commitments, apart from housing costs, childcare often stands out. In a survey conducted by NPR, over 50% of more than 1,200 respondents acknowledged that childcare expenses posed a somewhat serious challenge, with an additional 20% deeming it a serious concern.
As employees return to the office, any efforts to offset employee expenses can be huge to working parents. They are already spending between $1,300-$2,500 per month on childcare, so saving them $10-20 per day can be a lot in the long run.
Honorable Mention: Housing
Housing is another cost that burdens employees, but it is hard to put a specific number to. According to the National Bureau of Economic Research, "the shift to remote work explains over one-half of the 23.8% national house price increase." The study also points out that 40% of US renters pay more than 30% of their net income for housing, which is over the recommended percentage.
According to Entrepreneur, remote work caused people to start their own households, searching for larger apartments costing 20% more in rent. Employees looking to buy faced increased housing prices and interest rates.
Our friends at NerdWallet shared that the average rent in the US as of July 2023 is $2,054/month, a 4.1% increase over last year. "As the pandemic increased the popularity of remote work, renters sought larger homes in areas that had been previously relatively low-cost," says NerdWallet. "This migration increased rents in suburban areas more than it lowered them in urban ones, yielding a net increase in rents."
Conclusion
The shift towards remote work in 2023 has brought both opportunities and challenges. As more companies define their future workplace, it's crucial to understand the complete picture of what it truly costs to work from home financially and from an employee engagement perspective.
Although employees experience an improved work-life balance with some cost savings, remote work can often lead to decreased connection with the company and other employees, which may result in burnout. On the financial end, remote workers may save on commuting expenses, but these savings often get redirected into other areas like groceries, utilities, rent, and more.
As companies navigate whether to embrace a fully remote, hybrid, or return-to-office model, it is imperative to factor these hidden costs into the employee experience strategy. Recognizing the financial implications of remote work allows organizations to craft better office experiences, resulting in increased employee engagement and retention.

Ready to craft a better workplace?
Crafty streamlines your office food and beverage operations while helping you make data-driven decisions and elevate your culture.