Nuro signed up with Crafty for a full kitchen management program during a period of hypergrowth. From 300 employees and one location to now 1,200 employees (and growing!), Nuro uses Crafty at every location around the country.
Testimonial provided by Danielle Vitale, Workplace Coordinator at Nuro.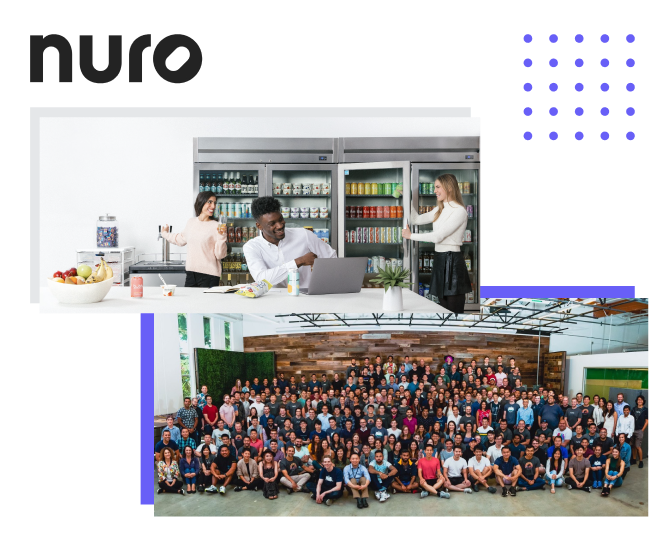 How did you get introduced to Crafty?
When we started looking for help with our in-office food and beverage management, I talked to my manager who formerly worked at Yelp. He encouraged me to reach out to Crafty, because the team has done a really great job at Yelp.
When Crafty came in, we were at 300 people. I was managing our food and beverage program all on my own, so their help was sorely needed. Nuro was - and is - rapidly growing, and Crafty was really enthusiastic about making sure our employee voices were heard when curating our program. Crafty also prioritizes working with women and minority-owned businesses, which was a real draw for us at Nuro.
LOCATIONS SERVED
Nationwide
INDUSTRY
Technology
PROGRAMS
Kitchen
Why did you end up choosing Crafty?
Finances always come into play when making a decision, and Crafty was certainly competitively priced. More so than that, it was the enthusiasm and the people behind the business that made Crafty the right partner for our team.
As with anything new, it's difficult to hand over the reins to someone when you've been managing it yourself. Crafty made me feel very comfortable doing just that. Especially with the client dashboard, all the information I would ever need is right there. I know exactly what is going on at each of our offices with inventory, spend, and deliveries. Crafty handles the details, and if I ever need information, it's right there.
I have the Crafty dashboard up on my computer more than the Google homepage!
What has the feedback been like?
The feedback from everyone has been overwhelmingly positive. Crafty handles themselves with an incredible amount of professionalism. Early on, I witnessed our cofounder wander into the kitchen looking for something. Instantly, one of our Crafty Field Operators swept in and took care of him. It might seem like a small thing, but it had a large impact. I'm constantly hearing how impressive our Crafty Field Operators are!
Because of that, Crafty has really become an integral part of the Nuro culture. One of the biggest examples of this was at the start of the pandemic. With all our employees at home, we sent everyone a Crafty in a Box that had some of our kitchen staples as well as some new products for everyone to try. Crafty's timing on this was incredible. They were so quick to pivot and let our employees know that while things were uncertain, both Nuro and Crafty cared about them and wanted everyone to experience a bit of normalcy during a tough time.

"The Crafty dashboard helps me visualize multiple locations. It's like being there without actually getting on a plane."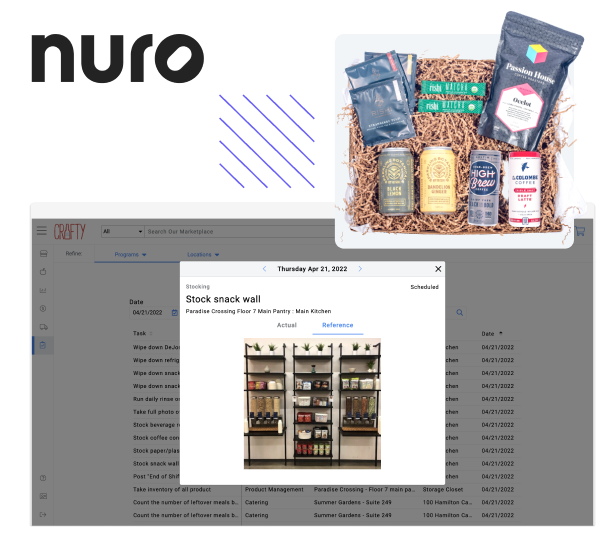 What do you think of Crafty's operations?
The responsiveness of the entire operations team at Crafty is unmatched. Joe, one of Crafty's service technicians, is my favorite person. I can play him a sound the coffee machine is making over the phone, and he'll either tell me exactly how to fix it or he'll be at our office right away.
Crafty has a restaurant-style response to requests; basically, they get it done as quickly as humanly possible. Not only that, but the Field Operations team is friendly, respectful, and a great mood setter for our kitchens. They're like neat and tidy snack fairies around here!
Even in markets where Crafty partners with a third-party vendor, there is no lag in service level. Crafty still manages all the communications and makes sure that our employees in all markets are enjoying a consistent experience.
Do you see Crafty partnering with Nuro in the long term?
Nuro is in the process of expanding our HQ office, and from day 1 (from step 1!), Crafty has been present for all of those conversations. We are expanding quite a bit, and it's been really wonderful to realize that Crafty can not only "plug and play" into existing spaces, but also can work with us from the start to create a totally custom experience as we expand into new spaces.
We have been able to make our workplace an incredible space by working with Crafty. Crafty is essentially just as important to our new spaces as is figuring out where our employees are going to sit and where they're going to plug in our laptops.

No matter your office location or size, Crafty can help you build a food & beverage program that your company will love. If you're interested in learning how we can bring your vision to life, share your contact information and we'll be in touch.
Read more Crafty client spotlights

NextRoll brought Crafty on board when they transitioned to a remote working model during the height of the Pandemic. Now, transitioning to a hybrid working environment that includes remote and in-office employees, Crafty is here to stay.