The Future of Work: How Food Service Will Drive Employee Connectivity, No Matter Where We Work
The only way to predict the future is to build it. So, let's design a delicious future that fosters connection no matter where we work. The discussion around how we work has been a hot topic for the last few years, and workplace teams across the globe find themselves at the center of this conversation.
We've been presented with an extremely complicated set of challenges:
How do we facilitate the employee experience simultaneously across remote and in-office teams?
How do we enable employees to work from home, from the office, or both - and potentially all of the above for the majority of individuals who will likely choose a hybrid model?
How do we enable new recruits to connect with their teams in a fully or partially remote work environment?
How do we coordinate office events and meetings across our teams in a fully or partially remote work environment?
How should we evolve our physical office footprints to accommodate the future?
It's up to us to decide what that future will look like.
At Crafty, we live and breathe workplace food & beverage management, so we decided to share some of our thinking on the future of (eating at) work.
This article dives into one of the primary objectives we seek to achieve through our food & beverage offerings: employee connectivity and engagement.
Employee Engagement & Connectivity
When COVID completely halted the traditional in-office experience, I had the opportunity to chat with Michiel Bakker, Google's Director of Global Workplace Services Programs and Head of Food at Google.
We chatted in May of 2020 in the midst of tremendous uncertainty about the long-term impact of COVID. Sentiment around the in-office experience was spiraling as we came to grips with how to work from home. At the time, it felt as though everyone was talking about "social distancing" as the new norm.
Despite all of this talk around social distancing, Michiel reminded me of the primary objective of food at work: bringing people together.
His long-term view on food at work emphasizes the role food plays in our human experience. We eat for pleasure, for identity, and most of all, we eat together.
Proximity fosters a sense of belonging, and food has been one of the most effective tools used by employers to build community. Whether it's a meal, a snack, or a cup of coffee, food creates an opportunity to connect, and eating together reinforces deeper relationships with those around us.
Leading research institutions like Cornell University and the Harvard Business Review have shows that eating together at work increases employee productivity and morale.
With this sudden, forced deployment of distributed work models across the globe, employers need to adapt their employee experience faster now than ever before.
Will the growing prominence of remote work eliminate the need for food at work?
According to Gartner, 74% of surveyed CFOs plan to keep part of their workforce permanently remote after the COVID-19 crisis. The fact is, we will not spend as much time in the office as much as we did previously. There will be fewer spontaneous connections with others, fewer opportunities to introduce yourself to new colleagues you haven't met, and less time spent talking to people on other teams about the work they are doing.
For Workplace Teams, our job is to make the most of the workplace experience. Now, focus is refined: how can we enable our people to do things in-office that they simply cannot do while working remote.
The biggest thing that we simply cannot do while working remotely: engage in-person with others.
The future will be more socially distanced than the past. It will be more remote than the past. In an effort to combat the isolation that comes with remote work and social distancing, we need to leverage food & beverage as a tool to facilitate more connections in the office.
With fewer hours in the office, we need to ensure those hours are used effectively, and one way to do that is to intentionally use food & beverage as a way to bring people together.
Employers will want their teams to have lunch together in-office, if it means saving a trip out for a meal. Employers will want their employees to grab coffee or tea in the office, if it means saving a trip out to the nearest cafe.
Imagine a world where your office has a barista-staffed cafe and every month, your employer matches you with a new employee to meet at the cafe for 30-minutes to share a beverage and get to know each other.
This will be even more important for new employees and recruits, whose successful acclimation into a new work environment and community depends on opportunities to engage with co-workers in a less work-related way -- eating being one of the best non-work ways to connect.
Despite the negative stereotypes that Gen-Z would prefer to work alone or remotely, the research performed by consulting firm Robert Half strongly asserts the opposite.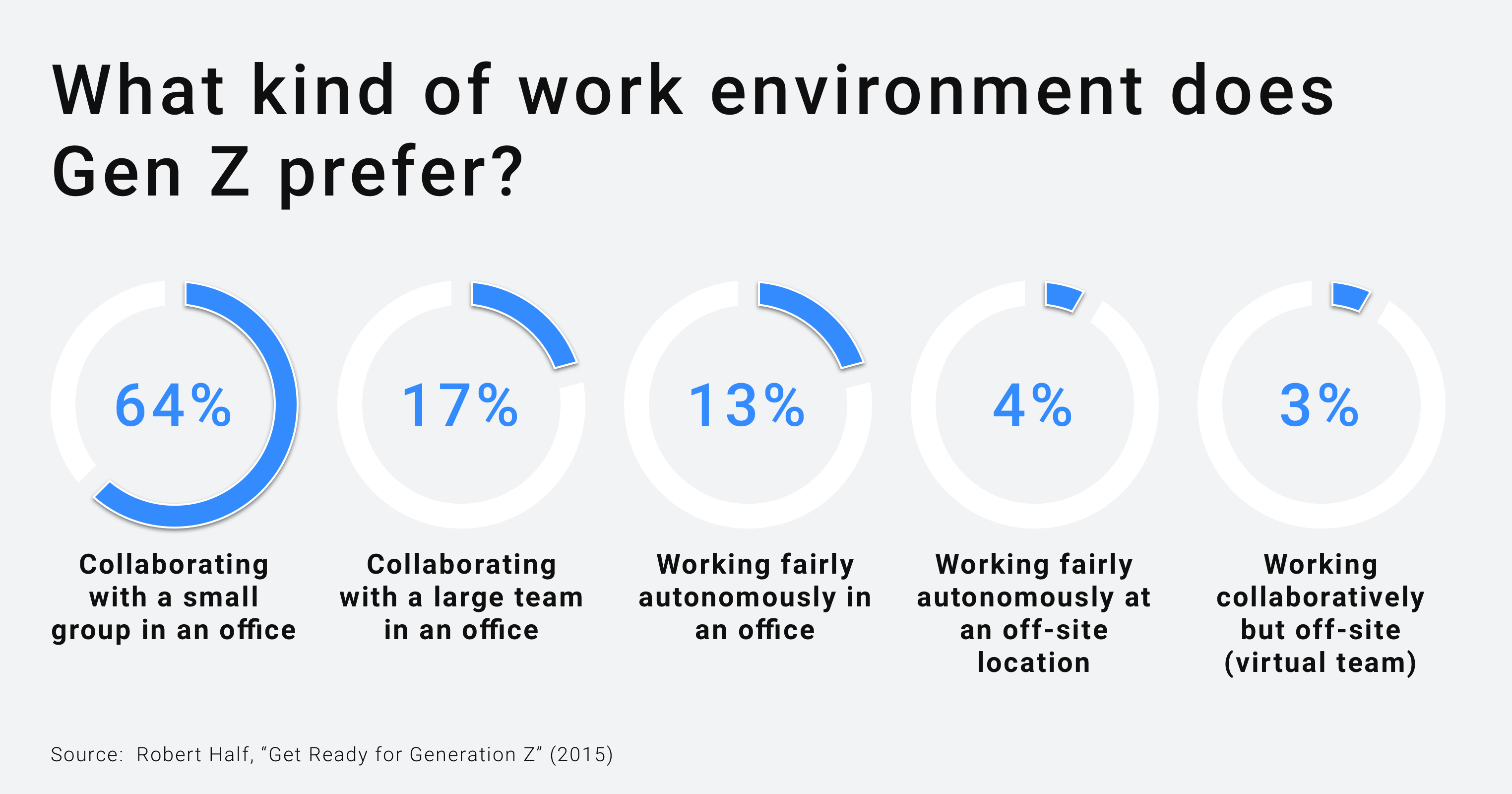 64% of Gen Z survey respondents would prefer to work with a small group in an office, and remote work was considerably less popular.
For those of us already ingrained in the workforce, think back to when your first job and those first few weeks. Now imagine doing that from home behind a computer screen...
In the future, which will certainly include a larger percentage of time spent working remotely, we expect employers will place even more emphasis on helping new recruits connect with their colleagues, and food & beverage will play a major role in those efforts.
With less time in the office, there will be fewer spontaneous connections. Activities like the "coffee date" concept above are a great way to help new recruits get to know other employees in the office.
With less predictability around who will be in the office on a given day, technology tools can help us facilitate the option to join others when they decide to get a snack, beverage, or meal. If I receive a notification that my teammate Julia is in the office today, I may message Julia to see when she plans on taking a coffee break. And better yet, Julia may post her plans to sit down for a late lunch to see if anyone in the office is interested in joining her.
Like weather, food is a shared experience and a great way to build connections for your team. As the future unfolds, we will continue to see food drive connectivity for our teams, no matter where they work.
WORKPLACE TRENDS
Let's get schooled on coffee and demystify some of the trickiest coffee factoids out there...