NextRoll brought Crafty on board when they transitioned to a remote working model during the height of the Pandemic. Now, transitioning to a hybrid working environment that includes remote and in-office employees, Crafty is here to stay.
Testimonial provided by Ebi Adegbe, Workplace Lead at NextRoll.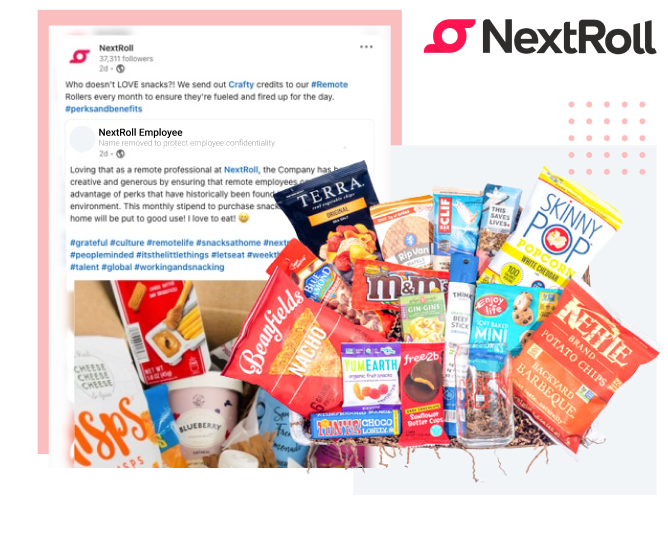 How did you get introduced to Crafty?
When the pandemic hit, we had to transition quickly to remote work and that meant that a lot of the in-office perks that kept our employees happy were no longer available. We wanted to find a way to emulate our snack program for employees at home.
Crafty had reached out to us previously and sent us a box of goodies, so Crafty was already top of mind. After looking into the Crafty in a Box program, we realized the price was reasonable. Considering we spent $7 per person per day when we were in the office, we had a lot of flexibility when it came to budget. Crafty's pricing and variety fit our needs really well at the time.
We were able to launch quickly and keep our employees happy and fed at home.
LOCATIONS SERVED
Nationwide
INDUSTRY
Technology
PROGRAMS
Crafty in a Box
Why did you end up choosing Crafty?
We have a number of dietary restrictions on our team and seeing that Crafty has curated boxes that cater to those needs was a lifesaver. Individual items are also labeled by dietary restrictions so that if you want to build your own box with your allocated Crafty credit, you know exactly what snacks are safe to eat. The filtering on the Crafty in a Box website is great.
That was what really sold Crafty to us. Not to mention the stellar pricing, the optional glass (SWAG!) and being able to ship the boxes anywhere across the continental US.
What has the feedback been like?
Crafty has made our workplace team look great to our employees, to our leadership team, and to new hires. Here's a selection of choices quotes from our team:
"Crafty just keeps getting better. Love the cleaning supply box"
"Really good products too"
"I like that you can choose individual items too. Last time, I just ordered an entire box full of Justin's Peanut Butter Cups"
"Love this!"
"This is so thoughtful"
"Awesomesauce"
People even find things they love through Crafty and go on to order it in bulk on their own so they never run out!
When it was just snacks, we still had people who weren't fully on board and didn't use their Crafty credit. But as soon as the other options were available, redemption increased and continues to trend that way.
One of our managers was hesitant to let people order things other than snacks, but she is now a total convert. She just ordered the Tony Soprano Box and loved it.

"We were able to launch quickly and keep our employees happy and fed at home."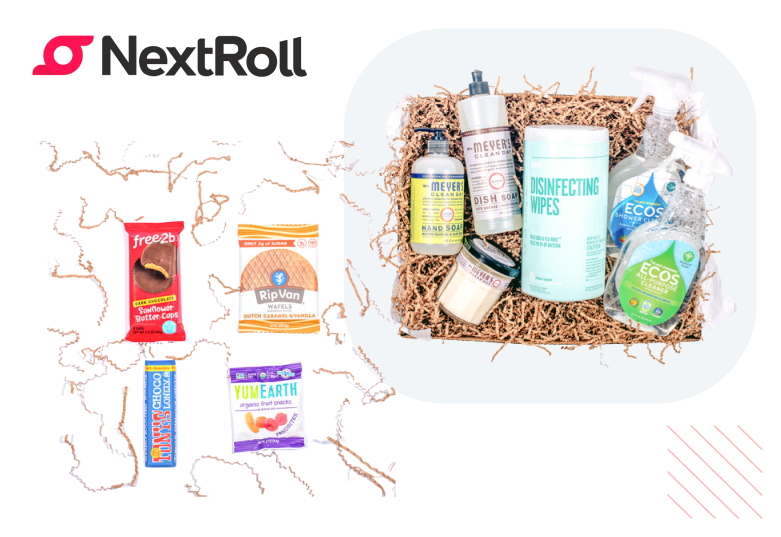 Q: How do you see Crafty in a Box elevating your workplace culture in the long term?
We're giving people the opportunity to work remotely indefinitely. We will still have a hybrid model, but the majority of our new hires have been remote workers, which means we'll always need, and want, Crafty in a Box. We want people who are not in-office to experience the same or similar perks as if they were. We see this as always being a part of our employee experience.

No matter your office location or size, Crafty can help you build a food & beverage program that your company will love. If you're interested in learning how we can bring your vision to life, share your contact information and we'll be in touch.
Read more Crafty client spotlights

Ferrara brought on Crafty to run a seamless catering program and build out the food & beverage program at their new headquarters.