7 Ways Spooky Season Can Enhance the Office Experience

Returning to the office doesn't have to be scary, but your Halloween office should be!
Spooky season, the affectionate term for the lead-up to Halloween, has evolved into one of the most cherished times of the year. It's a season where everyone embraces all things spine-tingling and supernatural, from haunted house excursions to bone-chilling movie marathons. It's no wonder that spooky season has taken over social media, television screens, and households, captivating people of all ages.
But why restrict the bone-chilling fun to just your personal life? Celebrating spooky season at the office can be the perfect way to elevate spirits and foster camaraderie among your colleagues. At a time when 77% are "quiet quitting" their jobs, or actively disengaged and "loud quitting" at work, creative and timely employee engagement tactics aren't just nice to have, they're necessary.
In the following sections, we'll explore how spooky season became a cultural phenomenon inside and outside of the workplace and share creative ideas for infusing your office with some spook-tacular energy to keep employees engaged.
Why Spooky Season Has Everyone In a Chokehold
While "spooky season" may sound like modern slang, it's far from new. In fact, this term has roots dating back to the early 1900s. An Illinois newspaper once wrote, "The spooky season of the year is now at hand when the mystic moon is chill, and the spooks and phantoms wander out to do their magic will." That's enough to send shivers down your spine, isn't it? Over the past century, Halloween and the months leading up to it have captured the imaginations (and wallets) of Americans and it shows no signs of stopping.
According to a recent poll by Angi, 62% of respondents decorate for Halloween before October 9th. That means that a majority of people are eager to get into the spooky spirit way before the holiday actually arrives. In fact, 24.72% of respondents go all-in on Halloween decorations even before October 1, demonstrating that some folks are ready to kickstart Halloween festivities as soon as September rolls around. And it's not just about decorations.
Many people go all out for Halloween, spending hundreds of dollars on costumes, candy, and other spooky accessories. In South Dakota, for example, 28% of residents spend between $250 and $499 on Halloween decorations each year. And they're not alone—New Yorkers also like to splurge, with 36% reporting that they spend between $250 and $499 per year on new Halloween décor. Consumers spent approximately $9 billion on Halloween in 2019, according to the National Retail Federation. Only Christmas rakes in more dough.
Of course, Halloween isn't just about the splurge. It's also a time for getting together with friends, colleagues and family and having fun. Whether you're carving pumpkins, trick-or-treating, or attending an office costume party, Halloween is that time of year when we let our hair down and embrace the spirit of fun.
But why do people love the spookiest of seasons so much? There's something about the thrill of being scared that appeals to us on a primal level. Maybe it's the rush of adrenaline we get from watching a horror movie, or the excitement of seeing our coworkers break character. At Crafty, it's the excuse to stuff ourselves with candy and other ghoulish goodies. Whatever it is, the appeal of spooky season is undeniable. And that makes it the perfect catalyst for raising your office culture from the dead.
Crafty's Top Tips for Celebrating Halloween at Work 🎃
Invite Employees to Help Decorate the Office
One of the best ways to get into the Halloween spirit as you return to the office is by decorating common areas like the kitchen and meeting rooms. Whether you go for classic Halloween decorations like spider webs and pumpkins, or you tap into your inner HGTV with hand-painted gourds, gory statues, and candelabras, decorating your office space can be a fun and creative way to get everyone in the mood for All Hallows Eve.
You might even consider holding a friendly decorating competition to see who can create the spookiest workspace (Before you ask, no, a stack of quarterly projections don't count). Encouraging your colleagues to decorate their own spaces can help them feel more connected to the office, especially if they've been working from home for a while. Meanwhile, healthy competition can generate a buzz. A 2019 study on design at the workplace, 30% of office workers said that the design of an office would affect their decision to work at a company.
Of course, when it comes to decorating an office space, you'll want to keep things appropriate for a professional environment. But that doesn't mean you can't have some fun with it!
But what kind of decorations should you choose? According to the same survey by Angi, most people prefer a more family-friendly Halloween display. In fact, when it came to decorating 35.92% of respondents chose a family-friendly theme as their favorite, while 30.08% went with a spooky haunted vibe, 28.72% picked a traditional harvest or fall decor theme, and only 5.28% chose gore.
Of course, these are just suggestions—ultimately, the decorations you choose should reflect your company's style and the vibe of your workplace. If you work in a creative field, you might want to go all out with your decorations, while a more conservative office might prefer something a little more subdued.
Host a Costume Contest
Make the idea of dressing up for work a little more fun by hosting a Halloween costume contest. Not only does it add an element of excitement and anticipation to the workday, but it also encourages employees to work together, brainstorm creative ideas, and collaborate on group costumes.To say it has a few surprising work-related benefits would be an understatement.
According to a survey by O.C. Tanner, letting employees dress up for Halloween has a positive impact on workplace morale. Of 953 surveyed full-time adults, 61% believed employees should be allowed to wear costumes on Halloween, even though only 45% reported their workplaces allowed it.
The survey also revealed that those who can dress up at work are more engaged. For instance, 73% of costume-wearing employees are highly motivated to contribute to their organization's success, compared to 58% of those who can't dress up.
Who knew having the opportunity to dress up as Baby Yoda or cosplay as Beyonce could have such a powerful impact?

A Halloween contest offers a refreshing break from routine, injecting fun and excitement into the workday, reducing stress, and promoting a happier and more productive workplace. Costume contests facilitate interactions among employees who may not usually connect, fostering positive relationships and a more collaborative work environment, especially if they work together to come up with themes and concepts.
After the contest, gather feedback from employees to improve future events and ensure everyone enjoys the fun-filled experience!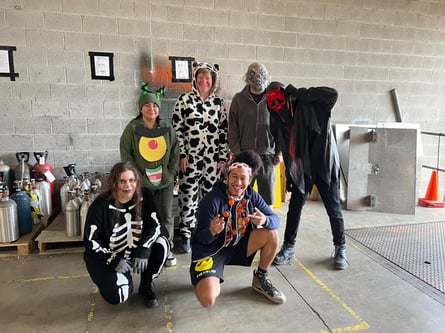 Crafty's Chicago Warehouse Crew celebrating Halloween in style!
Celebrate with Hair-Raising Treats
Halloween isn't complete without treats, right? It's one of the few times of year when themed snacks, candies, and drinks reign supreme. If you're aiming to elevate employee engagement with an office Halloween party, a themed snack spread or catered meal is a surefire solution. Whether you're planning an intimate gathering or an extravagant monster mash, there are countless ways to delight your employees with delicious treats that heighten the office experience.
If you want to be a bit conservative, offer classic Halloween goodies like pumpkin-shaped cookies, candy corn, and caramel apples. These bites are available in most stores or can be made in-house quickly. If you're feeling a little risky, you can also get creative with your culinary creations by serving dishes with eerie names like "Witch's Brew Stew," "Mummy Meatballs," or "Ghoul-Aid Punch."
Even if you take the simple route, food shopping and tablescaping can take up a lot of time. Consider hiring a pantry partner with a vast inventory of office snacks, experience curating Holiday set ups and systems in place to track and optimize the process from end to end. At Crafty, we've got your back. Our crew goes over your order with a fine-tooth comb, making sure you get what you paid for. We snap a pic as proof of delivery, update your inventory in your dashboard in real-time and provide assistance with set ups and take downs. We're all about teamwork, so we'll chat with you right from the get-go to make sure your holiday event goes smoothly. If something's not quite right, don't sweat it – we'll give you the scoop and take charge of fixing it.
According to Sharebrite, a whopping 61% of folks would seriously think about switching jobs just to snag some meal perks. And guess what? Their research shows that chowing down at work is more than just about filling your belly–it's a game-changer. About 64% of employees swear that a workday meal is the kick they need to power through the workday, while 51% say that lunch breaks help them with focus and productivity. Oh, and here's the fun part: 28% of employees believe that taking a lunch break cranks up their creative mojo. So, it's not just about giving people something that will look nice on their Instagram, it's about how these little changes can turn your office into a productivity and satisfaction paradise!
💡Crafty tip: To make things more interactive and engaging, organize a Halloween bake-off or potluck where employees can showcase their culinary talents alongside the spread you provide. Encourage them to come up with their most creative, spookiest dishes for a friendly competition. You can even have employees vote on their favorite dishes, and the winners can receive prizes or bragging rights until the next Halloween. Don't forget to accommodate dietary restrictions, such as offering vegan or gluten-free options, to ensure all employees can enjoy the treats.
Play Ghoulish Games and Activities
There are a lot of pop songs about not wanting to play games, but we don't think those rules should apply at the office. Well, not when you talk about the possibility of bringing board games, card games, video games and more into your space. Engaging activities can elevate your office Halloween celebration. Consider organizing games and contests that encourage teamwork and competition while keeping the spooky theme alive.
People tend to see work and home life as two totally different worlds. Home is where you kick back and relax, while work often feels like a stiffer and more restrictive environment. But hey, adding some gaming to the mix at work can help bridge that gap. Participating in a game demands that you relax and multiplayer games give you the opportunity to work with your colleagues to reach a common goal and access the parts of their personalities you may not see in meetings and presentations.
Teamwork, even over a game of Uno, requires a level of trust. Because no team member can win on their own, coworkers learn to rely on their group's expertise and form deeper bonds. A Harvard study found that employees performed better when they worked with a team they were familiar with than when working with a brand new one. When you team up with your buddies at work, you tend to do better than when you're thrown in with a bunch of strangers. Basically, it's all about knowing your team and how it helps you improve your performance.
Here are some ideas:
Scavenger Hunt: Create a Halloween-themed scavenger hunt around the office. Design clues that lead employees to different locations where they'll find hidden treats, decorations, or riddles to solve.
Costume Relay: Organize a relay race where teams of employees must put on and take off Halloween costumes as quickly as possible. The catch is that each team member wears a different costume piece, creating hilarious and chaotic outfit combinations.
Pumpkin Bowling: Transform a hallway or empty space into a makeshift bowling alley using mini pumpkins as bowling balls and empty soda bottles as pins. Let employees take turns trying to knock down the pins.
Mystery Escape Room: Design a Halloween-themed escape room experience within the office. Create puzzles and clues related to a spooky storyline, and challenge employees to work together to solve them and "escape" within a set time.
Candy Corn Toss: Set up a candy corn toss game using small buckets or containers with different point values. Employees take turns tossing candy corn pieces into the buckets to earn points.
Halloween Trivia: Test employees' knowledge of Halloween movies, folklore, and traditions with a trivia quiz. Offer prizes to the individuals or teams with the highest scores.
These activities can add excitement and entertainment to your office Halloween celebration, encouraging employees to bond long after the games are put away.
Have an In-Office Scary Movie Marathon
Don't let that jumbo office TV go to waste. A movie marathon is an excellent way to celebrate the spookiest of seasons and and improve the office experience, especially if you have a communal space or lounge area with room for everyone.
Choose a selection of classic horror films or Halloween-themed movies that employees can enjoy during breaks or after work hours. Make it cozy by providing blankets, comfortable seating, and snacks.
Here are some Crafty-approved movie and food pairings 🎥🍿:
The Shining: Redrum Red Velvet Cake
A playful nod to the famous 'redrum' scene in the movie, red velvet cake makes for a fitting choice.
Hocus Pocus: Witch's Brew Punch'
Create a colorful punch with green or purple food coloring for a magical touch.
Beetlejuice: Sandworm Gummy Candy
Use gummy worms or snake-shaped gummies to represent the Sandworms.
The Rocky Horror Picture Show: Finger Foods
Serve finger foods like mini breakfast sandwiches with sausages to playfully mimic the movie's themes.
Watching a scary movie with coworkers can spark some surprising benefits. After all, you're asking your team to sit together as they're confronted with content that will elicit a strong response. It's a fun way to bond as you all share the thrill, plus it's a stress-buster and a great excuse to build deeper connections.

Discussing the film afterward can also add to the camaraderie, stimulate creativity and problem-solving, and boost morale. It also provides insights into how different team members react to fear and promotes empathy and support within the group. Before the marathon, create a schedule and invite employees to vote on the movies they'd like to watch. You can also encourage them to dress up as characters from the films or bring in props related to the movies for added fun.

In a world where teamwork statistics show that 52% of workers have left a job or considered leaving because they felt like they didn't belong, a Halloween movie moment may be just the thing your team needs to build closer connections.

💡Crafty tip: Before screening anything, make sure that everyone is comfortable with the choice of movie and make participation voluntary to create a positive and inclusive experience.
Design a Haunted Office Tour
Halloween is the perfect time to infuse a little spookiness and fun into your workplace. Instead of settling for the usual decorations and costumes, why not take it up a notch and design a haunted office tour that your employees can explore? It might sound like a daunting task, but with some planning and a dash of creativity, you can turn your office into a chilling and thrilling adventure that will leave your team talking about it for months. In this blog, we'll guide you through the process of designing a haunted office tour that will take your Halloween celebrations at work to the next level.
The first step to creating an unforgettable haunted office tour is designing a route through your workspace. Think of your office as a canvas, and you're the artist. Incorporate different themed areas or rooms along the route, making sure the journey is engaging and mysterious.
To make your tour truly haunting, you'll need to decorate each area with eerie props, dim lighting, and spine-tingling sound effects. Think cobwebs, fog machines, eerie music, and strategically placed skeletons. The goal is to create a spooky atmosphere that sends shivers down everyone's spine.
What's a haunted tour without some spooky characters? Recruit volunteers or employees to act as "ghosts" or characters within the tour. They can wear costumes and makeup to enhance the overall experience and interact with your coworkers, adding an element of interactivity and surprise.
Every great haunted tour needs a compelling narrative. Develop a storyline or mystery that unfolds as employees progress through the tour. It could be a ghostly legend, a spooky mystery, or a chilling tale. A well-crafted storyline will keep participants engaged and invested in the experience.
Allow your employees to go on the haunted tour in small groups. This not only enhances the sense of camaraderie but also ensures that everyone gets to experience the frights and surprises along the way. It's a shared adventure that fosters team spirit and memorable moments.
While you want to give your colleagues a good scare, it's crucial to consider their comfort levels with frights. Ensure that the experience is enjoyable rather than too intense. The goal is to create a memorable and fun Halloween celebration that your team will appreciate.
Get Messy with a Pumpkin Carving Contest
If you want to organize a pumpkin carving contest in your office, there are a few things you need to do. First, make sure you have all the right supplies, like pumpkins, carving tools, and safety equipment. It's also important to set a time limit for carving, usually about an hour. You can choose to have employees work individually or in teams, depending on what works best for your office.
To keep things fun and interesting, offer different categories for the pumpkin designs, like scariest or most creative. Be sure to have prizes or recognition for the winners, and allow judges or employees to vote for their favorite designs. Once the pumpkins are carved, display them in a common area for everyone to admire and share on social media.
Finally, announce the winners during your Halloween celebration and give out prizes for each category, as well as an overall winner. Don't forget to take photos and share them on your company's social media channels. By organizing a pumpkin carving contest, you can encourage teamwork, creativity, and some friendly competition in your office. Have fun!
Pumpkin carving is considered an art form, and art, in general, has been shown to offer numerous therapeutic benefits. According to a study from The Arts in Psychotherapy , 71% of participants reported a reduction in anxiety after engaging in creative arts therapies, highlighting the potential of art therapy in providing emotional support and stress relief, particularly for individuals dealing with serious health conditions. Furthermore, research published in Arts & Health has demonstrated that art therapy can positively impact self-esteem and self-image, especially in children. This study revealed that 79% of participants experienced increased self-esteem and a more positive self-image following their participation in art therapy sessions
Remember that the key to a successful office Halloween celebration is to prioritize participation and enjoyment. Encourage all employees to join in the festivities, but also respect those who may not be comfortable with certain activities or who choose not to participate in costume-related events. The goal is to create a positive and inclusive atmosphere where everyone can enjoy the spirit of Halloween together.
__
As a cohesive team, we all hold the power to contribute to the improvement of employee engagement and retention. One of the simplest ways to achieve this is by acknowledging the efforts of our colleagues. Grand gestures are not necessary; small acknowledgments for a job well done can have a profound impact. Whether it takes the form of a quick email, a shoutout during a team meeting, or a simple 'thank you,' these acts of recognition can significantly boost the morale and motivation of our colleagues.
In addition to recognition, we can also work towards cultivating a more positive work environment. By nurturing a culture characterized by inclusivity, respect, and support, we can help our colleagues feel valued and engaged. This involves actively listening to and addressing their concerns, offering opportunities for growth and development, and promoting a healthier work/life balance."

Ready to craft a better workplace?
Crafty streamlines your office food and beverage operations while helping you make data-driven decisions and elevate your culture.