6 Tips To Create Gathering Spaces In Your Office Kitchen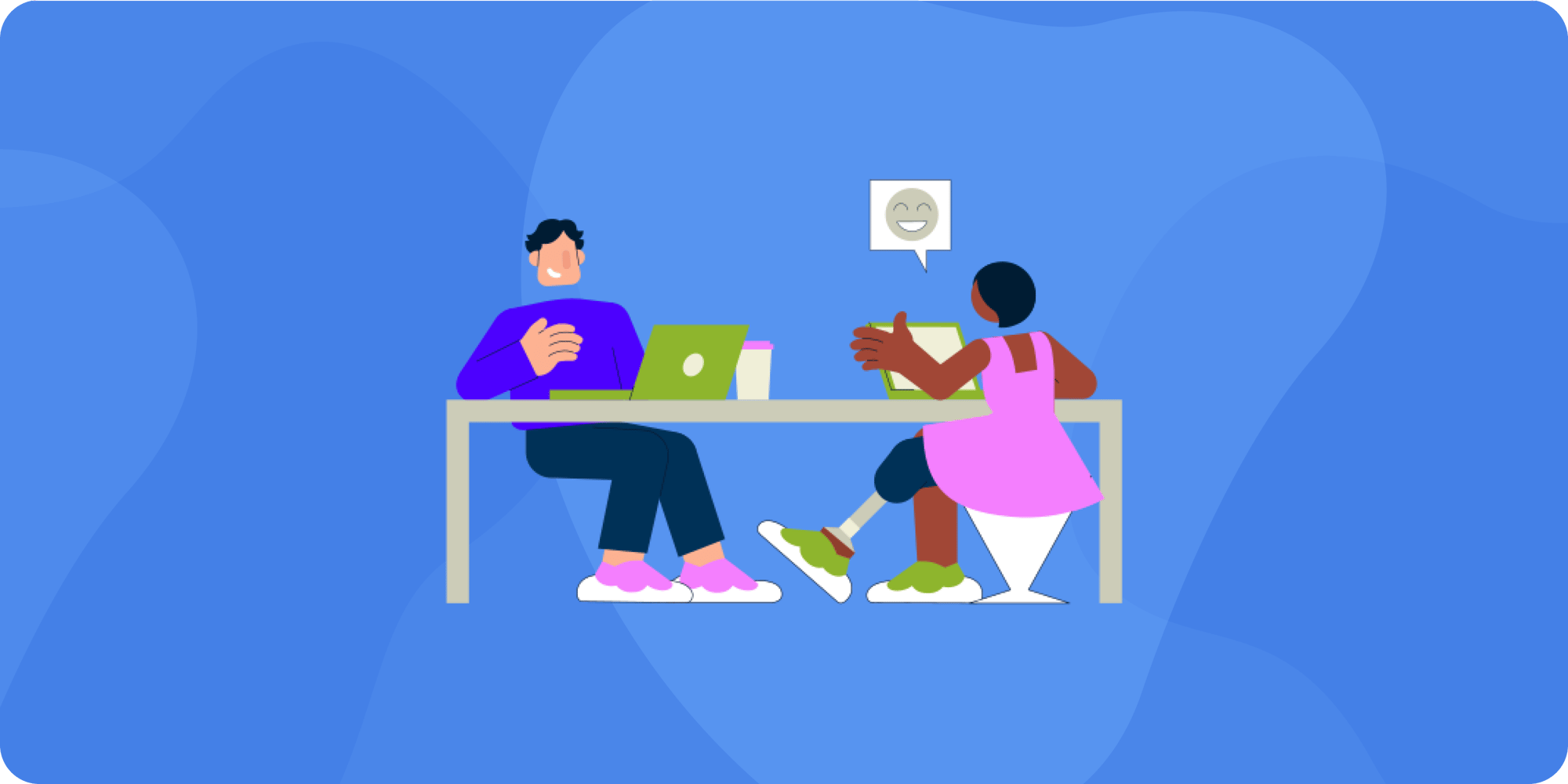 Think about your favorite room in your house. What makes it special is how it makes you feel when you're in it. At work, it's important to have a space where employees feel relaxed, comfortable, and happy. The office kitchen is a natural gathering space and when it's designed with both function and fun in mind it transforms into the heart of your company. Follow these simple design tips to create an office kitchen that serves up good vibes every day.
The experts at Crafty are ready to help you set the vibe with an office kitchen design that will foster employee connectivity and productivity. When you're creating a breakroom café, following these six tips will help you create a space destined to become the heart of your office.
Take a Seat
Gone are the days when an office kitchen was a place people passed through to get coffee or microwave lunch. Smart companies know that by creating a place for people to gather, employees are happier and more connected to their co-workers, resulting in improved productivity and a better employee experience.
The first step to creating this environment is to offer comfortable seating in your office kitchen. Think of your favorite coffee shop, and you'll get the idea of the energy you're aiming for. A mix of two-top tables, communal tables, bar seating, and some plush lounging chairs or sofas is ideal to give employees spaces to relax, brainstorm, and have impromptu meetings with co-workers.
When selecting your furniture, you'll want to pick pieces that blend in with the overall aesthetic of your office. Additionally, it's important to select items that are durable, water-resistant, easy to clean, and of course, comfortable to sit on.
Arrange the furniture intentionally to foster communication. Have lounge chairs and sofas grouped in twos or fours facing each other to encourage conversation. At small tables always make sure there are two chairs. Single seats make it difficult for employees to engage with each other.
With many people returning to the office after several years of working at home, the office kitchen can also offer flexibility, giving them another space besides their desk to work. Changing up the environment sparks creativity so encourage it by making sure that seats have access to power plugs so people can bring their laptop in and work where they feel comfortable.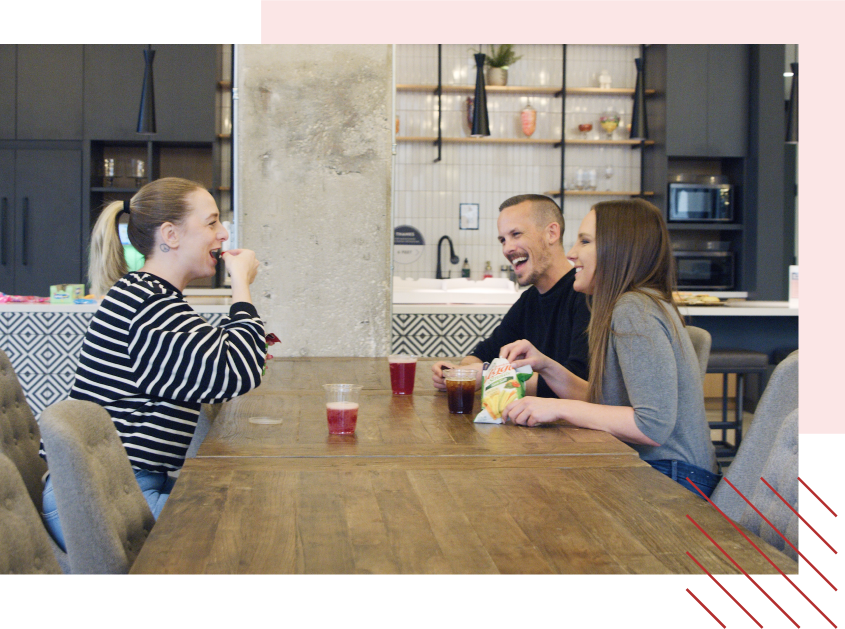 Pop of Color
Color is a great way to infuse personality into your office kitchen design. Color isn't just a tool to make the space more pleasing, there's a whole science behind how it influences our mood and energy.
Not only are stark white walls boring, studies show that people make the most errors when working in all-white rooms. Depending on the vibe you want to create in your office kitchen, you can use certain colors to help:
Blue: Enhances concentration and creates a calming environment
Red: Increases energy and attention
Green: Improves creativity, harmony, and peace while reducing anxiety and eyestrain
Pink: Surprisingly, was found to be the most calming color on the color wheel
Browns: Inspires comfort and security
Yellow: While some find it uplifting, for others it's a color that causes anxiety
In addition to painting the walls, you can add color to your office kitchen design in several other ways. Use accents like art, throw pillows, area rugs, and plants for pops of color and personality. Countertop appliances, dishes, and mugs can also add color to the space.
Depending on your corporate colors, you can use them in your office kitchen design to reinforce your company identity.
Set the Mood
Music is a powerful tool that influences how we feel. It acts on neurotransmitters in our brain which control the mood chemicals dopamine and serotonin. Companies can use softly played music in the office kitchen area to reduce their employees' stress, and improve cognition, concentration, and happiness.
Different musical genres produce different feelings and emotions. Classical music helps sharpen memory and cognition and is generally calming. Upbeat pop tunes help dial up the endorphins and energy level, while the Blues can reduce anxiety and nerves. While not inherently bad, look for music that has general appeal, avoiding niches like heavy metal or show tunes unless those styles are inherent in the industry your company works in and play into your specific company culture.
The music in your office breakroom can change throughout the day from tunes designed to inspire a productive morning, to playlists featuring beats for deep focus to more feel-good songs over the lunch hour. If you want to further engage employees, ask one person or one department to suggest songs for your playlist, like we do at Crafty. The practice has resulted in more feelings of inclusion and even turned some of the staff onto new and exciting artists, they might not know otherwise.
Entertainment Options
Yes, an office is about work, but it's also about people and their well-being. While it might seem counterintuitive to put entertainment elements into your office kitchen, it can benefit the bottom line.
Silicon Valley tech companies ushered in the concept of outfitting an office with games, and the trend permeated to other industries. You can create an area of the office kitchen dedicated to various games like foosball, shuffleboard, ping-pong, billiards, or even simple board games.
Scrabble, anyone? Not only does it boost morale, depending on what games you select, it can build camaraderie, help team building, and improve productivity. Some games known for building collaboration at work include Jenga, Pictionary, trivia, and jigsaw puzzles.
While we often lament kids who play video games 24/7, adding them to your office kitchen game library can have many positive effects. With most games taking three to 10 minutes to complete, they're a quick reset for employees. Playing video games can reduce stress and increase brain function in terms of cognition, reasoning, and perception. Video games are also excellent team-building tools.
Research shows that team productivity and performance increased after the teams played video games. Some top team-building video games include Fall Guys: Ultimate Knockout, Rocket League, and the perfect one for the office kitchen area, Overcooked! 2, which is basically Hell's Kitchen brought to Nintendo. No matter what games you select, get creative and host tournaments, pit the marketing team against the finance team or offer a league.
Incorporating TVs into your office kitchen design is smart because they can be used in a variety of ways to build company culture. Invite employees to watch major events and sports competitions together to create community. Televisions are also great places to share company messaging using a service like Loop TV. You can spread the word on important deadlines, upcoming company events, employee birthdays, and general company news. You can use TVs to promote employee well-being with content tailored to exercises to do at your desk or health tips. If you want to take advantage of standard network or streaming shows, pick something that appeals to a broad audience and isn't divisive. In the office kitchen, cooking shows are a natural fit.
Concierge Service
Once you have a well-designed office kitchen, you can elevate the experience even further by staffing it with a Crafty expert food and beverage concierge. These on-site pros keep your office kitchen humming:
Stocked with your favorite Crafty snacks and beverages
Ensure all appliances are running perfectly
Available to deal with any issue immediately
Teach your employees how to use appliances they are unfamiliar with
Keeps your kitchen sparkling clean and an inviting space for your team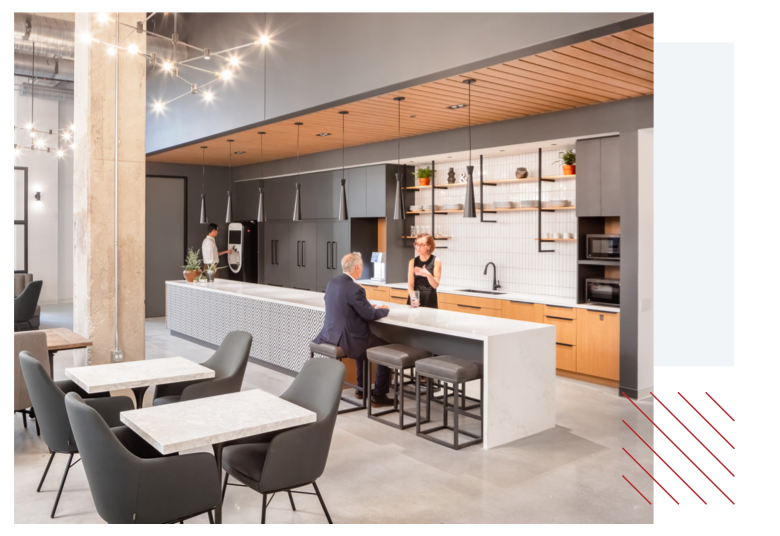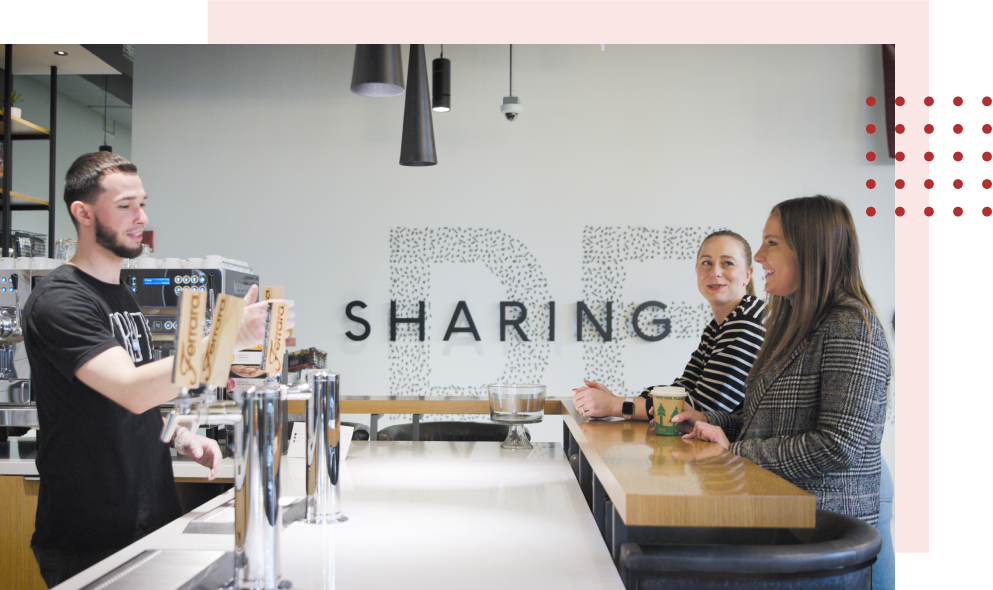 Party Time
Nothing builds employee camaraderie like a party, and your new office kitchen is the perfect place to have celebrations. A well-thrown party improves employee morale, satisfaction, and retention.
Some party ideas that are especially suited to your new office kitchen include events that get your team bonding over food. This could be a hands-on cooking class like learning to make pasta or pizza making, a lunch and learn demonstration class, or a holiday cookie-making event. Depending on your company culture, you could host a happy hour, wine tasting, or pub trivia contest.
If you have an onsite Crafty concierge, they're available to help design and execute parties and other events designed to surprise and delight your employees.
Whatever party theme you decide on, Crafty makes throwing it a breeze with our corporate catering department. From an employee appreciation lunch to a fancy dinner, we partner with local companies in your area to ensure fresh, high-quality food for any type of event you plan.
Create Your Office Kitchen Today
A well-designed office kitchen is an opportunity for you to infuse your company's personality and culture into its physical space. It's also a way to boost employee morale, productivity and retention. When designed well, your office kitchen serves as a hub for communal dining, a space for brainstorming and working, and a place for team building and parties. A great space also provides an area to impress and entertain clients.
If you're ready to start designing an office kitchen destined to become the heart of your office, the experts at Crafty are ready to help you create and execute your dream space.
ELEVATE • CULTURE
The only way to predict the future is to build it. So, let's design a delicious future that fosters connection no matter where we work...