This Water Machine Is Taking Over Top Workplaces

Water cooler culture has been a staple in the office for almost a century. It all started in 1939 when the simple addition of a water dispenser changed the face of workplace experience. The water cooler became the hub for collaboration, debate, innovation, and gossip. Although the days of paper cone cups are past, this culture is still alive and well. It just got an upgrade.
The top workplaces across the globe are always on the hunt for innovative office kitchen equipment that will help them save money while connecting to their company values. According to a recent IMB study, 68% of employees find office sustainability programs make companies more appealing. When implementing sustainable initiatives in your workplace, start with something every employee needs to survive and thrive: water.
If you're looking to attract top talent, the standard water fountain isn't going to impress anyone. These days, many employe are sprucing up their water with carbonation, flavoring, vitamins, and beyond.
Among Crafty clients, sparkling, still, and infused water make up 42% of office beverage spend in 2023
The Global Fruit Infused Water Market is estimated to

grow by 94% by 2033

The Sparkling Water Market was valued at

$33.34 billion in 2022
Workplaces face an inventory problem as they try have a selection that meets employee demand while being mindful of cost and the enviornment. Plus, choosing wrong selection can result in stock rooms full of unwanted flavors while the program goes over budget.
How can you balance offering a variety of options employees will love while keeping sustainability in mind? Say hello to your new favorite office appliance: Bevi!
What is a Bevi?
To put it simply, Bevi is a water dispenser, but it gives you much more than your standard water fountain. A Bevi allows each employee to personalize their water with their ideal carbonation, flavorings, and enhacement so they can sip sustainably.
The company was established with a mission to reduce single-use plastic bottle consumption without sacrificing taste. Instead of upwards of two bottles or cans per day when you need a bit of hydration, employees can use their own stainless-steel, glass, or ceramic drinkware to fuel up.
The Bevi is a dream for workplace managers, because employees can customize their ideal drink without having to stock so much inventory. You can choose your flavors and enhancements based on your employees' preferences and even switch them up throughout the year. Employees can mix up their ideal office drinks, without the risk of overspending and waste.
That said, the Bevi's real flex showing companies their impact on sustainability in real-time. As each employees dispenses their favorites, employees can see how many cans and bottles they are saving by going with this options. These machines can create thousands of drink combinations, pour around 90 glasses per hour, and can save 50,000+ bottles or cans each year. 💪
Where does Crafty come in?
In medium to large offices where employees drink upwards of two drinks per day, having a variety of sparkling, still, and infused water options can get costly. Plus, keeping the shelves stocked with the perfect amount of inventory can also be a battle for workplace managers. Your employees have their preferences, and a spat over the sole Pamplemousse LaCroix on the shelf is anything but productive.
Crafty provides the on-the-ground service and technology to scale an office food service program employees love. Over 300 offices across the globe trust Crafty to design an office kitchen experience that fuels productivity and keeps employees happy throughout their workday, with hydration being the utmost priority. This includes providing and maintaining the equipment at each office like corporate coffee machines, kegs, and water machines. During each restock, our team will tune up the equipment by refilling any flavors, check the gas, and make sure it's all working as promised.
Not only does Crafty provide you with equipment and service, but you also have access to your entire company's consumption data to gain insight into preferences and usage. You can look historically to see how consumption changed over time to predict budgets, see which flavors are performing across each office, and more.
Your team's hydration? It's handled.
Can making the switch to a Bevi save money?
Bringing in new equipment is always a tough decision for workplace managers. How many sparkling waters is enough to validate making the switch? At what point are you losing money if you continue to stock cans and bottles with your current consumption trends?
Our team at Crafty pondered the same questions, and got to work crunching the numbers. We looked at the question holistically, not only factoring in the $0.10/serving savings the Bevi provides, but also the time involved in ordering, delivering, and restocking cans.
Using our office pantry budgeting formula, we estimated that the inventory of cans would account for one 12oz drink per employee per workday. Based on that foundation, we compared the cost breakdown between cans and bottles versus the Bevi to reveal some serious yearly savings:
75-Person Office: Save $3,195/year with Bevi
100-Person Office: Save $5,509/year with Bevi
200-Person Office: Save $15,673/year with Bevi
300-Person Office: Save $25,837/year with Bevi
500-Person Office: Save $41,965/year with Bevi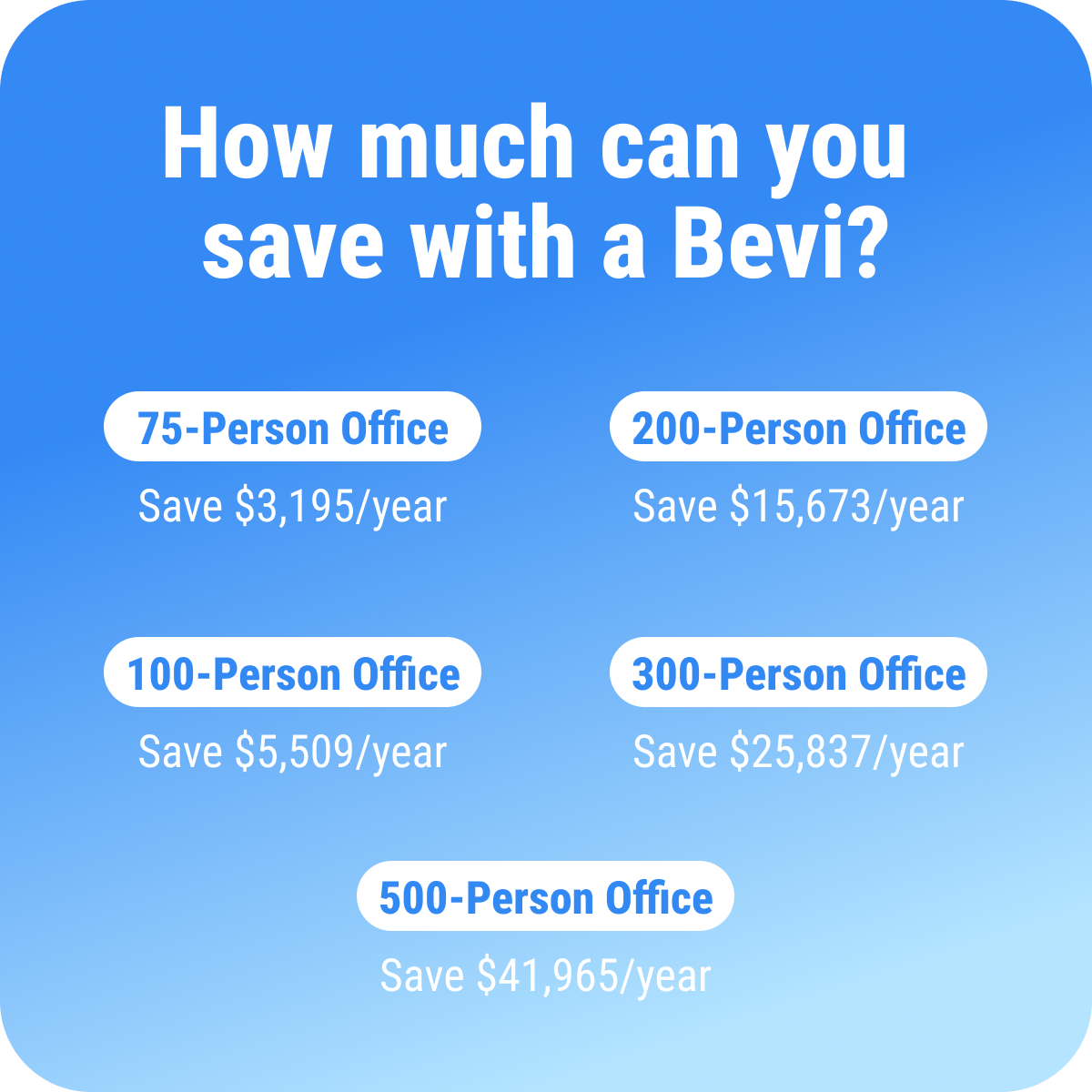 This is a great option for the top workplaces to ensure they stay on budget or for those looking to free up some dollars for other areas of their food and beverage program.
Is a Bevi more sustainable?
Sure is! Having a Bevi in your office is a great way to show your commitment to sustainable practices.
This is the reality of the environmental impact of bottled and canned drinks:
Each of the more than 50 billion plastic water bottles sold worldwide annually takes more than 400 years to biodegrade
Only about 20% of plastic bottles are actually recycled
Producing a 16-oz. bottle of water consumes 1.4 gallons of water and requires enough oil to fill a quarter of that same bottle
Transporting these bottles from the factory to your fridge produces a significant 62 grams of CO2 emissions
The annual carbon footprint for bottled water rivals the emissions produced by 5 million cars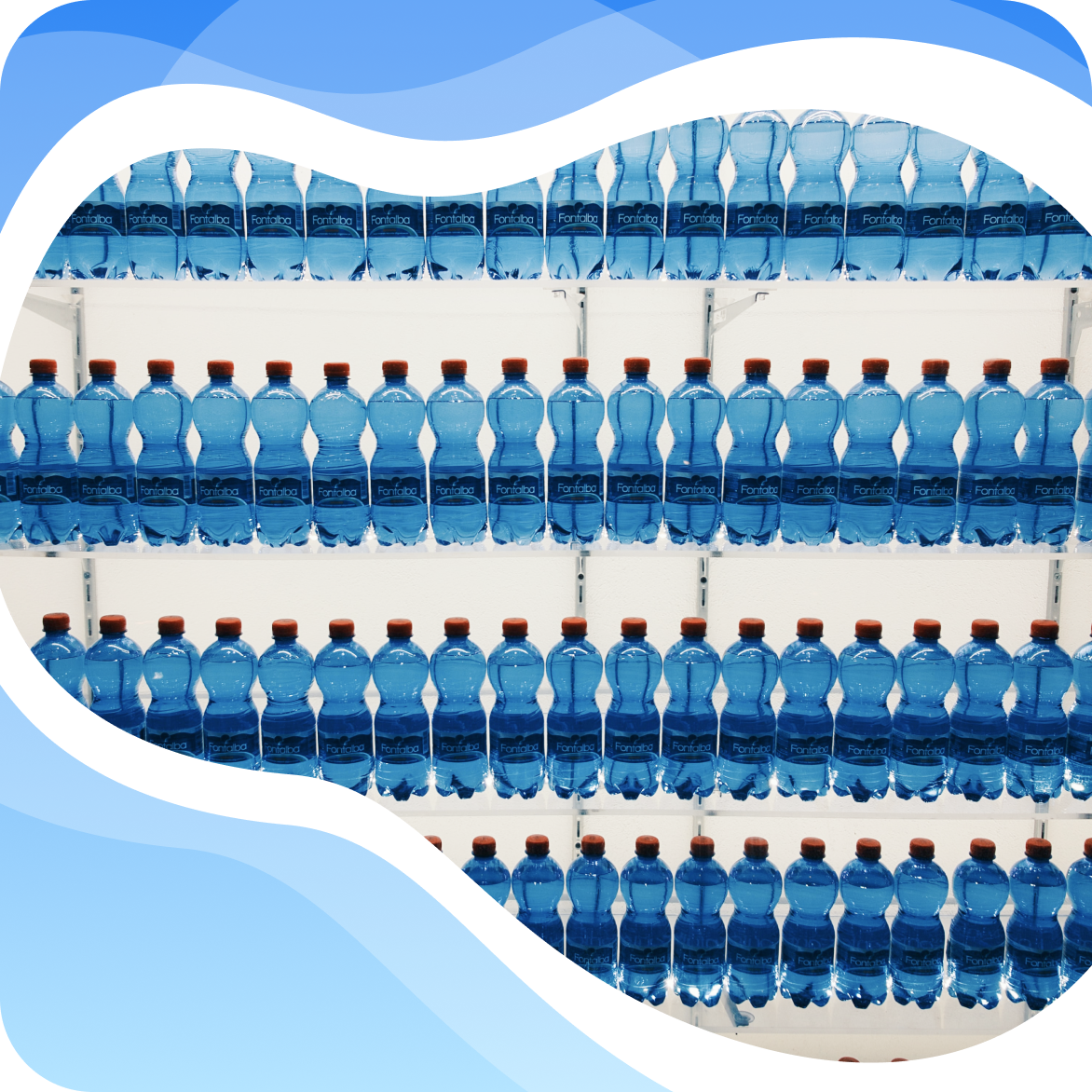 In case you didn't hear us in the back, switching to a Bevi machine can save approximately 35,000+ plastic bottles per year. This is your opportunity to show off your ESG (Environmental, Social, and Governance) initiatives daily, giving you a leg up on the competition when it comes to hiring and employee retention.
Purpose-driven employment is a huge factor in today's job market with sustainability being at the top-of-mind. A recent IMB report shared the following:
72% said they are more likely to apply for a job with a company they consider socially responsible
70% of employees saying they are more likely to stay at a company with sustainable reputation
75% of employees saying they want to see their employees take action on social responsibility issues
Investing in a Bevi puts sustainability at the forefront of your office culture. It shows your employees impact on the environment by showing how many bottles and cans your employees are saving in real-time, while also encouraging more environmentally friendly among your employees.
What options does the Bevi provide?
The beauty of the Bevi is that your employees have so much flexibility. Based on the Bevi machine you select, you can pick a variety of flavorings and enhancements that employees can mix and match with their ideal carbonation level on the machine's touchscreen. Let's break it all down!
Two Types of Bevi Machines:
The Bevi Countertop water dispenser offers four customizable slots, typically set with three flavors and one enhancement.
The Bevi Standup 2.0 water cooler provides eight slots for an ideal mix of five flavors and three enhancements per machine.
13 Flavors:
Coconut
Blackberry Lime
Cucumber
Lemon
Lime Mint
Raspberry
Grapefruit
Watermelon
Strawberry Lemongrass
Key Lime
Black Cherry
Peach Mango
Pomegranate Blueberry
Three Enhancements:
Vitamin Boost
Electrolytes
Caffeine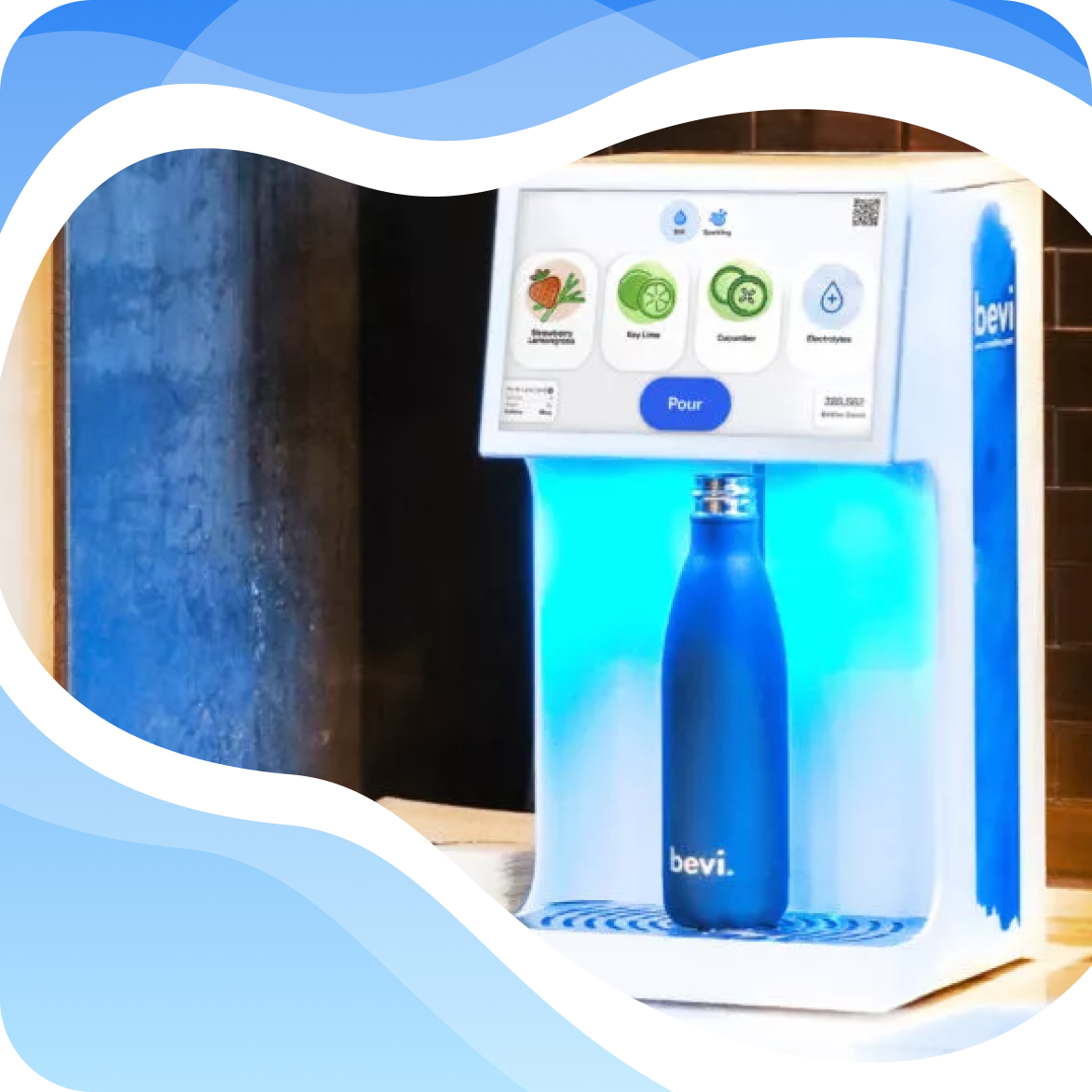 How does Crafty manage Bevi inventory?
Crafty can help you consolidate office kitchen and pantry spend across your offices through our service and technology suite. This is done by streamlining your program in one central dashboard where you can see your entire company's orders, invoices, consumption data, budget tracking, and operational status.
On the Bevi front, you can order all your Bevi supplies in one place and then see how they perform across your offices. Our expert team on the ground is regularly checking your equipment and knows exactly when you need to order more flavorings or replace your gas tank. Inside the dashboard, all of this information is at your fingertips, and the Crafty team is keeping you up to speed with on-site updates.
Our team is regularly looking at your consumption data to make adjustments or inventory predictions. In that case, Crafty may recommend reallocating those dollars to another food category that flies off the shelves during the winter months, such as coffee.
__
The Bevi isn't just quenching thirst; it's delighting taste buds, invigorating the mind, and adding a splash of excitement to the daily office routine. Is it obvious yet why are so many offices making the switch?
Bevi isn't just an office water machine; it's an upgrade that checks all the boxes — from customizable hydration to cost savings and sustainability. Don't settle for the ordinary when you can sip on the extraordinary with Bevi. Your office will thank you, one refreshing, customizable drink at a time. Together with Bevi, we here at Crafty want to help you raise a glass to a bubblier, better workplace!

Ready to craft a better workplace?
Crafty streamlines your office food and beverage operations while helping you make data-driven decisions and elevate your culture.