Scaling An Office Kitchen Program: Online Marketplaces' Shortcomings

Online marketplaces like Amazon, Costco, and Instacart have revolutionized how we shop for personal goods. The combination of low prices, fast delivery, and easy returns makes it a no-brainer when shopping for yourself…but when scaling your office kitchen and pantry program, those benefits hit different.
Our Crafty team is constantly fielding questions about these online marketplaces and how we stack up. Why can't your office just order bulk office snacks through Amazon for their office? Why are those products cheaper? We get it. This economy isn't getting any easier, and we understand the want to cut costs by any means possible. The thing is, are you actually saving when everything is said and done?
You may save a little on product costs on the initial order, but how much more are you paying in operations, admin, and product waste? An impactful food and beverage program can be extensive at one office, let alone multiple. When you scale (because we all want to grow, right?), disorganized spending makes this more of an admin headache while dollars slip through the cracks and your office experience suffers.
Ishan Daya, one of Crafty's co-founders, stated in a recent office pantry budgeting webinar that product waste and leaky spend are why offices overspend on their F&B program. The a-la-carte style of ordering results in rooms full of expired inventory and off-cycle, off-budget, or unplanned spending on corporate cards that goes unnoticed by the finance team until it's too late.
Let's journey through the typical day at your office to get a side-by-side view of where online marketplaces fall short and how Crafty steps up to the plate. Because here's the thing…
You know who isn't going to help you execute this food service program?
You know who isn't going to go out of their way to help you operate more efficiently?
You know who isn't going to help you optimize your spend?
You know who isn't going to provide you with tools to plan for the future?
[Insert Your Prefered Online Marketplace Here]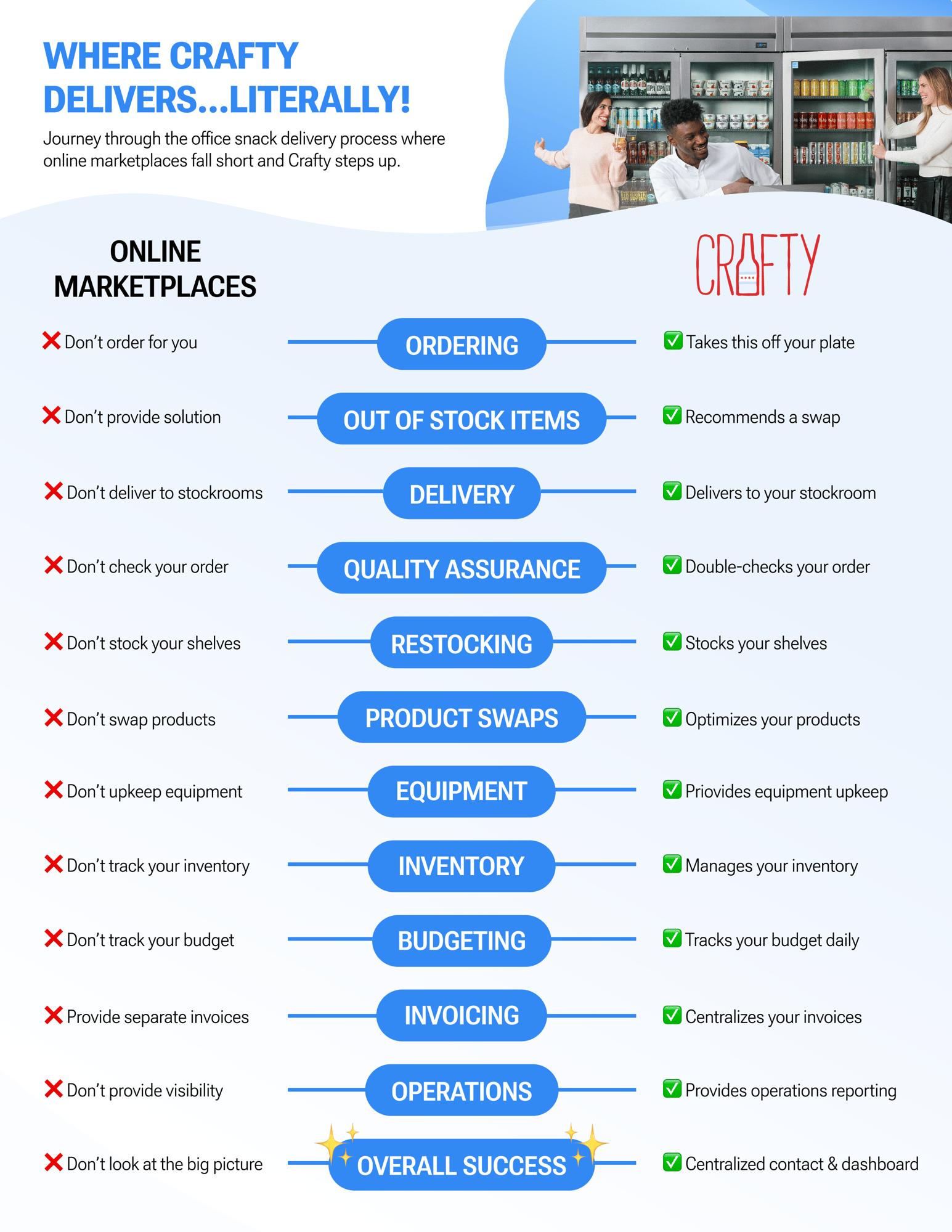 They aren't ordering for you
Online Marketplaces: Your workplace team is placing all the orders, meaning it's on them to know what to order, when to order, and how much to order. Often, these teams don't have any inventory or consumption data tools, resulting in wasted spend on products that expire in the stockroom. Plus, all these orders happen at separate people, offices, and credit cards. This makes pulling reports and reconciliation an admin burden for everyone involved.
Crafty: We take this 100% off your plate. Your expert Crafty team is placing orders on your behalf, and you can save upwards of 1 hour each week, which is over 52 hours a year on ordering alone. Our on-site teams regularly monitor your inventory, and the central dashboard knows exactly what and when to order.
They don't provide solutions when things are out of stock
Online Marketplaces: When you can't find the product you're looking for, or your order is out of stock, these marketplaces could care less. Sure, they will refund you or make you go through the torture of selecting an alternative for every product every single time, but they will never go above and beyond for you. You're a very small fish in their trillion-dollar pond. If you have an important meeting or client visit, the solution falls on your workplace team to scramble and derail their entire day to find the products your team needs to succeed.
Crafty: We care; it's that simple. One of Crafty's core values is putting clients at the center of what we do, and that makes being proactive in finding solutions versus waiting for the ball to drop. If something is out of stock, we will come to you with the closest possible alternative and make it happen. Then, we will keep our eye on the pulse to make sure that when your preferred item is in stock, we will make sure it's yours.
They don't put the delivery where it needs to go
Online Marketplaces: Delivery of your items is pure chaos because of two reasons:
If you have to order through multiple marketplaces, you have multiple deliveries arriving on different days and times. Smaller deliveries take more time to manage for your workplace teams but also make it extremely difficult to keep inventory levels stable.
Marketplace drivers don't have proper access to your building, floor, office, stockroom, or kitchen therefore, they are dumping your packages wherever they see fit. Workplace teams now have to allocate additional time to get your items to where they need to go.
Crafty: We deliver everything at once, and our partnership allows us to get the items into your stockroom and eventually onto the shelves. Consolidating your orders keeps inventory levels stable because restocks are happening at once instead of staggered throughout the day. Your Crafty team will do the heavy lifting, while your workplace team finally has the time to work on other priority initiatives.
Honorable Mention: Streamlining your orders is also more sustainable. Crafty works with local partners to minimize the impact of shipping, and we minimize the additional packaging needed to deliver your order. If you're ordering bulk goods online, every item is boxed and shipped separately, creating more environmental impact and waste.
They aren't double-checking your order
Online Marketplaces: It's on your workplace team to ensure everything is accounted for when it arrives. Many things can happen between your order getting picked up and landing on your doorstep, from bags being left behind to things being destroyed during the quest, and more. Outside of sending you a picture of the bags at the door, they aren't giving anything an extra look before they are off to the next.
Crafty: Crafty is constantly double-checking your orders from the moment you place them to when they arrive. We want to ensure everything you ordered is on-site and in good condition. Our team knows your food and beverage needs inside and out, so if anything is slightly off, we can quickly pivot on the ground to find the perfect solution.
They won't stock your shelves
Online Marketplaces: It's not happening. Period. If you want the shelves stocked, you need to do that yourself.
Crafty: Crafty is a full-service solution to your office kitchen and pantry program for ALL your offices. After we double-check your delivery, our team gets to work on stocking your shelves in a manner worthy of an entire Pinterest board. Our team is thinking about everything:
Expirations: We use the FEFO method: First Expire, First Out. The products delivered prior go in the front, while all your new stuff goes in the back or in the stockroom.
Quality: We inspect every single product. If anything looks slightly off, we pull it from the shelves so your employees get only the best.
Organization: We organize your office snack station or coffee bar to make it easy to see exactly what you offer using shelves, bins, baskets, and more.
Display: The cherry on top is our attention to detail. Every bag, can, bottle, and bar faces the same direction in an organized fashion, so it looks photo-worthy.
We bring your office experience dreams to life right before your eyes!
They aren't making product optimizations
Online Marketplaces: You want different products, you pick them. These guys aren't looking for ways to improve your program, as there is no way to track what is performing well already. As you swap out products based on personal preference, you run the risk of ordering items that don't resonate with employees and end up wasting away in your stockroom.
Crafty: Crafty makes it easy to swap out products because you have all the tools at your fingertips.
Consumption Data: Your centralized dashboard has all your offices' consumption data so you can see what products your team loves. You can use that information to make data-driven decisions about where to use your dollars to make the most impact.
Product Filters: The beauty of Crafty is you can easily filter our product catalog to meet a variety of preferences, whether dietary restrictions, value-based products, or other product characteristics. If you have an upcoming DEI event, you can quickly sort to find minority-owned brands to feature.

Expert Team:

Your Crafty team is always digging into your data and can easily recommend some products that may be a hit with your employees. Just let your Crafty team know, and our team can recommend products, implement them into your spaces, and track their performance.
They aren't looking after your equipment
Online Marketplaces: Again, not happening! This isn't your home coffee machine that only one person uses once or twice a day. Many people constantly use your office kitchen equipment and require regular maintenance to keep it performing reliably. When you use a marketplace, the upkeep of your equipment falls on your workplace team and can become a huge time suck.
Crafty: This is where the Crafty service team really shines. They don't just stock your shelves, but they look after your equipment, keeping it in tip-top shape. When our team is on-site at your office, they are taking a look under the hood to provide light cleaning, restock or refill any mix-ins or flavors, change out any tanks, and put it all back together again. Our team will provide a deeper clean every so often and run any cycles so your equipment lasts as long as possible.
They aren't tracking your inventory
Online Marketplaces: The sad truth is that many offices that use these online marketplaces do not track their inventory at all. If they do, this is often done manually on Google Sheets, where there is a high probability of human error, especially if this is how multiple offices are getting it done. We've noticed that when transitioning to be a company's sole food service provider, we often walk into rooms full of expired or excess inventory. This overspending is a direct result of a lack of centralized inventory tools.
Crafty: To operate efficiently and within budget, you need to know what you have, what you need, and what is being consumed. As our team is stocking your shelves, they are updating your inventory in your centralized dashboard so you can get a live picture of what you have in stock at each office. Our automatic inventory tools do the rest! We collaborate to set product thresholds so that our team can trigger the reorder when inventory gets down to a low level in the stockroom.
History of Crafty Technology: The food service industry has been incredibly slow to adapt to technology, which is why Crafty invested in reporting and inventory technology early on. The goal was to combine reliable service with innovative technology to give complete visibility into operations, inventory, consumption, budget tracking, and more. Centralized reporting helps keep inventories within budget in the now while predicting budget allocation for the future based on historical consumption data.
They don't care if you're on budget
Online Marketplaces: These online retailers don't know or care what your budget is. The challenge for workplace teams is the lag between spend and reconciliation. Gathering receipts across multiple offices, vendors, and orders takes time most companies don't have. Due to this, companies with decentralized spending don't realize they are over budget until they are over budget.
Crafty: Crafty's newly released budgeting tool keeps your spend on track across every location. Simply set a budget with our team, and our system will start tracking your orders to that budget. Your dedicated team then uses that information to pivot if spending is getting close to your monthly budget. Sometimes, that's doing a product swap for the next order for something less expensive, removing a non-performing product from your next order, or strategically merchandising your existing inventory to push something you already have on hand.
They won't give you one consolidated invoice
Online Marketplaces: Marketplaces only provide an order history, making it difficult to see how much you've spent in total across every office. If you want to see a high-level report of your spend, you have to manually export each order into a spreadsheet for each office and then merge those for the entire company making it a nightmare for your finance teams. They then have to reconcile those orders with individual credit card statements and trust us when we say it will be the complete opposite of a good time.
Crafty: One invoice. 🎤
Find your invoices for every office in your dashboard, and we'll organize it how you prefer to make it as easily as possible for your team. Live footage of your finance team's reaction to the news:
They won't provide you with any visibility
Online Marketplaces: If you're looking to gain insight into what's happening on the ground at each office, you typically have to sift through mountains of emails or Slacks. These online marketplaces aren't doing any of the operations outside of delivering the goods, so your workplace teams are busy bringing this program to life and don't have the tools to centralize their updates.
Crafty: Access your daily program efforts within your centralized dashboard. We already mentioned the consumption reporting and budgeting tracking features, but one of our underrated reports is the shift report. As our team completes each office kitchen task, they update the system to let you know this is completed, including notes, and a picture of the finished result. If there isn't any photo proof, it didn't happen is our motto!
They can't look at the big picture of your program
Online Marketplaces: These online marketplaces give you order-by-order information, and it's your team's responsibility to MacGyver reports that showcase the big picture. This can be incredibly time-consuming to create, and this lag stops you from making agile changes to save money or make your program more successful.
Crafty: Crafty keeps your entire organization on track operationally and financially so that you can deliver the best possible employee experience consistently. The combination of our reliable service teams and streamlined dashboard makes it easy for you to implement program-wide adjustments quickly and efficiently. As you grow, Crafty can leverage your bulk spend to secure better pricing over time.
__
Online marketplaces like Amazon, Costco, and Instacart are great for personal shopping, but fall short when scaling a successful office kitchen and pantry program. You may see some initial savings, but you end up paying in wasted spend and administrative burdens.
Crafty offers a holistic view of your program, enabling you to make agile changes, save money, and continuously improve the employee experience as your organization grows. This is your all-in-one solution that combines reliable service with innovative technology to create a seamless and cost-effective experience for your entire organization.

Ready to craft a better workplace?
Crafty streamlines your office food and beverage operations while helping you make data-driven decisions and elevate your culture.