Caroo and Crafty Join Forces to Feed Hungry Workforces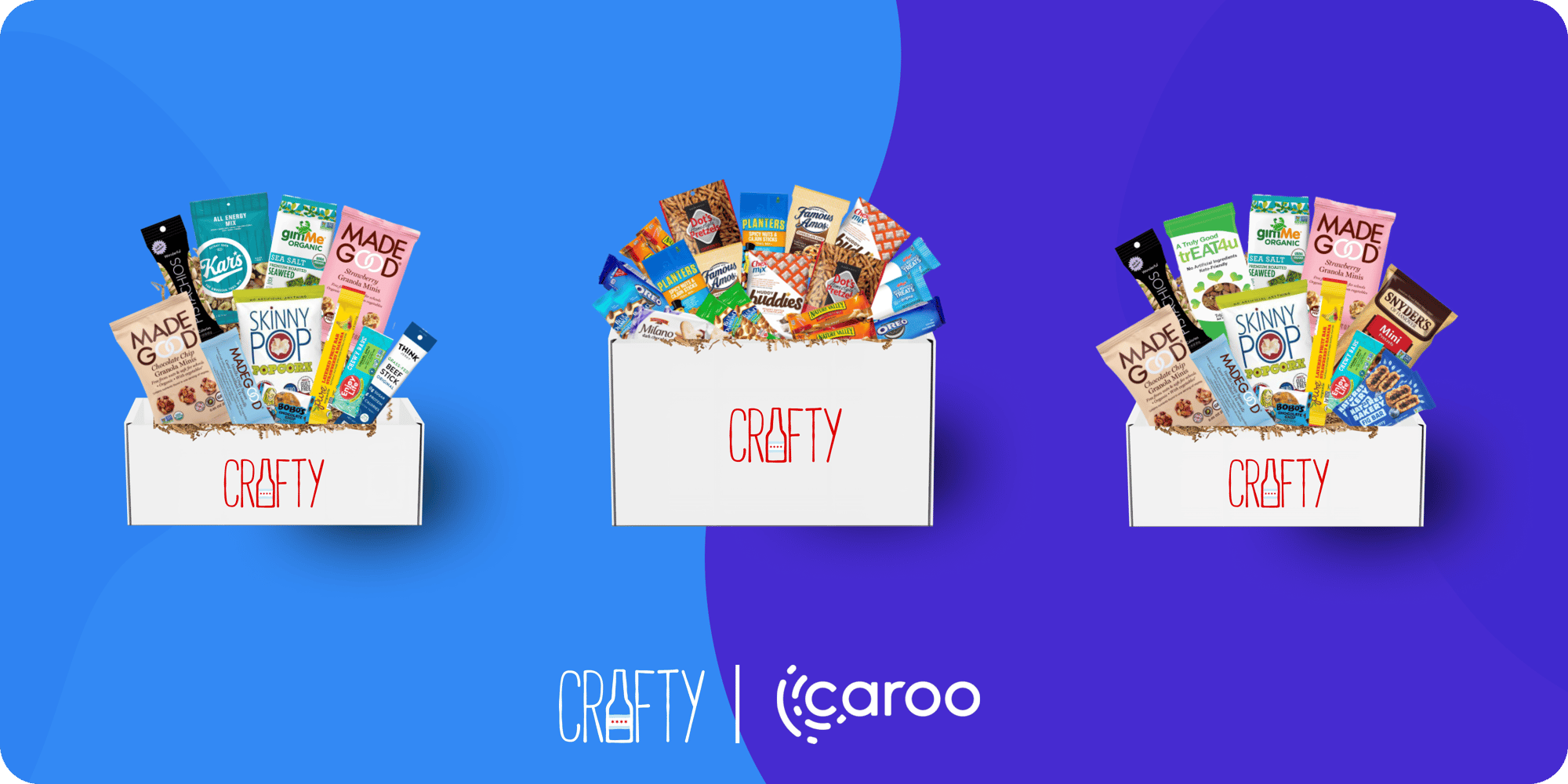 By partnering with Crafty, Caroo unlocks greater supply chain efficiency and strengthens its place in satisfying the rapidly growing $258 billion corporate gift market.
CHICAGO, September 13, 2023 —Caroo, the world's first software-enabled Employee Care platform for modern enterprises has partnered with Crafty, the centralized platform providing food and beverage solutions for global offices and remote workers. The partnership will see Crafty take over Caroo's office snack and gift box fulfillment and delivery to meet growing consumer demands.

Caroo's decision to partner with Crafty is based on the service provider's strong reputation in the snack industry and proven operational excellence. Crafty is excited to be the leading choice for Caroo when it comes to migrating their fulfillment.

"This is an exciting collaboration between two industry leaders in workforce engagement, says John Kreller, Senior Director of Fulfillment, Crafty. "Our shared passions for fueling individuals and enhancing the experiences companies can provide have created an excellent opportunity for Crafty to lend its expertise in exciting, cutting-edge product assortment and merchandising. Crafty's fulfillment network is strong enough to provide value to all parties involved including the customer, Crafty, and Caroo."

The partnership comes at a time when the world of work is changing rapidly and companies need to be agile and adaptable to meet the shifting demands of their workforce, whether they are in-office, hybrid or fully remote. By partnering with Crafty, Caroo is better able to meet their customer's needs, whether requiring in-office snack boxes or gifting employees snack boxes at home.

Crafty will fulfill office snack and gift boxes for Caroo clients from their Carol Stream, IL and Oakland, CA warehouses. All orders will be processed directly from the Caroo platform via Caroo customers.
"By transitioning our fulfillment to their capable hands we'll be able to deliver top notch service to our clients and reward employees in the ways that matter most, wherever they live and work. This partnership aligns perfectly with our shared vision of revolutionizing the workplace experience..."

"We are thrilled to team up with Crafty," says Matt Terry, COO of Caroo. "After ten years fulfilling our own snack box orders we sought a best in class partner to transition our daily processing to. While always prioritizing the best customer experience, our team vetted multiple providers. The products, operations and team at Crafty clearly stood out as the right solution for us and our customers."

Crafty's centralized platform and logistics expertise will ensure that employees receive high-quality snacks regardless of location. This partnership will also allow Caroo to expand its services to a wider audience, providing even more benefits to companies seeking to support and reward their employees in the most effective way possible.
Caroo and Crafty are both poised to transform the way companies care for their employees, each providing comprehensive and innovative solutions that are sure to set the standard for years to come.

About Crafty
Crafty is a centralized platform for workplaces to manage food, beverage, and supplies for their in-office, remote, and hybrid teams across the globe. Founded in 2015, our mission is to help companies craft better workplaces. From G2 to CME Group to Yelp, we work with the world's biggest brands to harness the power of food and beverage to foster a culture of employee connectivity and increase workplace productivity. Headquartered in Chicago, with offices in New York and the Bay area, Crafty manages over 260 global client offices and serves over 300,000 employees per month. To learn more, visit craftydelivers.com.

About Caroo
Caroo envisions a world where people experience deep connection at work through recognition. Our curated marketplace delivers items that truly matter to employees, from the curation experts behind SnackNation, Caroo is the software-enabled Employee Recognition platform for today's flexible enterprise. Caroo curates and delivers healthier snacks, premium gifts, and team building experiences to more than half a million people in all 50 states. With Caroo, dispersed employees become connected teams, and companies can easily create their own unique culture that grows, adapts, and evolves as they do. To learn more, visit Caroo.com.

Crafty Careers
Our mission is to have a positive impact on everyone we work with: our clients, partners, community, and especially our employees. We have a diverse, high-powered team, and our way of working is dynamic, fast-paced, and just plain fun.