Beginner's Guide To Vegan Office Snacks
How to keep your workplace supplied with great vegans snacks and drinks.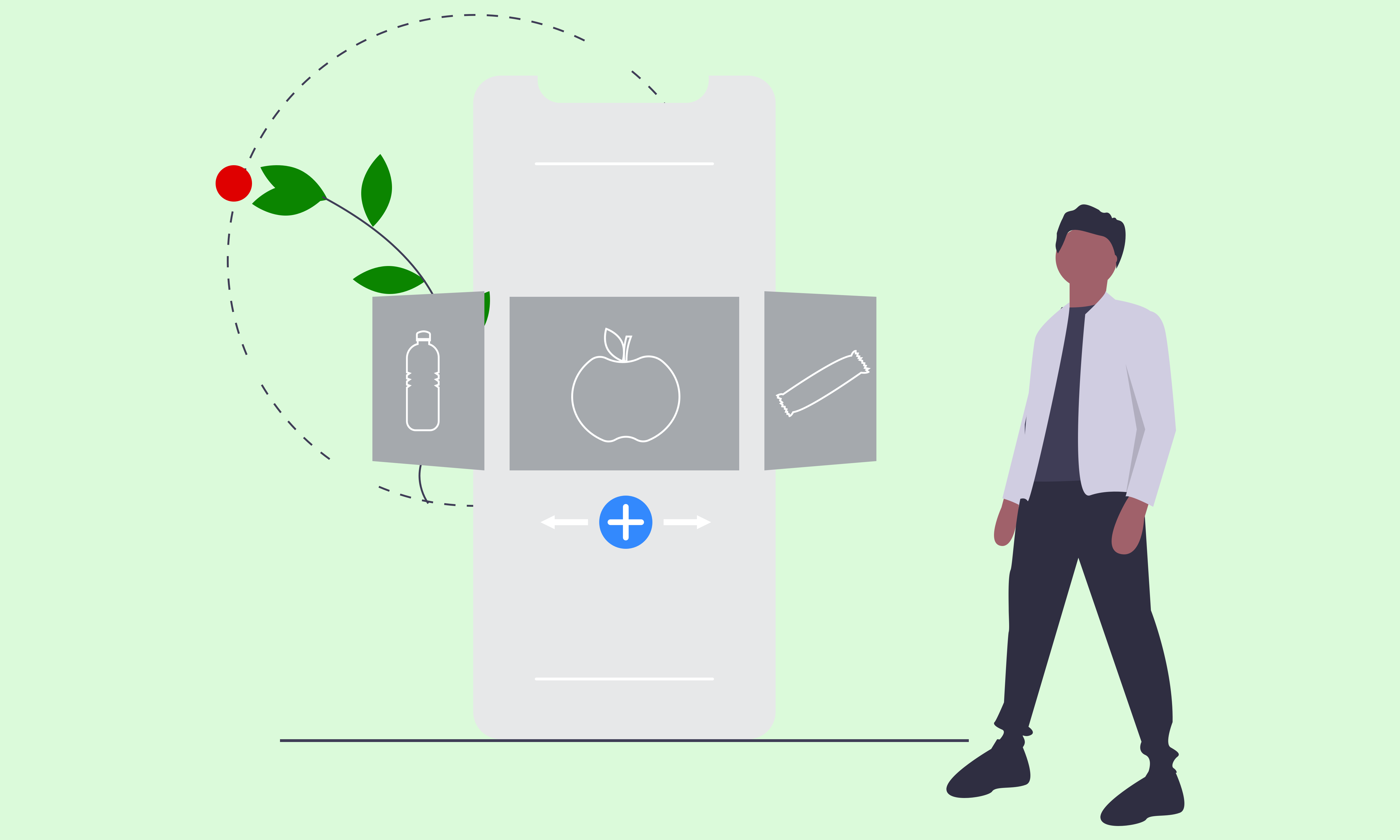 Q: If two vegetarians have a heated argument, can it still be called "beef"?

A: Nah, it's just a case of two people with bad "tempehs."
We know for our vegan friends, life beyond the office kitchen can be a battlefield. They're constantly having to plan meals and pack their own snacks ahead of time, just so they don't find themselves stranded in a food desert. Why shouldn't they be cared for just as much as our animal product-eating brethren?!
Don't worry, we do not forget the forgotten! We're committed to making sure everyone maintains their natural rights of life, liberty, and the pursuit of snackiness!
What Is A Vegan Diet?
Well, the truth is, it's different for everyone who practices a vegan diet. That said, the general definition is a diet that excludes all animal-derived ingredients from their diet. For a more in-depth discussion, you can find it here.
Because this can mean different things to different people, we try to make sure that we have a good mix of vegan snacks to keep everyone happy and well-fed. There's a hotly debated concept of honey not being vegan, and now apparently, avocados might be off the menu as well.
Well, whatever you believe, we'll try our best to do right by you :)
Power Your Office Kitchen & Pantry Into The Vegosphere
When we launch a new program, our team dives into understanding the right types of products to curate for your office. In a nutshell, here is the process our team goes through with every Implementation:
Identify any allergies or dietary restrictions - this can be done via survey or simply by asking our main point of contact if they have that info on hand.
Filter our product portfolio for Day 1 - our Procurement Team has the ability to include or exclude products based on different characteristics.
Filter our ongoing product recommendations - our Account Management team will ensure their new product recommendations keep these allergies or dietary restrictions in mind.
Let's go through the Crafty categories to show you how to navigate the vegan seas in each of them:
Coffee & Tea
Fruit & Vegetables
Dairy
Pantry
Alcohol
Beverages
Catering
Office Coffee & Tea
Luckily, this category is full of naturally vegan items. No animal products are used to make coffee or tea! The animal products only come into play when you're thinking of adding to your coffee and tea, but we'll cover that below in the dairy section.
Fresh Fruit & Vegetables
This is the category where our vegans can shine! This is their free for all!
You don't have to be careful, just grab whatever you want from this category and dig right in. A vegan diet is often referred to as a plant-based diet, which is why this category basically like entering the hunger games (kinda, not really).
Dairy In Your Office Coffee Station
This category is a no-go for vegans. Since dairy is milk-based, we're not going to be able to share a lot of these products with our vegan friends.
However, we've got our hands on non-dairy alternatives! We're talkin' nut milk, we're talkin' soy yogurts, we're talkin' vegan cream cheese! We put the "non" in the non-dairy alternatives for our plant-based peeps!
Here are some great vegan dairy alternatives that are flying off the Crafty shelves these days:
Califia Farms Barista Blend Oatmilk
Bhakti Iced Chai Classic Cashew Milk
Daiya Vegan Cream Cheese
Kite Hill Jalapeno Cream Cheese
Kite Hill Almond Milk Greek Style Yogurt
So Delicious Coconut Milk
So Delicious Coconut Milk French Vanilla Creamer
So Delicious Coconut Milk Yogurt
Silk Almond Milk
Silk Soy Milk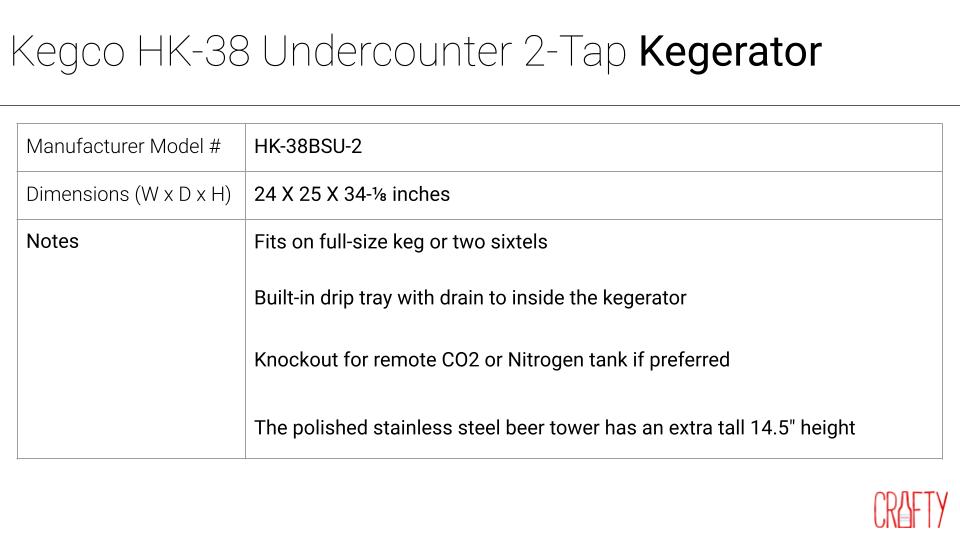 Office Pantry
This is a large category, and there's a lot of room for hidden animal products in packaged ingredients. Don't worry, we do our research!
Our Procurement Team makes sure that when they're sourcing products that they are always bringing on new ones to serve our vegan friends.
Our vegan-friendly pantry selection is always growing, but here are 10 favorites to get your mouths watering:
Enjoy Life Plentils Sea Salt Chips
YES Bars
Justin's Classic Almond Butter Squeeze Packs
Bare Organic Granny Smith Apple Chips
Love Corn Smoked BBQ
Nature's Bakery Stone Ground Whole Wheat Fig Bars
Mamma Chia Chia Squeezes
Late July Jalapeno Lime Chips
MadeGood Granola Minis
Beanitos Black Bean Chips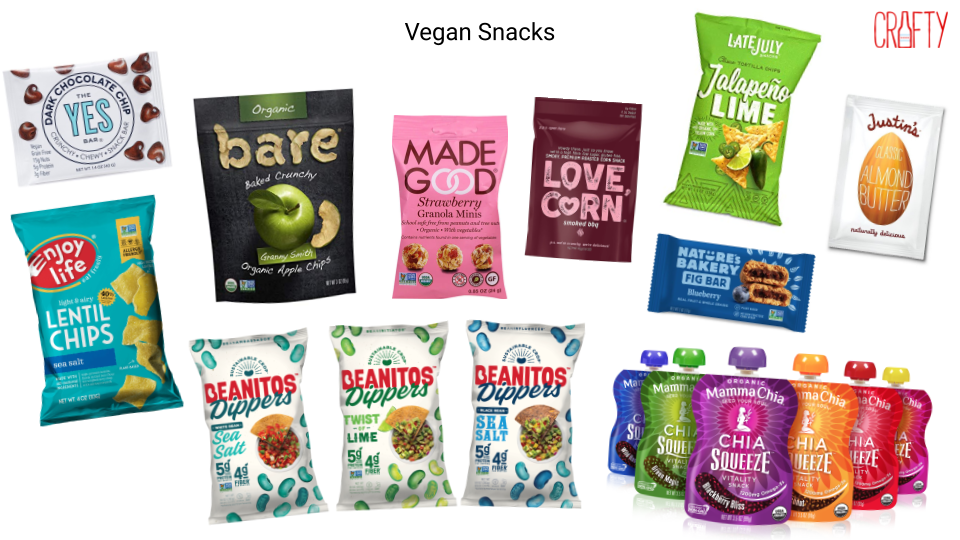 Alcohol
This category can be a bit tricky, although not at all restrictive. The truth is, there is a TON of vegan booze, you just need to do your research.
Beer is a minefield because it can be brewed with non-vegan ingredients. Luckily, wine and spirits are mostly vegan with only a few exceptions.
This is where having a stellar Crafty Account Manager comes in! They'll do the research for you. Whether it's a one off event or the kegs we maintain at your office, you just need to let your Account Manager know that you need vegan booze and they'll take care of the rest. However, if you are doing the ordering yourself, here's a helpful list to reference to make sure you're ordering within the bumpers.
Catering
When we're in charge of catering for your crew, one of the first things we ask is how many people have dietary restrictions and what are those restrictions. We then go to our catering partners and make sure they accommodate a full and delicious meal for whoever is eating, regardless of what they can or cannot eat.
We want our vegans to be able to eat more than some dry lettuce when the catering comes so we really work to make sure the variety is there. We also make sure everything is labeled when the food arrives so that no one is eating anything they shouldn't.
And that's basically it! Thanks for joining us on this vital vegan adventure :) if you have any questions, as always, please don't hesitate to reach out. We're here to help.
OFFICE SNACKS
The guide breaks down ways to include keto-friendly options in your office's food service program.