Crafty Named a Built In Best Place to Work
We're proud to announce that Crafty has been named one of Built In's 2023 Best Places to Work. This award is a testament to the Crafty Crew, who have helped us cultivate a positive and inclusive workplace where everyone can flourish. As a company on a mission to "craft a better workplace," we understand that our impact begins at home. The well-being of our employees powers our innovation and enriches our business.
This recognition is the latest win for Crafty. In October, we were named one of Chicago Inno's 50 on Fire, an accolade for food and beverage tech disruptors. We're honored to be included on the Best Places to Work list following a year of rapid hiring growth and prioritizing the health and happiness of our team. We're honored to be included as one of 100 Best Midsize Workplaces in Chicago, and look forward to transitioning into the Large Workplace category as we continue to expand.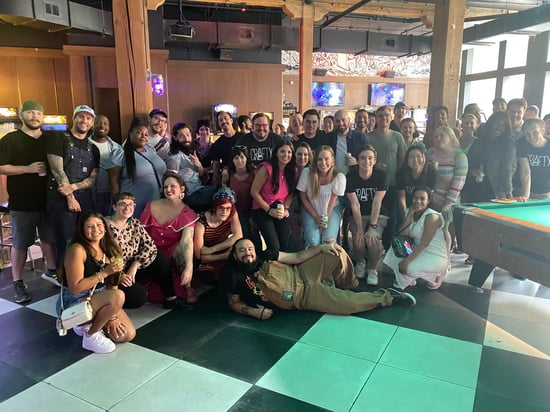 In November, we opened our new Chicago headquarters, an ample space designed to meet our diverse workforce's needs. It features a mother's room, a workspace for every employee, several quiet stations, collaborative conference spaces, two kitchens, gender-neutral bathrooms, comfortable gathering spaces, and a tasty display of complimentary snacks and beverages. The new space has allowed us to facilitate experiences that allow teams to thrive and collaborate.
To be named a Best Place to Work, companies must offer "top rewards programs and compensation packages among their peers." Winners are determined based on the offerings showcased on their Built In Company Profiles.
At Crafty, we treat our culture like an arm of our business, fueling it with the time and attention required to make it soar. We take cues from our in-house experts and iterate constantly based on social learnings and employee feedback. We've succeeded if our employees feel empowered and can measure their impact as we scale.

Fun fact: we're hiring! The Crafty Crew is directly responsible for building and nurturing our culture as we grow. We will continue to provide our team with the resources they need to remain innovative and support personal and professional development. Make Crafty the next stop in your epic career journey!

Interested in joining Crafty?
Our mission is to have a positive impact on everyone we work with: our clients, partners, community, and especially our employees. We have a diverse, high-powered team, and our way of working is dynamic, fast-paced, and just plain fun.