Touch Free Equipment & Coffee Dispensers for Your Office Kitchen and Cafe
Water machines, coffee brewers, and utensil dispensers have all gone touch free! Let's explore the best contactless machine options for your office food and beverage program.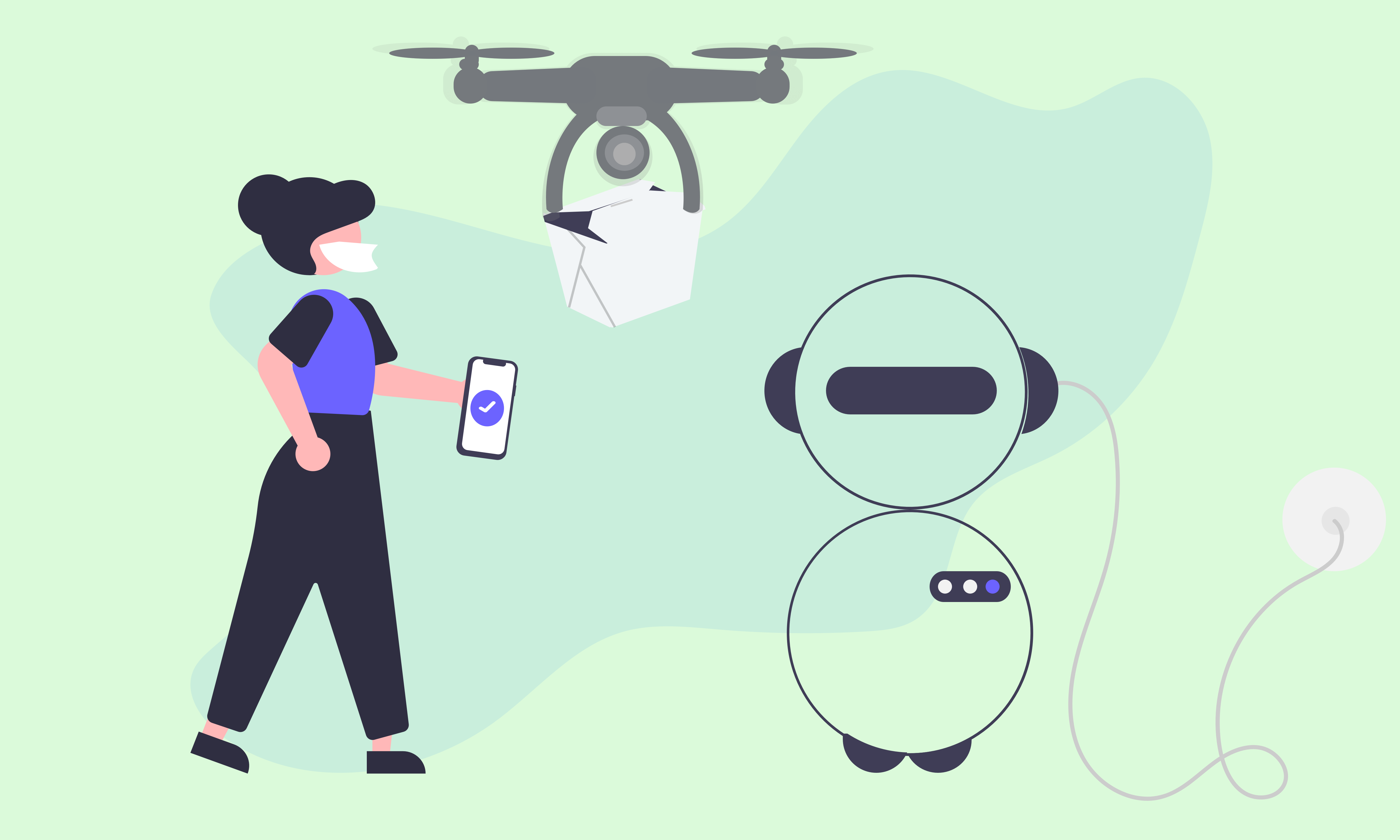 When it comes to sanitation, high risk surfaces are high touch surfaces.
And what is more high touch than your coffee machine, water machine, refrigerator handles, or snack drawers? Well, your computer and phone, probably... but we're here to talk about safe kitchen operations!
Whether you're looking for water machines, drip coffee brewers, bean to cup espresso machines, or just the software to facilitate a touch free kitchen experience for your employees, you've come to the right place.
At Crafty, we've worked closely with our clients to explore the world of contactless solutions for office kitchen operations, and we've developed some recommendations we wanted to share:
Contactless coffee machines
Touch free water machines
Touchless utensil dispensers
Virtual browsing and safe snacking (the hand tool thingy)
Let's dive in.
Contactless Coffee Machines
Looking across different coffee machine options, let's use the same categorization we shared in our article on 'Picking the right coffee equipment for your office':
Automatic bean-to-cup espresso machines
Drip coffee machines
Pod coffee machines
Automatic Bean-to-Cup Espresso Machines
Automatic bean-to-cup espresso machines have a touchscreen that creates a simple and intuitive self-serve experience. With just one or two clicks, whole beans are freshly ground, and within less than a minute, you'll be drinking a delicious specialty espresso drink. We're talkin' lattes of any flavor, cappuccinos light as air, hot cocoa for those cold wintery days, even macchiatos!
The recommended touchless options for this category of coffee machine come from De Jong Duke, who has developed a QR-scan mobile ordering experience for each of their machines. The two primary machine options we offer are the De Jong Duke Nio and the De Jong Duke Virtu.
With each machine, the mobile ordering module is an additional connection that can be made, and our team can also install the module on existing machines as well.
Drip Coffee Machines
If automatic bean-to-cup espresso machines are the Cadillacs of the office coffee world, then drip coffee machines are the Toyotas. Drip coffee machines will be consistent workhorses for your standard brewed coffee consumption.
Bunn-o-matic has produced a number of innovative solutions for your employees to safely dispense drip coffee, while maintaining a fast, efficient experience.
They offer a newly designed faucet, as well as an adapter for machines already located in your office, to facilitate a contactless, "push-serve" dispensing experience.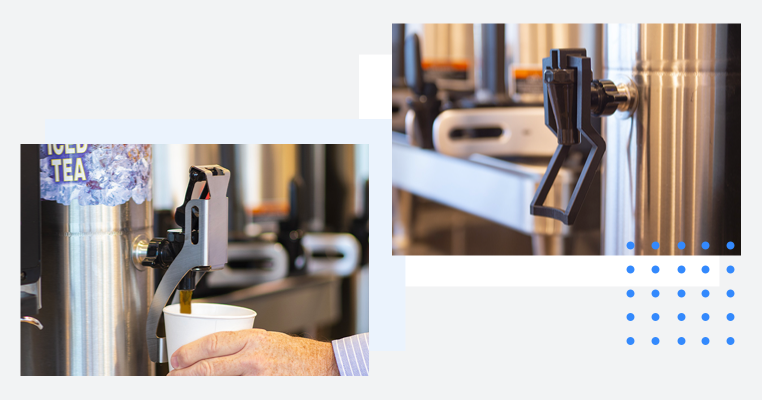 Pod Coffee Machines
Keurigs are not cool, and even their inventor admits it.
That said, pod machines are cleaner than dealing with ground coffee and easy, fast, and intuitive for the user.
For those reasons, we work with Nespresso, whose pods are recyclable and have a sustainability mission that we can get behind, because we have one too :)
Nespresso has launched three different options for their Momento machine to provide a low-touch and touchless brewing experience.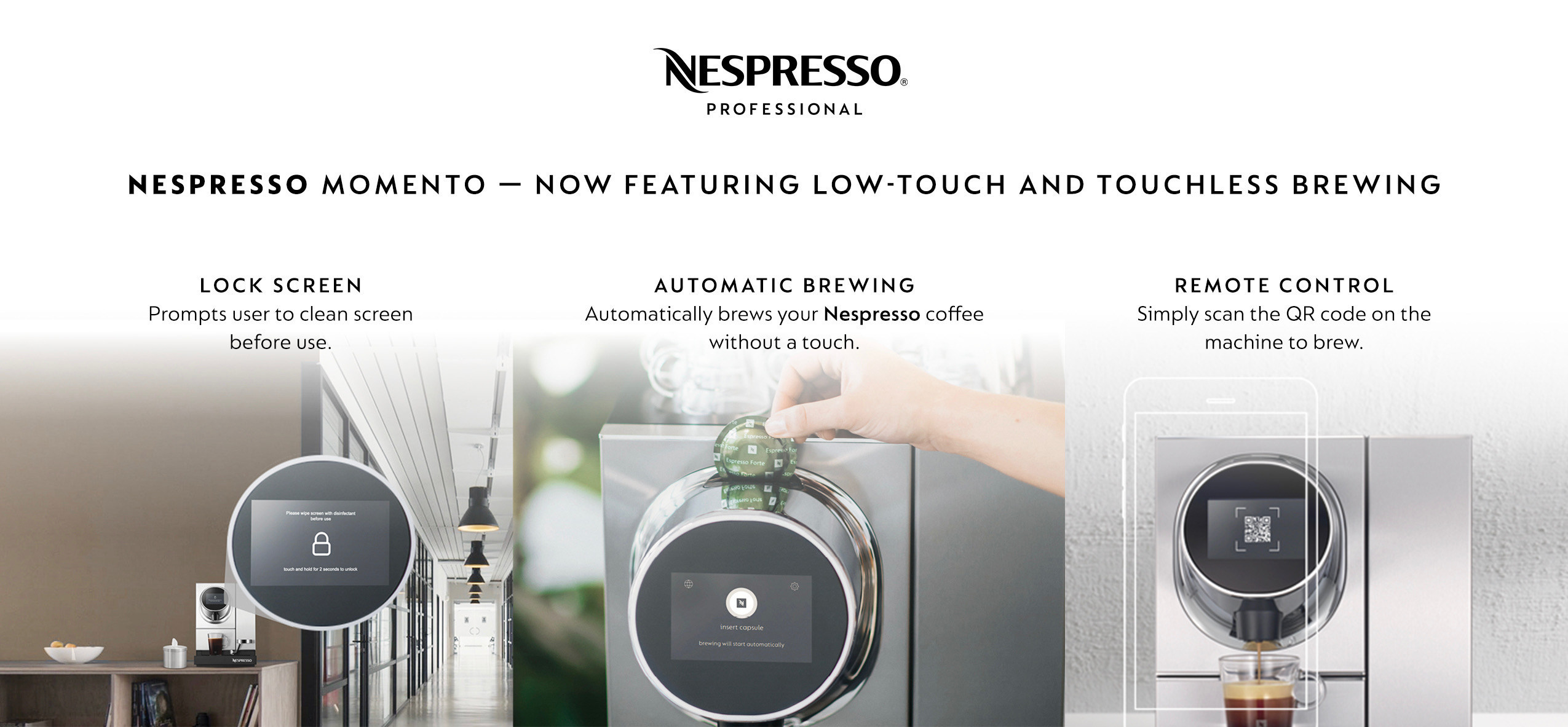 Touch Free Water Machines
Water machine manufacturers have also quickly adapted their machines to safely dispense water in a contactless environment. There are three solution options we recommend to our clients:
Pedal controlled dispensing
Hand wave sensors
Mobile QR scan-to-serve
Pedal Controlled Dispensing
What could possibly be more hands-free than a foot pedal?
At Crafty, we often use Waterlogic water machines, which now have a foot pedal feature that will enable a true contactless water dispensing experience. There are distinct pedals for hot and cold water, and the foot pedals can also be installed on existing machines.
Hand Wave Sensors
What could possibly be more hands-free than a foot pedal?
At Crafty, we often use Waterlogic water machines, which now have a foot pedal feature that will enable a true contactless water dispensing experience. There are distinct pedals for hot and cold water, and the foot pedals can also be installed on existing machines.
An antimicrobial shield can also be installed on the surface of the buttons, just in case.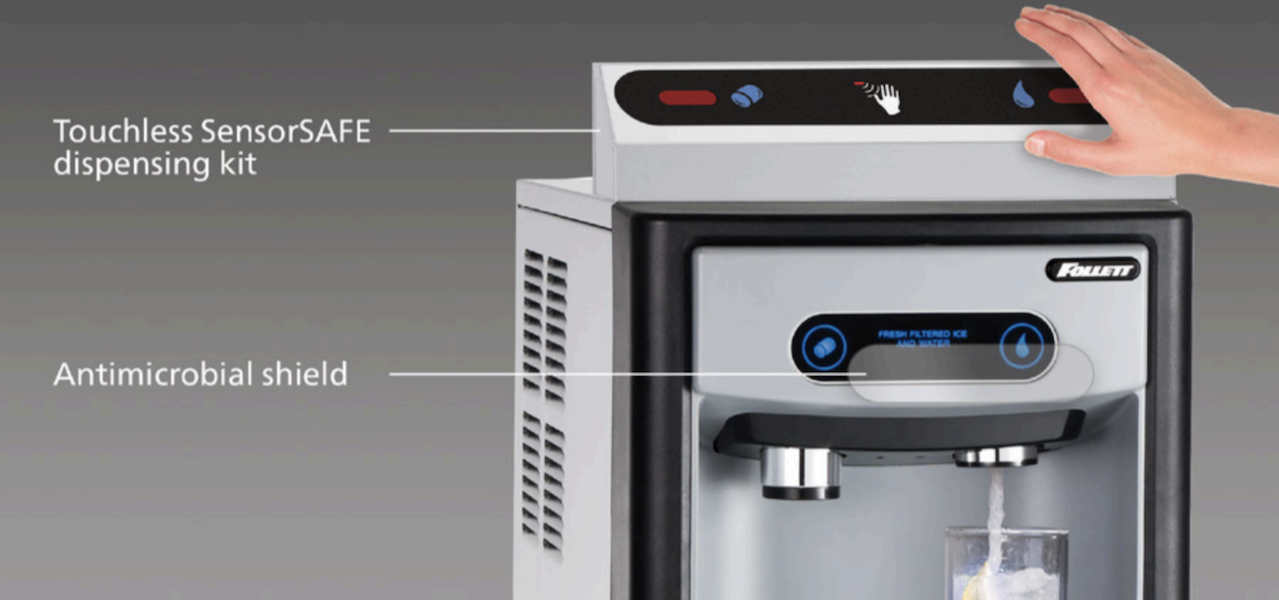 Mobile QR Scan-to-Serve
The massively popular Bevi sparkling water dispenser automatically comes with a new, mobile QR scan-to-serve feature.
If you already own a Bevi, your machine will automatically update its software to include a QR code on the touchscreen, and if you're looking to install a new Bevi, you can bet your bottom dollar it will come pre-installed with this functionality.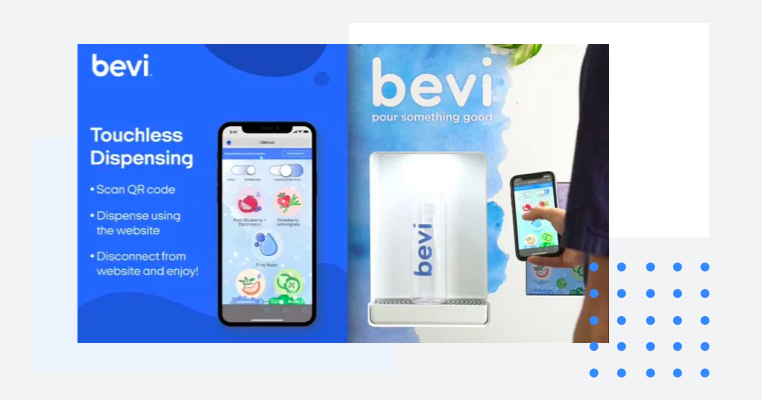 Touchless Utensil Dispensers
Georgia-Pacific offers a fabulous solution to the utensil conundrum that offices kitchens now face.
Their SmartStock Tri-Tower Cutlery Dispenser is touchless, 3-in-1 (forks, spoons, and knives!), and holds 390 utensils.
It dispenses a fresh utensil after the available one is pulled, requires very little counter space, and can even be mounted on the wall.
Best of all: it even works with compostable utensils!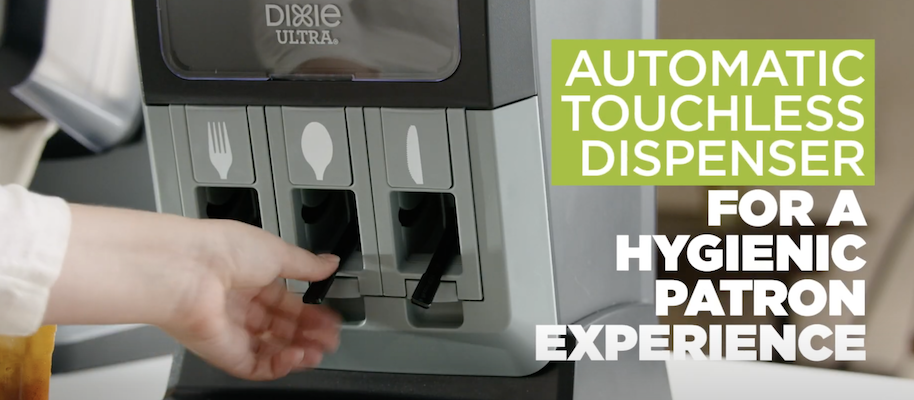 Virtual Browsing and Safe Snacking
While updating your equipment is one piece of the puzzle, it certainly doesn't solve for how we find our favorite snacks and drinks in the office.
For starters, there is a growing popularity to use hand tools to help us open refrigerator doors and snack drawers, and there are also foot tools that can be installed as well.
As an example, if I have a nut-free allergy and I want to find a snack, I would physically touch an intriguing snack option and read the label on the packaging to see if it met my dietary needs.
With COVID, I can't comfortably do that in an office kitchen.
That's why Crafty built a new mobile tool, called Explorer, which features virtual browsing as it's primary feature.
Explorer is a mobile tool that connects directly with Crafty's inventory technology and provides your employees the ability to navigate your product selection virtually.
They can filter across specific locations and also various product tags, such as dietary characteristics (e.g., keto, vegan, gluten-free, kosher) and even brand affiliations (e.g., black owned, women owned, latinx owned).

Have questions? Want to bounce around some ideas? We're here for you!
ELEVATE

•

SUSTAINABILITY
Explore ways to bring sustainability to the forefront of your office's food & beverage program...