Crafty and ezCater Partner to Offer a One-Stop Shop for Business Catering and Office Snacks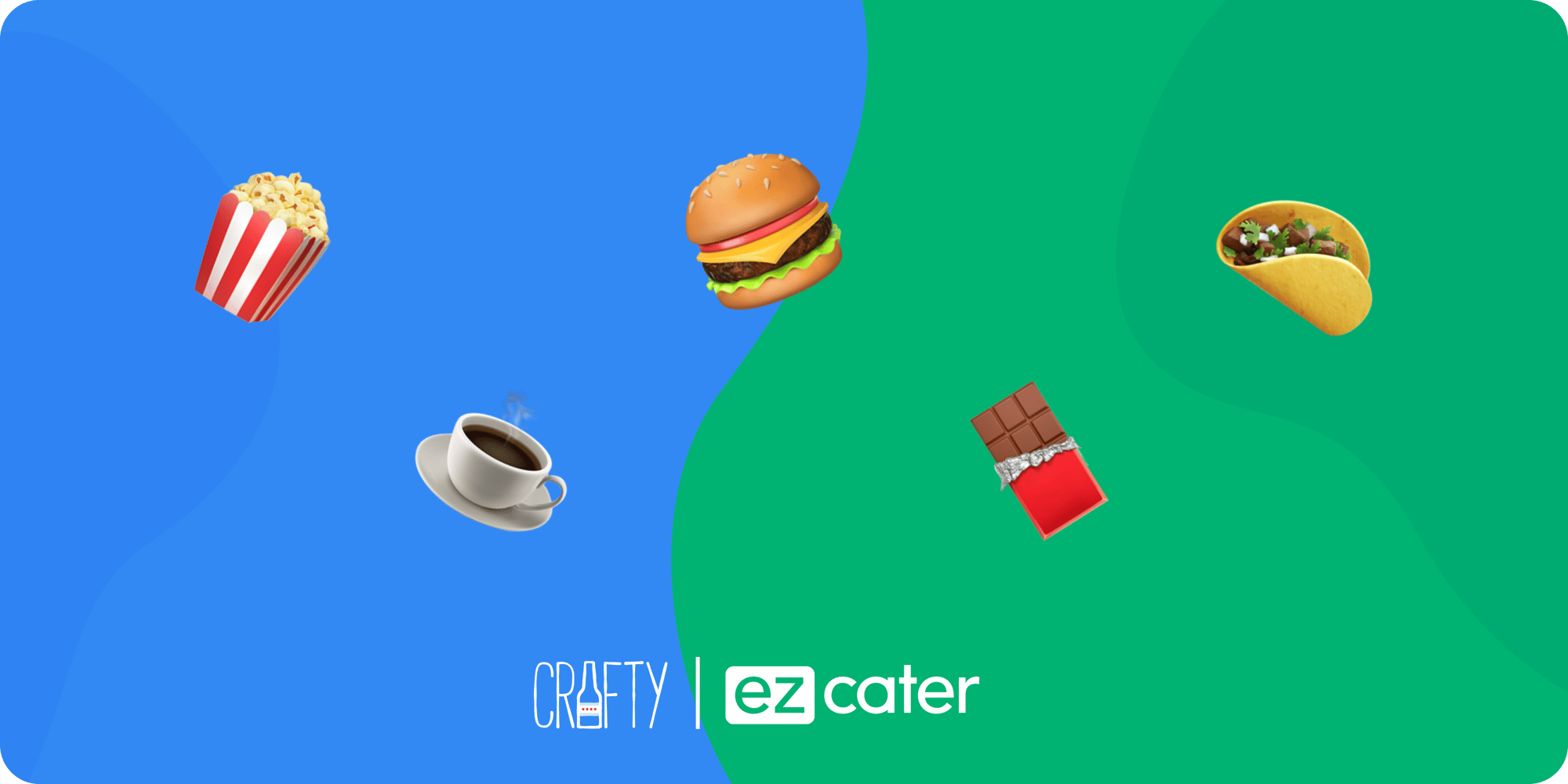 New partnership provides holistic food and beverage solutions for workplaces looking to simplify corporate food management
CHICAGO and BOSTON — September 7, 2023 —Crafty, the centralized platform providing food and beverage solutions for global offices and remote workers, today announced it has partnered with ezCater, the most trusted provider of corporate food solutions. With the new partnership, workplace customers can now have access to ezCater's food for work solutions as well as Crafty's subsidized pantry and snack programs. This unified offering will also offer additional features, such as a dedicated team of account managers and consolidated billing.
The partnership benefits from Crafty's proprietary technology and extensive service network, which makes it possible for clients to visualize consumption data and provide office kitchen and pantry services to offices across the United States. With ezCater, businesses can easily order food from ezCater's online platform with over 100,000 restaurants for everything from one-off meetings to recurring employee meals, while having complete visibility and control over their food spend.
"We are so excited to team up with ezCater to make our food and pantry services more accessible to businesses who are happily invested in food for work programs as well as bring their corporate food solutions to our clients," says Ishan Daya, Co-CEO, Crafty. "Our mission is to help our clients craft a better workplace through the power of food and beverage and we believe this partnership will help us achieve that goal."
The partnership comes at a time when the world of work is changing rapidly. Companies need to be agile and adaptable to meet the shifting demands of their workforce. Today, the office must satisfy a diverse range of needs, especially when it comes to food and beverage offerings.
"Whether it's coffee and snacks for the afternoon slump or recurring employee lunches, companies are investing in food for work to deliver real business results," said Diane Swint, Chief Revenue Officer, ezCater. "We're excited to partner with Crafty to offer a comprehensive food-for-work program that makes it easier for workplace managers everywhere to drive employee engagement with food."
Crafty and ezCater's partnership is set to benefit businesses and employees across the country by providing them with end-to-end control over their office food and beverage program. Whether supplying employees with coffee and snacks or catering for lunches and events, workplace managers can now centralize food management operations and consolidate billing under a single, unified offering.
About Crafty
Crafty is a centralized platform for workplaces to manage food, beverage, and supplies for their in-office, remote, and hybrid teams across the globe. Founded in 2015, our mission is to help companies craft better workplaces. From G2 to CME Group to Yelp, we work with the world's biggest brands to harness the power of food and beverage to foster a culture of employee connectivity and increase workplace productivity. Headquartered in Chicago, with offices in New York and the Bay area, Crafty manages over 260 global client offices and serves over 300,000 employees per month. To learn more, visit craftydelivers.com.
About ezCater
ezCater is the most trusted provider of corporate food solutions. With over 100,000 restaurants across the US on its platform, ezCater provides flexible and scalable food solutions for everything from recurring employee meals to one-off events such as sales calls and board meetings. ezCater is purpose-built for food for work and supported by best-in-class customer service, enabling companies to centralize and manage their food spend in a single, customizable platform. To explore corporate food solutions or place a catering order, visit www.ezcater.com.

Crafty Careers
Our mission is to have a positive impact on everyone we work with: our clients, partners, community, and especially our employees. We have a diverse, high-powered team, and our way of working is dynamic, fast-paced, and just plain fun.