The flavor of the month is "uncertainty," but Finance wants to know how much these changes are going to cost. Well, here's what you can expect.

We certainly didn't not expect the sudden and unexpected impact of COVID-19 on our personal safety and our financial security.
It's safe to say this has floored a lot of us and though we did not see this coming, we are here now, and we are ready to adjust our workplace food & beverage programs to fit our new needs.
Here we will focus on the economic implications we face.
Revisiting budgets will need to happen and here are the two ways we are helping WOF Teams ("Workplace, Office, Facilities") think through the changes:
Budget increases - some of the things we need to do in response to COVID-19 come with additional spend requirements
Budget reductions - we are facing a more challenging economic environment, and simply put, many businesses need to find ways to spend less
Budget increases
In evolving your workplace food & beverage program under the new pressures of COVID-19, there will be a few areas where you should be ready for increased spend:
Single serve items
The beauty of bulk is the packaging. Less packaging represents a lower cost to you and to the environment. It's usually a win-win, but in a world where contamination prevention is the number one priority, we need to move away from bulk. That means you'll see a higher cost on those items, which we estimate at roughly 50% higher (though it really depends on your product mix). We wish we could make this sound prettier but the truth isn't always a beaut.

Supplies and PPE
We will continue to see increased prices for these items due to supply and demand imbalances and price gouging throughout the value chain. If that sounds very uncool, it's because it is. On top of that, we also predict there to be significantly higher consumption of these items inside your office. It's hard to predict the financial impact of higher prices & more consumption, but we are estimating a 3-5x spend in this category of food and beverage related supplies & PPE.
Onsite Services
In order to achieve the frequency of daily cleans and onsite management, there will be more staffing hours needed each day. Whether those tasks are handled by a member of the WOF Team or a vendor like Crafty, there will be more time spent doing these things, which brings along a cost with it. We are estimating a 2x increase in spend in this category.
Across the board, there are a lot of areas where spend will increase; however, all businesses are facing a more challenging economic environment. Simply stated: many businesses need to find ways to spend less.
Budget reductions
Talk to your vendors about ways you can be creative on spend and budget.
Perhaps you can prepay a portion of your budget in order to receive a prepayment rebate or credit on your regular bill? Maybe you can extend your contract and earn lower pricing?
Either way, bring your vendors to the table and to work through ways to accommodate each other in this difficult time. Everyone is experiencing a similar shake-up, which means everyone is finding ways to shake things up!
COVID accelerated the rate of adoption for Work-From-Home, and we don't think that is going anywhere. As a result, you can expect to offset some of the areas of increased spend based on the reality of having fewer people in your office everyday.
Depending on the company and their timeline to return-to-work, we are seeing savings on an absolute basis of 20-75% of previous levels, despite having a more expensive budget per person per day. That ain't too shabby!
Lastly, for some companies, the ability to offer a fully subsidized, free food & beverage program is no longer a reality. We get that.
Given the sensitivities of going outside of the controlled and safe office environment, may we suggest a vendor like Crafty to provide an in-office retail operation?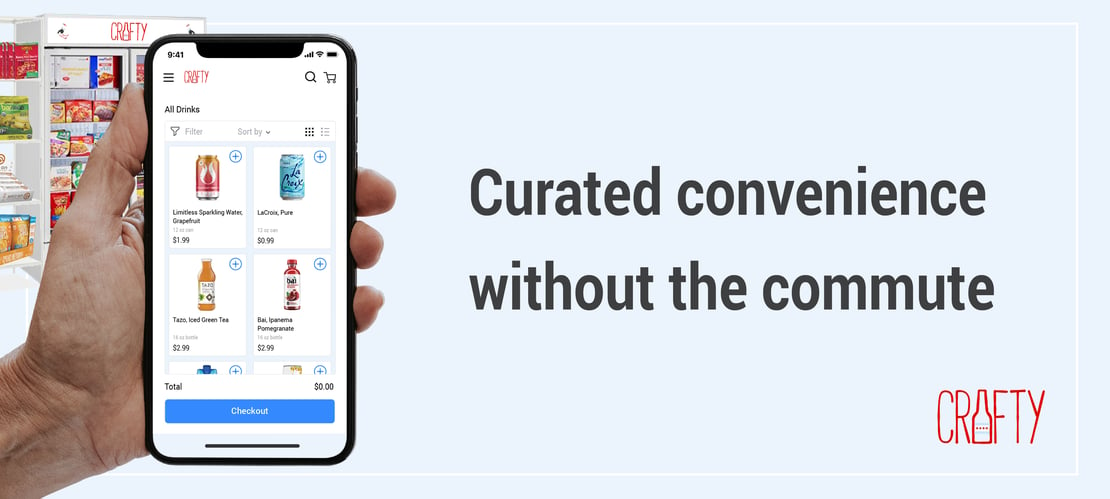 There's been a good amount of buzz (TMZ won't stop talking about it) around our Crafty Market, a mobile-first retail option for your office that can supply everything from lunches to snacks, drinks, and produce.
We've created the ability for our clients to establish a partial subsidy model if they'd like, and we can even facilitate daily, weekly, or monthly stipends offered to employees.
It's a great way to offer a robust in-office food & beverage experience and help your employees eliminate the need to go outside.
Reporting
The underlying thread that connects all of these budget management efforts is clear reporting and clean data. You need the ability to chop up your data: by product category, by location, by budget, and across any timeframe.
We know that WOF Teams and Finance Teams work in tandem, and we often encourage our clients to give their Finance Team a login to the Crafty Dashboard.
That way, Finance can see all of the spend data themselves and filter for whatever they need. It's easy to use and both teams will have access to all the information at their fingertips.
Whether you have a dashboard or not, we strongly recommend setting up a monthly or quarterly business review with your Account Managers.
They are your consultants who will dive into your data and make proactive recommendations for ways to improve your program and save money.
With so much change happening, it's time to deepen the relationships with your vendors.
Maybe then they'll become more than vendors - perhaps even your friend(ors).
Have questions? Want to bounce around some ideas? We're here for you!
Schedule a free 30-minute consultation with a member of the Crafty team.